England vs Germany at the Euros 2020 will be the latest chapter in two of European soccer's biggest rivalries.
A quarter of a century ago, Gareth Southgate missed the crucial penalty kick as Germany defeated England in the semifinal of Euro 96 at Wembley Stadium in London. On Tuesday, England and Southgate, now the Three Lions coach, come up against the same old foe, in the same competition and in the same venue—albeit in its new incarnation, as the current stadium replaced the old Wembley at the turn of the century.
Living up to one of the best days in the history of international soccer is a tough task, but a meeting between England and Germany is as good as follow up as any to the drama that unfolded on Monday, when Spain defeated Croatia 5-3 in extra time after the Croats, the 2018 World Cup runners-up, had scored two late goals to level the game.
Just hours later, Switzerland repeated the feat, coming back from 3-1 with just minutes to play against France, before eliminating the reigning world champions on penalties.
If the group stages are anything to go by, chances of England joining the free-scoring carnival are slim. The Three Lions won Group D despite scoring just twice, but are yet to concede a goal.
Germany, meanwhile, needed late goal to draw 2-2 with Hungary and just scrape out of Group F, along with France and Portugal.
Here's all you need to know ahead of Tuesday's game - including how to watch and England vs Germany live stream details.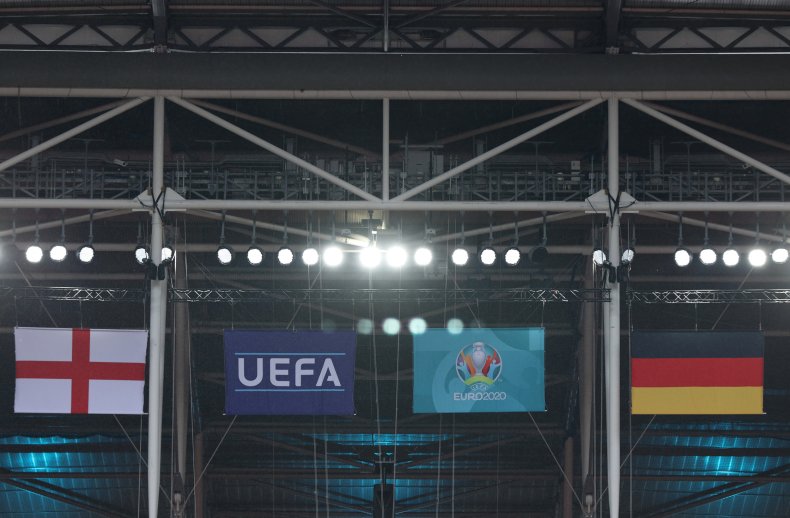 When is England vs. Germany?
England faces Germany at 5 p.m. local time (12 p.m. ET) on Tuesday, June 29. The game is the penultimate tie of the Round of 16, which is completed later on Tuesday when Sweden plays Ukraine at 3 p.m. ET.
Where is England vs. Germany?
England plays Germany at Wembley Stadium in London, one of the 11 host cities of Euro 2020. All three of England's group games were played at Wembley, which will also host both semifinals and the final. Like England, Germany played in front of a home crowd throughout the group stages, with all its three games held at the Allianz Arena in Munich.
How to watch England vs. Germany on TV and online
The game is broadcast on ESPN, with a live stream available on ESPN+ and via the ESPN app on mobile and tablets at (12 p.m. ET). The game will also be available via streaming services such as fuboTV and Sling TV, which both carry ESPN.
Will fans be allowed to attend?
Yes. Wembley operated at 25 percent capacity throughout the group stages, meaning attendances were capped at 22,500. For the game against Germany, however, the threshold has been increased to 45,000 fans, almost exactly 50 percent of the stadium's capacity and the biggest crowd for an event in the U.K. since the coronavirus pandemic first hit British shores in March 2020. The capacity is expected to be raised to 60,000 fans for each of the semifinals and the final.
Why is England vs. Germany such a big game?
The history between the two teams run deep. England defeated West Germany in the 1966 World Cup final at Wembley, but has almost invariably been on the receiving end ever since. Germany progressed at England's expenses in the quarter finals of the 1970 World Cup and defeated the Three Lions in the semifinals of the 1990 World Cup and of Euro 96, both times via a penalty shootout. The second of those games has been a recurring theme ahead of Tuesday's game as England was the tournament hosts and current manager Gareth Southgate missed the crucial penalty, with Germany eventually winning the final against the Czech Republic.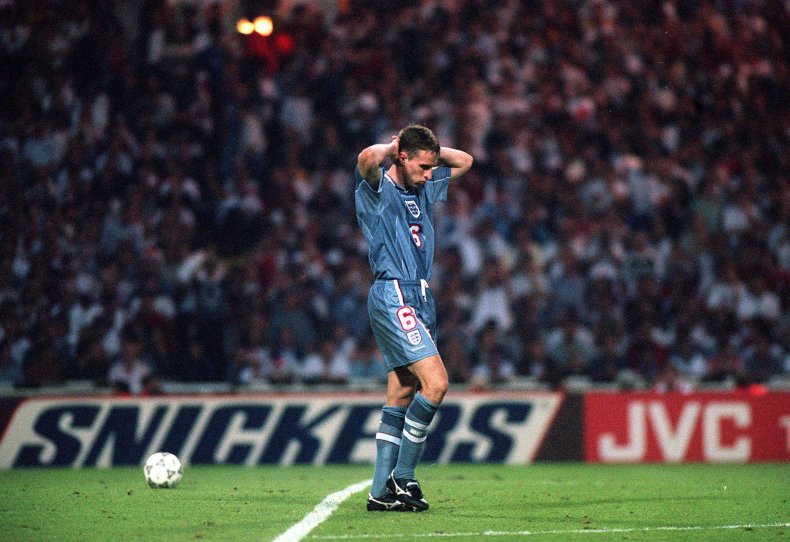 While England defeated Germany in the group stages of Euro 2000 and secured a memorable 5-1 win in Munich a year later in a World Cup qualifier, Germany trounced it 4-1 in the Round of 16 of the 2010 World Cup, albeit with the help of some questionable refereeing.
From a statistical standpoint, the rivalry isn't arguably a rivalry at all as Germany— including also West Germany's successes—boasts four World Cups to England's one and three European Championship triumphs to England's none. Since England won the 1966 World Cup final, the two teams have met 24 times, with Germany winning on 15 occasions.
Leaving history aside, whoever emerges as the winner on Tuesday faces a relatively easy path to the final, with either Ukraine or Sweden waiting in the quarterfinals ahead of a semifinal against either Czech Republic or Denmark. Euro 2020, however, has already shown nothing should be taken for granted.
England vs. Germany team news
According to The Athletic, Arsenal winger Bukayo Saka is expected to retain his starting spot following a brilliant performance against the Czech Republic in England's final group game against the Czech Republic, but Gareth Southgate will have a decision to make over Mason Mount and Ben Chilwell. The Chelsea duo only completed their self-isolation period on Monday night after being in contact with Scotland's Billie Gilmour, who tested positive for coronavirus.
The BBC, meanwhile, reported Germany should have Antonio Rudiger and Ilkay Gundogan available after both missed Sunday's training, while Thomas Muller is expected to start in place of Leroy Sane.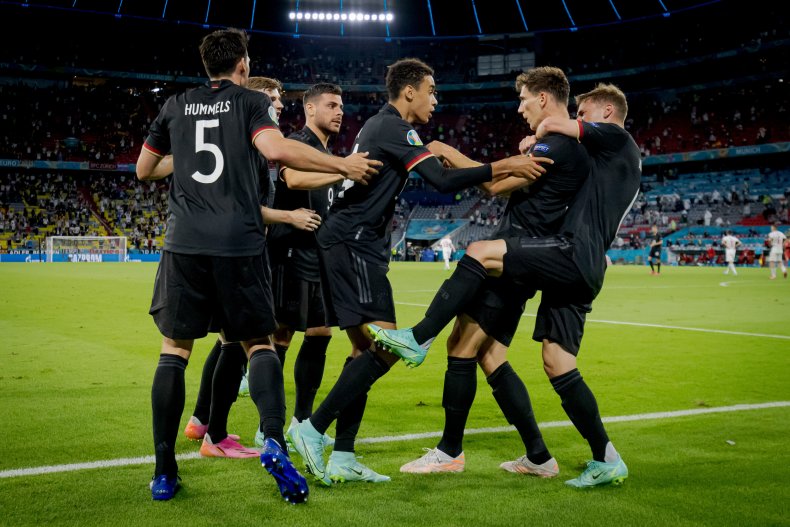 England vs. Germany odds
At 7-5 with DraftKings and 6-4 with William Hill England is a slight favourite to win in 90 minutes, with Germany at 2-1 with both bookmakers. Chances of the game going to extra time are 5-1, with England a 10-1 shot to win in the extra 30 minutes, while Germany is 11-1.
Either team to win on penalties is 10-1, which seems rather generous to England given its record from the spot against Germany.
About the writer
Dan Cancian is currently a reporter for Newsweek based in London, England. Prior to joining Newsweek in January 2018, he was a news and business reporter at International Business Times UK. Dan has also written for The Guardian and The Observer.