Euro Drops to 20-Month Low After Italy Votes 'No' in Referendum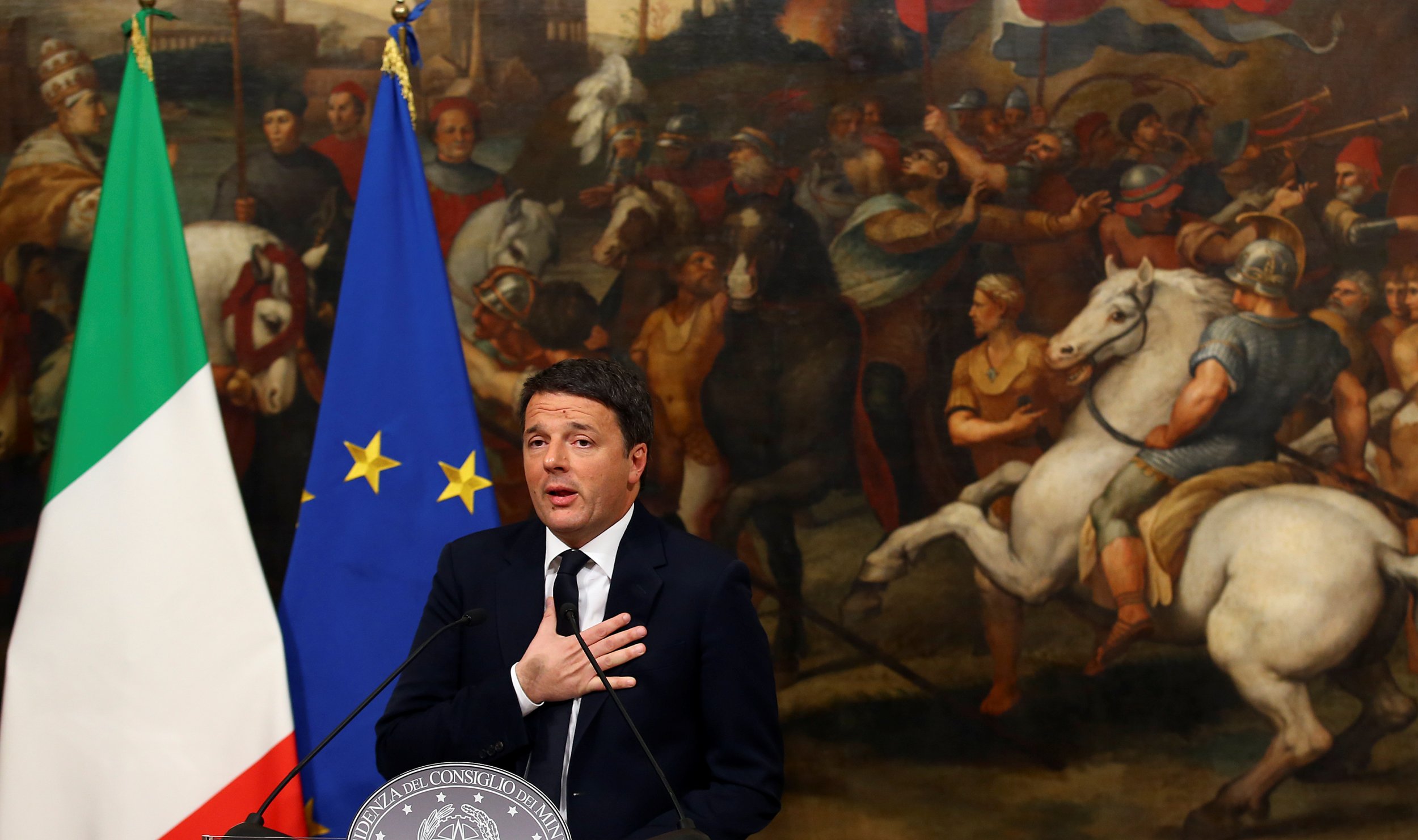 The euro fell to a 20-month low on Monday and investors fled riskier assets after Italian Prime Minister Matteo Renzi said he would resign following a stinging defeat on constitutional reform that could destabilize the country's shaky banking system.
European stock markets are also set for a weak start, with Italy underperforming as investors brace for turbulence and political crisis in the euro zone's heavily indebted third-largest economy.
Financial spreadbetter IG Markets expects the EuroSTOXX 50 to open down 0.6 percent, and Germany's DAX and Britain's FTSE to start the day 0.4 percent lower.
Renzi's failure deals a body blow to a European Union already reeling under anti-establishment anger that led to the shock exit of the UK from the club in June.
"It's not very hard to see a new election on the horizon, and it's not very hard to see the (opposition) 5-Star Movement taking power with stated aims to either leave the EU, drop the euro, or both," said Mark Wills, head of State Street Global Advisors' investment solutions group for the Asia Pacific.
"For Italy, establishing stable governance and a plan to guide the nation is of critical importance given the fragility of the economy, challenging policies and the liquidity problems in the banking system."
The single currency slumped as much as 1.4 percent to $1.0505 to the euro, before recovering a bit to $1.0563.
The drop to its session low was the sharpest since June and opened the way to a retest of the March 2015 trough around $1.0457.
Analysts at RBCCM argued that, based on what happened in 2012 at the height of the Greek crisis, the risk of a euro zone crisis could see the euro trade as low as $0.8000.
"It may sound extreme, but if a second euro zone crisis were to hit, with the U.S. dollar at a much stronger starting point, EUR/USD could arguably trade lower still," they wrote.
The euro slid as much as 2.05 percent to 118.71 yen, but pared some of the losses to trade down 1.1 percent at 119.85 yen.
The dollar was supported by expectations of a U.S. rate increase this month and more to come next year. The dollar index, which tracks the greenback against a basket of six global peers, jumped 0.6 percent to 101.37.
Against the yen, the U.S. currency, which rose earlier to as high as 113.85, pulled back 0.1 percent to 113.41 yen.
The New Zealand dollar, which earlier weakened almost 1 percent to $0.707 after Prime Minister John Key unexpectedly announced his resignation on Monday, recovered a little to trade at $0.7106.
New Zealand stocks ended the day 0.7 percent lower.
MSCI's broadest index of Asia-Pacific shares outside Japan eased 0.6 percent, while E-mini futures for the S&P 500 ESc1 narrowed losses to 0.3 percent.
Japan's Nikkei closed down 0.8 percent.
Even as the long-awaited opening of a scheme to connect the Shenzhen and Hong Kong stock markets went live on Monday, China's blue-chip index slumped the most in six months after the nation's top securities regulator warned against "barbaric" share acquisitions, although small caps remained firm.
China's CSI 300 index tumbled 1.7 percent. Hong Kong's Hang Seng index retreated 0.7 percent.
The link between China's booming Shenzhen stock market and neighboring Hong Kong allows foreign investors access for the first time to some of the fastest growing technology companies in the world's second-biggest economy.
Back in Europe, dealers said Italian bonds were set to come under pressure as top-rated U.S. Treasuries and German bunds gained.
U.S. 10-year Treasury yields fell to 2.3435 percent from 2.39 percent at Friday's close.
Investors and European politicians fear the 'No' camp's victory in Italy could cause political instability and renewed turmoil for the nation's banking sector, which has been hit by concerns over its huge exposure to bad loans built up during years of economic downturn.
"Forming a stable government in Italy may be difficult, the resuscitation of (ailing lender) Monte Dei Pashci may be impacted, there is some potential that this may create an opening for a secessionist political party," said Angus Gluskie, managing director of White Funds Management in Sydney.
The prime minister's resignation represents a fresh blow to the European Union, which is struggling to overcome a raft of crises, and was eager for Renzi to continue his reform push.
Markets had earlier taken some encouragement when Austria's far-right presidential candidate was soundly defeated by a pro-European contender, confounding forecasts of a tight election.