Now China Leads: What Europe Thinks of Donald Trump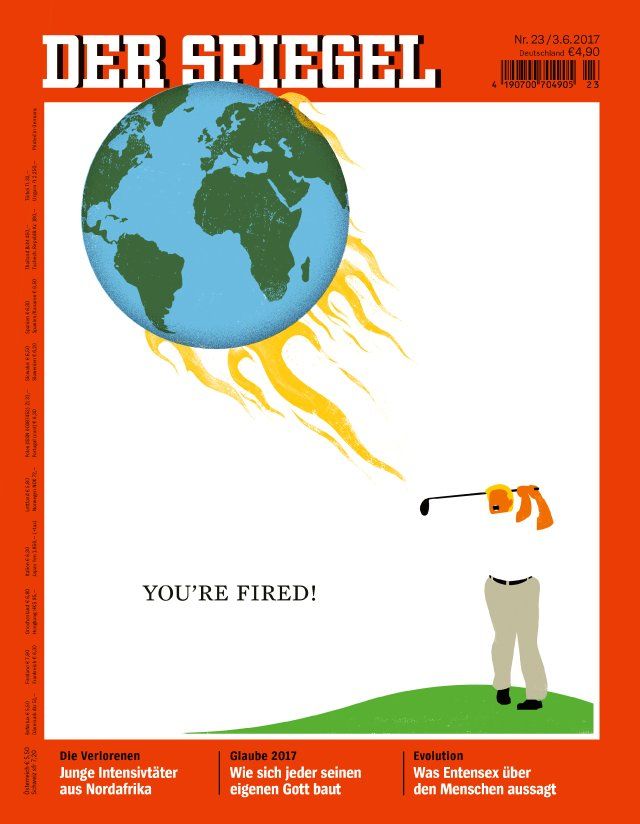 In a long and withering editorial published in its May 27 issue and posted online on Friday, the widely read German weekly Der Spiegel laid out a devastating case against President Donald J. Trump and his withdrawal from the Paris climate accords last Thursday. The editorial reflects not only the thinking of German Chancellor Angela Merkel, but of Europe's other centrist leaders, many of whom had urged Trump to keep the United States in the groundbreaking environmental pact.
Signaling a potential (and troubling) end to productive relations between Germany and the United States, the editorial was titled "Donald Trump's Triumph of Stupidity." The accompanying cover shows Trump golfing, swatting away a flaming Earth."You're Fired!" the cover line says, a clever play on Trump's single most coherent contribution to American culture—and to the inexorable warming of the planet.
The editorial was based on "meeting notes" from the G7 summit in Taormina, Sicily, which Trump attended in late May after first visiting the Middle East. Those notes show world leaders—Merkel, the French centrist Emmanuel Macron, Canada's Justin Trudeau—trying to convince Trump with a variety of arguments, including with appeals to the United States' leadership on the world stage.
"Donald Trump remained unconvinced," Der Spiegel writes in its summary of those notes. "No matter how trenchant the argument presented by the increasingly frustrated group of world leaders, none of them had an effect."
The meeting notes show Macron coming to a realization that has since become something of conventional thinking: "Now China leads."
If Der Spiegel's editors reflect a view prevalent across Europe, then the United States stands to become even more of a pariah than previously feared:
Surrounded by sycophants in the Rose Garden at the White House, he didn't just proclaim his withdrawal from the climate agreement, he sowed the seeds of international conflict. His speech was a break from centuries of Enlightenment and rationality. The president presented his political statement as a nationalist manifesto of the most imbecilic variety. It couldn't have been any worse.
In summoning images of the Enlightenment and the Age of Reason, Der Spiegel didn't merely portray Trump as an aberration of modern American politics, but something arguably far more grave, a blight on the very project of a humanistic Western society.
It returned to the theme later in the astonishingly blunt editorial, which ran to 6,000 words and was co-authored by 12 Der Spiegel staffers:
In Trump's world, there are no allies and no mature relationships, just self-interested countries with short-term interests. History means nothing to Trump; as a hard-nosed real-estate magnate, he is only interested in immediate gains. He cares little for long-term relationships.
At the same time, Der Spiegel made clear that the dissolution of the postwar Euro-American order had one clear winner: Russian leader Vladimir V. Putin.