Europe Doesn't Need America's Military Protection, Majority of Germans Say
In the wake of repeated attacks from President Donald Trump, Germans appear to be souring on the country's relationship with the United States. More than half of Germans now believe Europe can defend itself without the help of the U.S. military, a Forsa survey has found.
As reported by Reuters, only 37 percent of 1,004 Germans surveyed now believe the continent needs help from the U.S. to defend its borders. There was little difference between the former eastern and western parts of the country, at 60 and 55 percent, respectively. Western areas have had closer historical ties with Washington stemming from the division of the country after World War II and the Cold War.
During his visit to the NATO summit in Brussels earlier this month, Trump repeatedly attacked America's allies for spending too little on the defense of Europe. The president reserved particular criticism for Germany, which he claimed is now "totally controlled by Russia."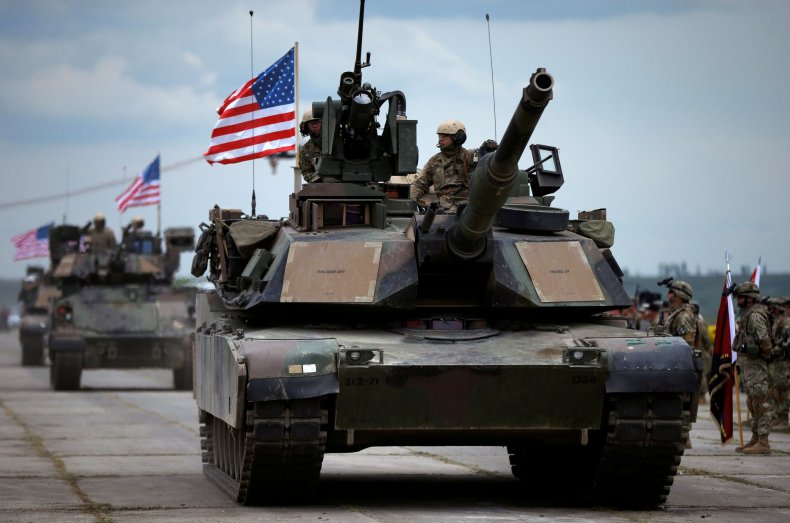 Trump was focused on the Nord Stream 2 project, an $11 billion expansion of the existing Nord Stream natural gas pipeline funded by the Kremlin-backed Gazprom company and five European nations. The president said this development was "inappropriate."
"Ultimately, Germany will have almost 70 percent of their country controlled by Russia with natural gas," he said, suggesting this would leave Germany "totally controlled by Russia."
In response, German Chancellor Angela Merkel said she was "very happy that today we are united in freedom, the Federal Republic of Germany. Because of that we can say that we can make our independent policies and make independent decisions."
Read More…Half of Americans Don't Want to Defend NATO Allies if Spending Commitments Don't Increase
About 84 percent of Germans who were questioned about this exchange believed Trump's stance was "completely absurd." Ninety-two percent said they thought Trump's motivation for the attack was most likely linked to his desire to sell more American natural gas to Europe. Two-thirds remain in support of the project, which will double Russia's capacity to deliver natural gas to Germany to almost 250 billion square feet per year. The extended pipeline is expected to become operational by the end of 2019.
The summit continued as awkwardly as it began, with Trump continuing to demand greater "burden sharing" between the U.S. and European powers. The president reportedly demanded that the NATO spending target be upped from 2 percent to 4 percent of GDP, and went on to claim credit for an agreement made in 2014 that all NATO members would strive to reach the 2 percent goal by 2024.
A Reuters/Ipsos poll conducted last week suggested that many Americans are buying Trump's aggressive rhetoric. Forty-nine percent of 1,011 registered U.S. voters now believe America should not be required to protect its European allies unless they increase their defense spending.