Europe Has Just Approved a Law that Will Force Payment for Sharing of Links
The European Parliament has today endorsed controversial aspects of a new law that critics say could create a "link tax" and put an end to internet memes and parodies.
Julia Reda, MEP for the European Pirate Party, confirmed on Twitter that the parliament had endorsed Upload Filters and a so-called link tax. "Parliament has failed to listen to citizens' and experts' concerns," Reda wrote, campaigning under the hashtag #SaveYourInternet.
Two sections of the law, Article 11 and 13, have faced backlash over fears that it could lead to technology companies such as Facebook having to use content filters, CNBC reported this week. Even internet memes could be affected, as most rely on the use of copyrighted material.
"The Parliament's version of Article 13 (366 for, 297 against) seeks to make all but the smallest internet platforms liable for any copyright infringements committed by their users," Reda said.
"This law leaves sites and apps no choice but to install error-prone upload filters. Anything we want to publish will need to first be approved by these filters, and perfectly legal content like parodies and memes will be caught in the crosshairs.
"The adopted version of Article 11 (393 for, 279 against) allows only 'individual words' of news articles to be reproduced for free, including in hyperlinks–following an existing German law.
"Five years after the 'link tax' came into force in Germany, no journalist or publisher has made an extra penny, startups in the news sector have had to shut down and courts have yet to clear up the legal uncertainty on exactly where to draw the line. The same quagmire will now repeat at the EU level—no argument has been made why it wouldn't, apart from wishful thinking."
Parliament's position, for talks with member states to settle on a final deal, was approved by 438 votes to 226. According to a release, parliament's position "toughens the commission's proposed plans to make online platforms and aggregators liable for copyright infringements."
It added: "This would also apply to snippets, where only a small part of a news publisher's text is displayed. In practice, this liability requires these parties to pay right holders for copyrighted material that they make available. Parliament's text also specifically requires that journalists themselves… benefit from remuneration stemming from this liability requirement."
Sharing hyperlinks to articles, together with individual words to describe them will be free of copyright constraints, the parliament said. Despite this claim, critics argue that links will often include snippets of text. The proposal says anyone using journalistic material—including social networking companies—must first get a license from the publisher who owns the content.
Posting an article to social media, for example, often displays short excerpts of text by default.
Parliament's move "strengthens the negotiating rights of authors and performers by enabling them to claim additional remuneration from the party exploiting their rights," the ruling added.
The law is opposed by tech giants, who don't want to have to change their business models.
MEP Marietje Schaake claimed in a statement posted online that the EU parliament had "squandered the opportunity to get the copyright reform on the right track."
She wrote: "This is a disastrous result for the protection of our fundamental rights, ordinary internet users and Europe's future in the field of artificial intelligence. We have set a step backwards instead of creating a true copyright reform that is fit for the 21st century."
After the vote, MEP Axel Voss said: "There has been much heated debate around this directive and I believe that Parliament has listened carefully to the concerns raised. We have addressed concerns raised about innovation by excluding small and micro platforms or aggregators. I am convinced that once the dust has settled, the internet will be as free as it is today."
While positions have been adopted, the debate is not over yet.
"Now that parliament and council have adopted their positions, we will have one final chance to reject #UploadFilters and #LinkTax in the final vote on the directive after trilogue, probably in the spring," Julia Reda tweeted, adding: "Talk to your governments meanwhile!"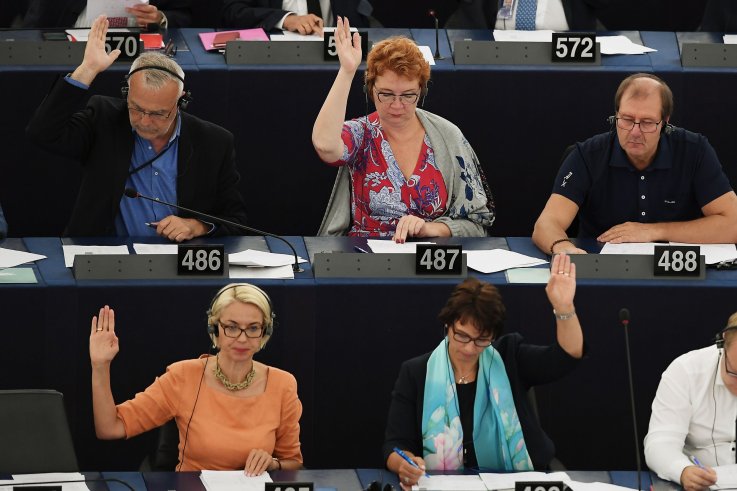 Europe Has Just Approved a Law that Will Force Payment for Sharing of Links | World