Europe and Iran: What Comes Next? | Opinion
The Iranian nuclear program has caused alarm within the European Union and particularly in France. As recently as last week, in an interview with French weekly Le Journal du Dimanche, French Foreign Minister Jean-Yves Le Drian expressed his deep concerns about the regime's nuclear activities. The current situation is a clear testament to the failure of the Joint Comprehensive Plan of Action (JCPOA)—Iran's nuclear agreement—which did not block Tehran's path to the bomb as it left the regime's bomb-making apparatus intact.
Conflict resolution for such a regime cannot be achieved through conventional diplomacy. Rather, the Iranian government uses blackmail and aggression to bully its way through the international system. Recent examples are the illegal seizure of a South Korean ship in international waters or the attacks on oil installations in neighboring countries.
Triggering chaos and conflict abroad and suppressing dissent at home are the two strategic pillars of the Tehran regime. Iranian officials have a messianic understanding of their job. By design, the theocracy only recognizes the language of force, firmness and political resolve, as the ruling mullahs consider conciliation a sign of weakness. They believe to be in the driving seat as long as they hold on to their nuclear threat. They argue that Europe has no choice but to engage and mediate.
Contrary to Tehran's narrative of empowerment and stability, recent uprisings on the ground have made it palpably clear that the internal situation has grown tremendously volatile and deadlocked regionally. Offering any economic concession to this authoritarian regime at this time would amount to throwing a lifeline to a dangerous and unpredictable international player.
Let's not forget, this is a regime that has taken Iranians with European citizenship hostage as bargaining chips and uses its embassies to carry out terrorist plots throughout Europe.
Assadollah Assadi, an active Iranian diplomat to Austria, was sentenced to 20 years in prison for plotting to blow up a major gathering of thousands of Iranian opponents near Paris in 2018 and aiming to murder Maryam Rajavi, the president-elect of the National Council of Resistance of Iran (NCRI). I happened to be there along with hundreds of worldwide political figures and human rights activists attending the rally.
This regime is distinctly misogynous and repressive. It has executed tens of thousands of its political opponents and it is the world's leading executioner per capita of its own citizens.
Earlier this month, the Supreme Leader Ali Khamenei banned the import of COVID-19 vaccines from France, Britain and the United States. He declared that the coronavirus was "an opportunity." The regime is using the pandemic to muzzle street protesters and as a deterrent against the tide of uprisings which have been threatening the regime's existence since 2018. A staggering 210,600 Iranians out of a population of 83 million people have died so far because of the epidemic, according to opposition sources.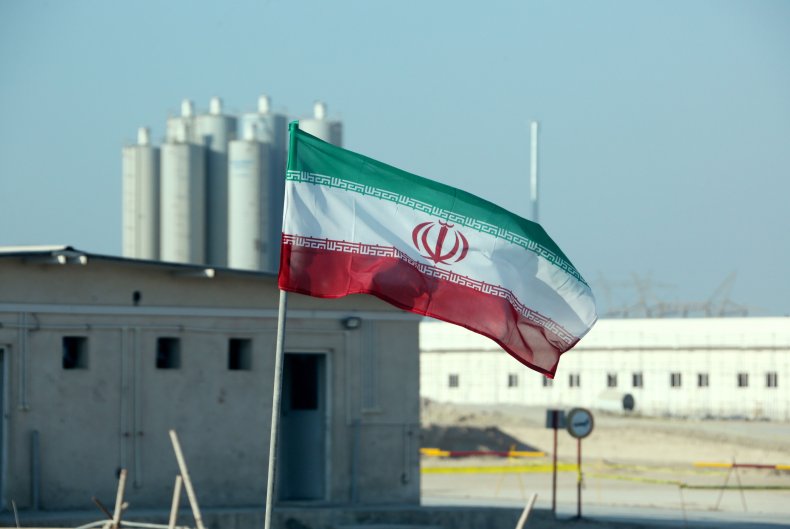 Indeed, Iran has a long record of atrocities. This past December, a group of senior U.N. human rights experts published a letter addressing the Iranian regime, on grounds of the 1988 prison massacre—viewed as a crime against humanity—in which 30,000 political opponents were executed summarily.
The U.N.experts concluded that failure of the international community to confront the 1988 massacre had emboldened the Iranian regime to continue its flagrant violations of human rights at home and its terrorist activities abroad. Amnesty International welcomed the U.N. letter as "a decisive step in the longstanding struggle of families of victims and survivors, with the support of Iranian human rights organizations."
At the time of the massacre, Khamenei was president and Hassan Rouhani was the secretary for the Supreme National Security Council. Not surprisingly, 54 members of the notorious "death commissions" who ordered the 1988 mass killings are presently acting as the regime's highest officials. Judiciary Chief Ebrahim Raisi and Justice Minister Alireza Avayie are among them.
As in the past, appeasement of Iran remains a recipe for disaster. The failure to exercise firmness vis-à-vis the regime by European powers will prompt its leaders to wreak more havoc on European soil, across the Middle East and inside its borders. This is not theoretical; it is the reality we have endured as our leaders were shaking hands with Iranian officials. Tehran nuclear blackmail has to be stopped by the world's democratic leaders.
If this crisis is to become an opportunity, may it be for the sake of the Iranian people. Europe is called upon to use its diplomacy and determination to pave the way for a real democracy in Iran; it must abide by its human rights values and firmly call for an end to executing Iranian citizens and political opponents. But most of all, Europe must restrain from lifting economic sanctions against Iran. Instead, it can support and help the Iranian people in their quest for peace and democracy.
This could also be an opportunity for Europe, to rise united in a post-Trump international environment and claim its partnership for the good, and for France to resume its leadership as the world's beacon for human rights and for peace.
Ingrid Betancourt is a former Colombian senator, presidential candidate and hostage.
The views expressed in this article are the writer's own.