In New Year Messages, Europe's Leaders Call for Strength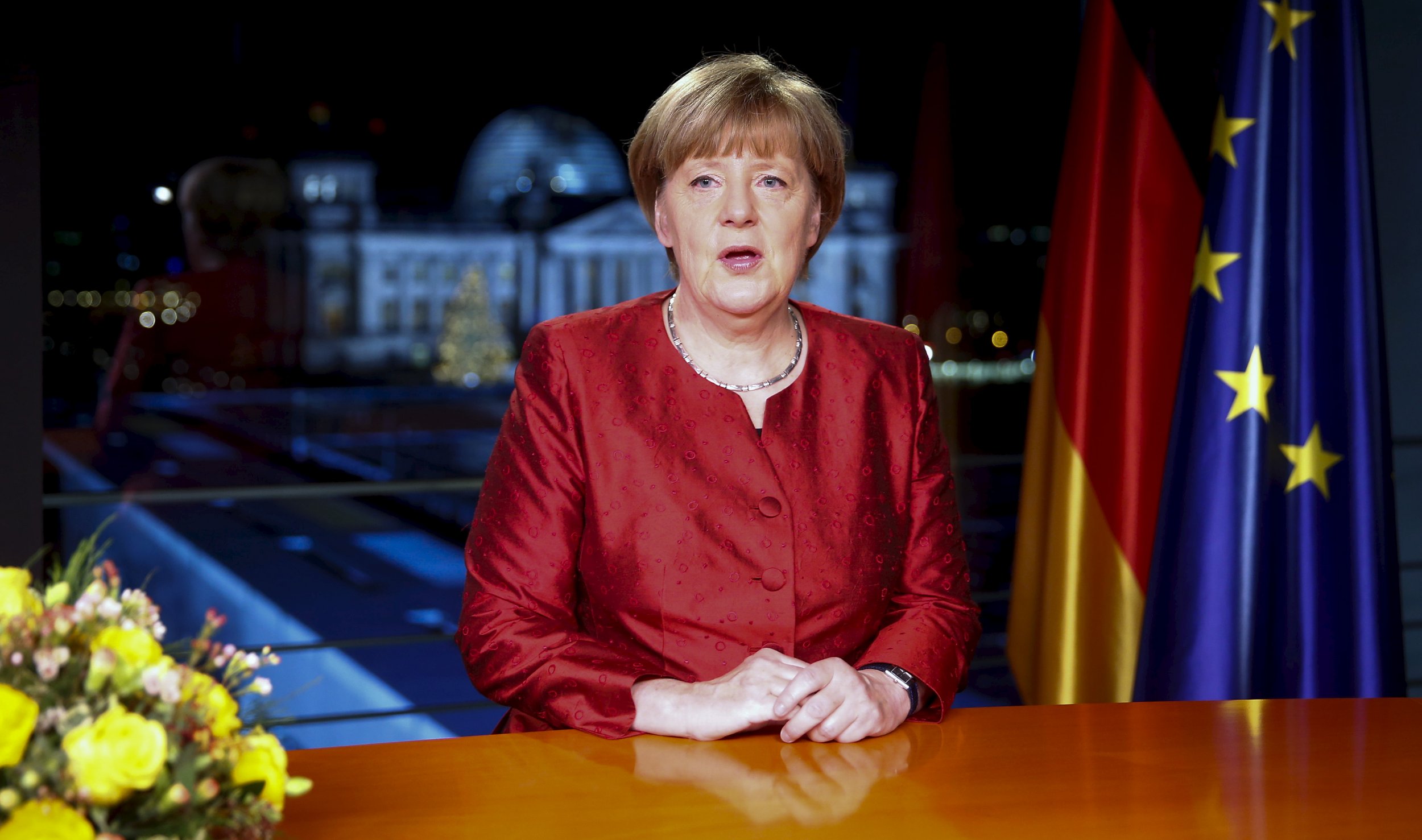 The year 2015 seemed close to overwhelming Europe. Various crises hit the continent, testing its unity, security and economic stability.
But, the continent seems to have survived—enough at least to head, perhaps a little unsteadily, into 2016. Greece didn't leave the eurozone as economists thought it might back in July. The hundreds of thousands of refugees arriving in Europe have, for the most part, found homes. The ceasefire in eastern Ukraine seems to be holding. And in their new year messages, Europe's leaders seemed to agree there's hope for the future.
German Chancellor Angela Merkel repeated her rallying cry of wir schaffen es or "we can do it." It's a message she's delivered on numerous occasions to her people as Germany deals with the tens of thousands of refugees it has opened its doors to. Germany remains the European country hosting the largest number of refugees.
France's François Hollande took a more bellicose tone in his new year address. He vowed to continue airstrikes against the Islamic State militant group (ISIS) and urged lawmakers to accept his proposal to strip dual French nationals of their citizenship if they are accused of terrorist activities. "France is not done with terrorism," he said. "My first duty is to protect the French people, that means attacking the root of the evil, in Syria and Iraq."
But, like Merkel, Hollande spoke of forging ahead, urging citizens to keep going in the wake of the November shootings and the Charlie Hebdo attacks in January. "Despite the tragedy, France has not given in," he said. "Despite the tears, the country has remained upright."
Turkish President Recep Tayyip Erdogan was similarly defiant. As his soldiers continue to attack PKK strongholds in southeastern Turkey and northern Iraq, Erdogan told the nation: "Our fight … will continue until the very end."
War was on a lot of minds at the end of 2015, and over in Russia, President Vladimir Putin focussed on the Russian soldiers involved in the country's airstrike campaign in Syria. Throughout 2015, Putin was at odds with Europe over his continued support of Syrian President Bashar al-Assad. While the E.U. and Turkey have been focusing their airstrikes on ISIS, Russia's airstrikes are targeting all rebels fighting Assad.
"I would like to extend special greetings to those of our service members who are fighting international terrorism, defending Russia's national interests on distant frontiers, showing their willpower, determination and staunchness," Putin said, in a pre-recorded address that aired just before midnight across Russia's nine time zones.
While world leaders were talking war, Pope Francis was pushing for peace. Speaking at a Mass in St. Peter's Basilica, in Vatican City, on Friday, he called on people to stop the "violence and hatred in our world" and reject "indifference" to other people's suffering. Then, on a day when many leaders were putting on a show of strength, Francis asked them for a little kindness. European governments, he said, have to do more to support the refugees trying to escape to the continent. "We are witnessing hordes of men, women and children fleeing war, hunger and persecution, ready to risk their lives simply to encounter respect for their fundamental rights," he said.