Europe Told To Lift Flight and Train Travel Ban on U.K. Travelers
European countries have been told that flight and train bans on travel from the U.K. should be discontinued to avoid supply chain disruptions, as thousands of trucks transporting goods remain stuck in Britain's border town of Kent.
The European Commission recommends that the European Union's 27 member states lift any travel ban and instead "non-essential travel to and from the U.K. should be discouraged". France shut its U.K. border for 48 hours on Sunday amid fears of a new COVID-19 variant that is up to 70 percent more transmissible than the original strain. More than 50 countries have since banned U.K. arrivals.
British and French politicians are still thrashing out a plan to reopen France's border to trade and travel after more than 1,500 truck drivers found themselves trapped in Kent - one of the regions in England's southeast worst affected by the new COVID variant - awaiting onward travel to Calais.
U.K. Home Secretary Priti Patel told BBC Radio 4's Today programme there are currently 650 vehicles queued on the M20 motorway and 873 parked at a nearby airfield.
Almost every EU member state has now stopped travel from the U.K. amid fears over the virus mutation, and the EU is talking about how to form a united response.
In a statement, the Brussels-based commission said freight transport to and from the U.K. must be allowed to continue uninterrupted but that any unnecessary journeys should be avoided "until further notice."
EU justice commissioner Didier Reynders said: "Given the current uncertainties and in light of the precautionary principle, Member States should take coordinated action to discourage non-essential travel between the U.K. and the EU. At the same time, blanket travel bans should not prevent thousands of EU and U.K. citizens from returning to their homes.
"While precautions are needed to contain the spread of the new coronavirus variant, with today's Recommendation, we, therefore, ensure that the restrictions are coordinated and provide for the necessary exemptions for citizens and residents returning home and other essential travelers."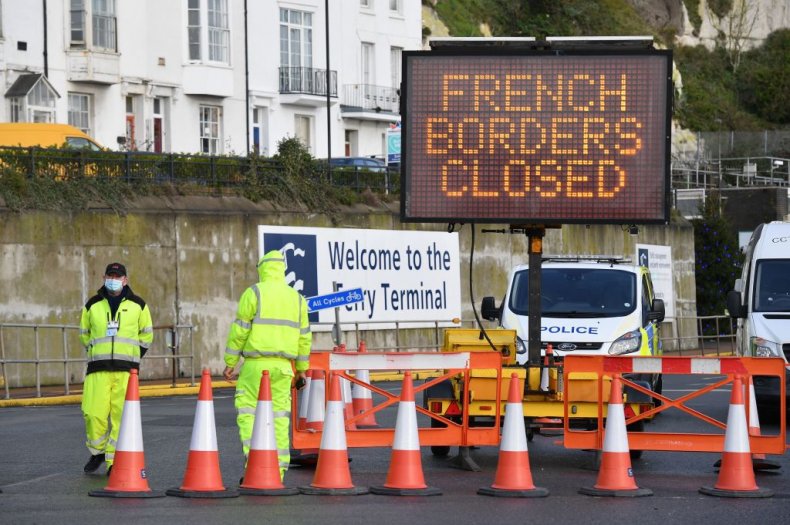 At the moment, no lorries headed for France are leaving the Port of Dover in Kent or entering the Eurotunnel. Bosses at Eurotunnel estimate that up to 2,500 freight vehicles are expected to arrive in the U.K. today and tomorrow, the BBC reports.
France's Europe minister Clément Beaune said any plans would be agreed by Prime Minister Boris Johnson and French President Emmanuel Macron and come into effect from Wednesday.
Johnson and Macron spoke on Monday and it is understood a solution to the blockage will likely include compulsory negative COVID tests for lorry drivers coming into France from the U.K. Many of those stuck in Kent have expressed fears they will not be able to go home in time for Christmas.
The U.K. prime minister announced a new strict lockdown for London and the southeast of England after scientists discovered the new variant of COVID-19. Although the new strain, VUI202012/01, is fast-moving, scientists said, it so far doesn't appear to be deadlier.
England's Chief Scientific Adviser Patrick Vallance said it is "likely" the new strain has already spread to other parts of England, while Peter Openshaw, an immunologist at Imperial College, said it is likely the strain is now in Europe.
About 120 countries now require a negative test from people before arriving from the U.K., and many others have closed their borders entirely. Canada, Germany, Italy, the Netherlands, France, Portugal, Switzerland and Ireland have halted travel from the U.K.