European Commission Blasts Trump's Coronavirus Travel Restrictions, Says Response 'Requires Cooperation Rather Than Unilateral Action'
On Thursday, the European Union criticized President Donald Trump for his recent travel ban between Europe and the United States, stating that the decision "requires cooperation rather than unilateral action."
"The European Union disapproved of the fact that the U.S. decision to impose a travel ban was taken unilaterally and without consultation," said European Council President Charles Michel and European Commission President Ursula von der Leyen, in a joint statement. "The coronavirus is a global crisis, not limited to any continent, and it requires cooperation rather than unilateral action."
The statement by the EU stems from Trump's travel ban, which he announced during a televised Oval Office address. The ban will extend for 30 days, beginning on Friday, March 13, and applies to foreign nationals that have visited 26 European countries in the Schengen Area. The countries in the Schengen Area include Austria, Belgium, Czech Republic, Denmark, Estonia, Finland, France, Germany, Greece, Hungary, Iceland, Italy, Latvia, Liechtenstein, Lithuania, Luxembourg, Malta, the Netherlands, Norway, Poland, Portugal, Slovakia, Slovenia, Spain, Sweden and Switzerland. The ban does not apply to U.S. citizens, green card holders or families of U.S. citizens, according to the Department of Homeland Security.
In the Schengen Area, there are over 21,000 confirmed cases of the coronavirus and at least 104 deaths. During his Oval Office address, Trump claimed that "the European Union failed to take the same precautions and restrict travel from China and other hot spots," but this claim was rejected by the EU during their statement, stating that it "is taking strong action to limit the spread of the virus."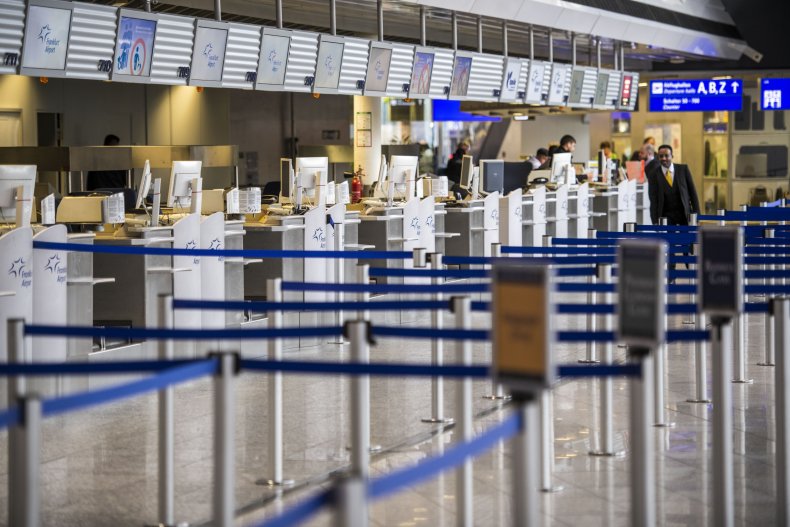 According to data provided by Johns Hopkins University there are over 1,200 confirmed COVID-19 cases in the U.S. and at least 31 deaths. Despite the spread of the virus in the U.S., Trump did not discuss any new plans to combat it on a domestic scale. He also did not address the need for increased access to testing kits or travel restrictions within the country but did urge older people in the U.S. to "avoid nonessential travel in crowded areas."
Trump's failure to address the U.S.'s plan to fight the virus domestically sparked additional criticism from House Speaker Nancy Pelosi and Senate Minority leader Chuck Schumer.
"We have a public health crisis in this country and the best way to help keep the American people safe and ensure their economic security is for the president to focus on fighting the spread of the coronavirus itself," Pelosi and Schumer said in a joint statement. "Alarmingly, the president did not say how the administration will address the lack of coronavirus testing kits throughout the United States."