The European Elections to Watch In 2017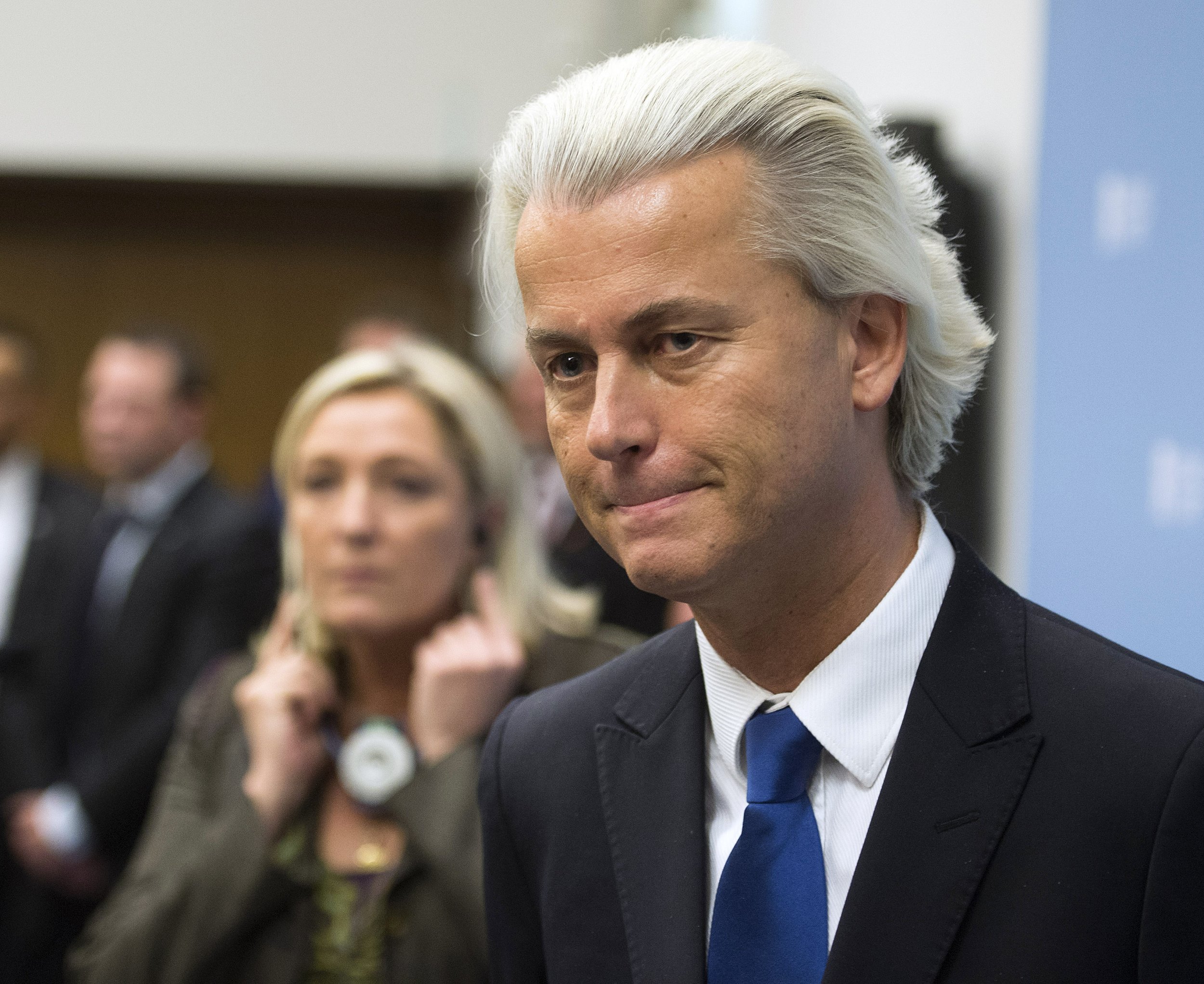 It might feel like Europe has been through the wringer in 2016, but really it's only just beginning. 2017 brings elections that will be critical—not only for the future of their countries but for the continent as a whole.
Here are the five crucial polls to watch out for.
March: Dutch Parliamentary Election
This is the first of several flashpoints in western Europe's struggle against hard-right populism. The far-right Freedom Party, led by bleach-blond anti-Islam campaigner Geert Wilders, is vying for first place in the polls with Prime Minister Mark Rutte's center-right People's Party. If the polls are right (and nowadays that "if" has to do a lot more work than it used to) it's going to be very close, and could end with Wilders' party winning (albeit probably needing to find coalition partners) or coming a close second, meaning there's a possibility Wilders might end up in coalition with another party.
Most dramatic outcome: A solid Wilders win that allows him to form a government, which would see crackdowns on the Netherlands' Muslim population at home, and a dramatically Euroskeptic turn abroad.
Least dramatic outcome: A solid Rutte win where he doesn't need Wilders as a partner (the performance of Rutte's current partner, the Labor party, will be important here). Rutte is a pro-European moderate of calm temperament and his continued presence at the helm would be a relief for the EU establishment.
April: Serbian Presidential Election
The Serbian presidency is a largely ceremonial position. But any national election in the country, which is an EU candidate state that also faces significant attempts from Russia to wield influence, could be interesting in geopolitical terms. The incumbent, Tomislav Nikolic, is a nationalist who has expressed strong pro-Russian views. He is also a former member of the ruling Serbian Progressive Party, whose leader—the country's Prime Minister, Aleksander Vučić—treads a path between appeasing the nationalist right and backing EU membership.
Most dramatic scenario: Vojislav Seselj, Serbian Radical Party leader and a former close ally of Slobodan Milosevic, is standing, following an acquittal on war crimes charges relating to the 1990s Balkan conflicts in the Hague earlier this year. However, his party took only 8 percent of the national vote in the recent parliamentary elections.
Least dramatic scenario: A second term for Nikolic would mean more of the same: shaky progress toward EU accession, balanced with occasional pro-Russian maneuvers.
April and May: French Presidential Election
Probably Europe's most exciting election of the year. There are likely to be at least four serious challengers in the race: Francois Fillon, the winner of this year's center-right primary and a fan of Britain's Margaret Thatcher; Marine Le Pen, who has led her far-right National Front out of the wilderness and within touching distance of the presidency with a blend of anti-immigrant rhetoric and economic populism; Emmanuel Macron, the former economy minister now running as an independent with a Tony Blair-esque, reforming, centrist platform; and whoever wins the primary for the center-left socialists. Parliamentary elections will then take place in June.
Most dramatic outcomes: If Le Pen wins, the EU will be approaching real crisis—the hard-right candidate is pro-Russia and vehemently anti-Brussels. But a Macron win (unlikely but possible) would be seismic in its own way: a victory for centrism at a time when reports of its death are everywhere.
Least dramatic outcomes: Pollsters say the most likely scenario is a face-off between Fillon and Le Pen in the second round, leading to a comfortable Fillon victory. There's also the slightest of possibilities that the unpopular Socialist party, currently in power, might persuade voters to give it another chance with a new candidate, meaning four years of continuity.
September: Norwegian Parliamentary Election
A classic continental coalition battle, this one. The incumbent government is a minority administration comprised of ministers from two parties—the populist Progress Party and the center-right Conservatives (led by Prime Minister Erna Solberg)—and propped up by two more: the Liberal Party and the Christian Democratic Party. An alliance of left-wing parties, led by Labour Party leader Jonas Gahr Støre, will battle with it for power.
Most dramatic outcome: If the Christian Democrats switch support and the left puts in a decent electoral performance, the government could change.
Least dramatic outcome: Rising oil prices would boost the economy, and could keep the government sitting pretty.
Before October 23: German Parliamentary Election
The country has its own hard-right populists on the rise, but in reality the German election to the Bundestag could well end up being 2017's least dramatic vote. Chancellor Angela Merkel, arguably Europe's most powerful politician, has faced searing attacks from her own party's right flank, and from the hard-right populist Alternative for Germany (AFD), formed only in 2013 and already polling between 10 and 15 percent. But while that's sparked excitable headlines, Merkel still commands about 35 percent support: 10 percent ahead of her center-left coalition partners the Social Democrats (SPD), and 20 points ahead of the far right.
Most dramatic outcome: Any result that saw Merkel toppled would send shockwaves through Europe.
Least dramatic outcome: Merkel's position is far stronger than the coverage suggests, especially as the AFD would struggle to form a coalition with anyone, even if it performed better than expected. Europe's great survivor could well survive once again.