European soccer was thrown in turmoil on Sunday afternoon when 12 of its most successful clubs announced they were formally prepared to walk away from UEFA competition and establish a breakaway competition called the European Super League.
"Twelve of Europe's leading football clubs have today come together to announce they have agreed to establish a new mid-week competition, the Super League, governed by its founding clubs," a statement read.
"AC Milan, Arsenal FC, Atlético de Madrid, Chelsea FC, FC Barcelona, FC Internazionale Milano, Juventus FC, Liverpool FC, Manchester City, Manchester United, Real Madrid CF and Tottenham Hotspur have all joined as founding clubs. It is anticipated that a further three clubs will join ahead of the inaugural season, which is intended to commence as soon as practicable."
Here's a breakdown of what could turn out to be the biggest shakeup European soccer has undergone in a century.
What is the European Super League (ESL)?
Essentially, the ESL will be a direct replacement for the Champions League, which is currently European soccer's elite competition.
In its current form, all pan-European competitions are controlled by UEFA—the continent's soccer governing body—and complement domestic leagues such as the Premier League in England, La Liga in Spain and Serie A in Italy. Teams from domestic leagues qualify for the Champions League each season based on their performances, with bigger leagues being granted more berths than some of their smaller counterparts.
For example, four teams from the Premier League, Serie A and La Liga qualify for the Champions League, while the Dutch and Belgian league, for example, can have a maximum of two representatives.
Instead of rewarding performances, the ESL will be far closer to the kind of close-shop league such as the NFL, NBA and MLB with the 12 founding members and a further three yet-to-be-determined clubs guaranteed a permanent spot. A qualifying mechanism—whose details remain sketchy—will allow a further five clubs to qualify based on their performances the previous seasons.
Who are the 12 founding members?
The English Premier League's so-called "Big Six"—which includes Manchester United, Manchester City, Liverpool, Chelsea, Tottenham Hotspur and Arsenal—have all agreed to join. From Spain, Barcelona, Real Madrid and Atletico Madrid have agreed to join. They would be joined by the most successful clubs in Italy's Serie A: Juventus, A.C. Milan and Inter Milan.
As it stands, Bayern Munich and Paris Saint Germain—last season's two Champions League finalists—have resisted calls to join, as has Borussia Dortmund.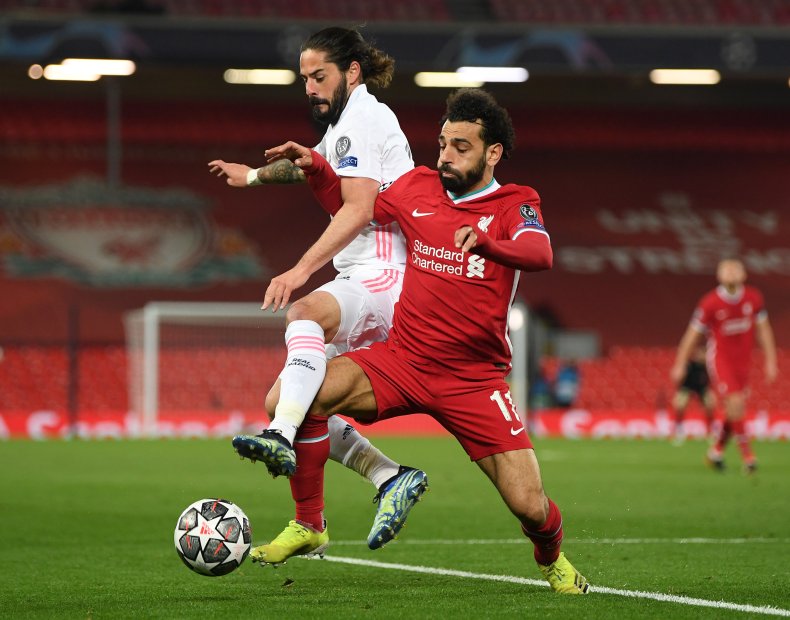 Why do clubs want to break away?
The 12 clubs involved have tried to paint their move as a step for the greater good of European soccer.
Real Madrid chairman Florentino Perez said the move will "help football at every level," while Juventus chairman Andrea Agnelli suggested the ESL will "put the game we love on a sustainable footing for the long-term future." Manchester United's co-chairman Joel Glazer, meanwhile, claimed the new competition will provide "increased financial support for the wider football pyramid."
In reality, the reason behind the proposal is to ensure an enormous amount of money will find its way in their coffers. According to the statement released on Sunday, "founding clubs will receive an amount of €3.5 billion ($4.3 billion)". The sum works out to $400 million per club, which amounts to four time the amount Bayern Munich took home when it won the Champions League last season.
The Champions League is already by far European soccer's most lucrative competitions, but the clubs involved in the ESL believe they can earn even more.
The 12 clubs have already held discussions with American investment banking JP Morgan which, according to The Athletic, would underwrite the league by debt financing.
The graphic below, provided by Statista, shows that 11 of the 12 founding members of the proposed European Super League were among the richest clubs in the world last year.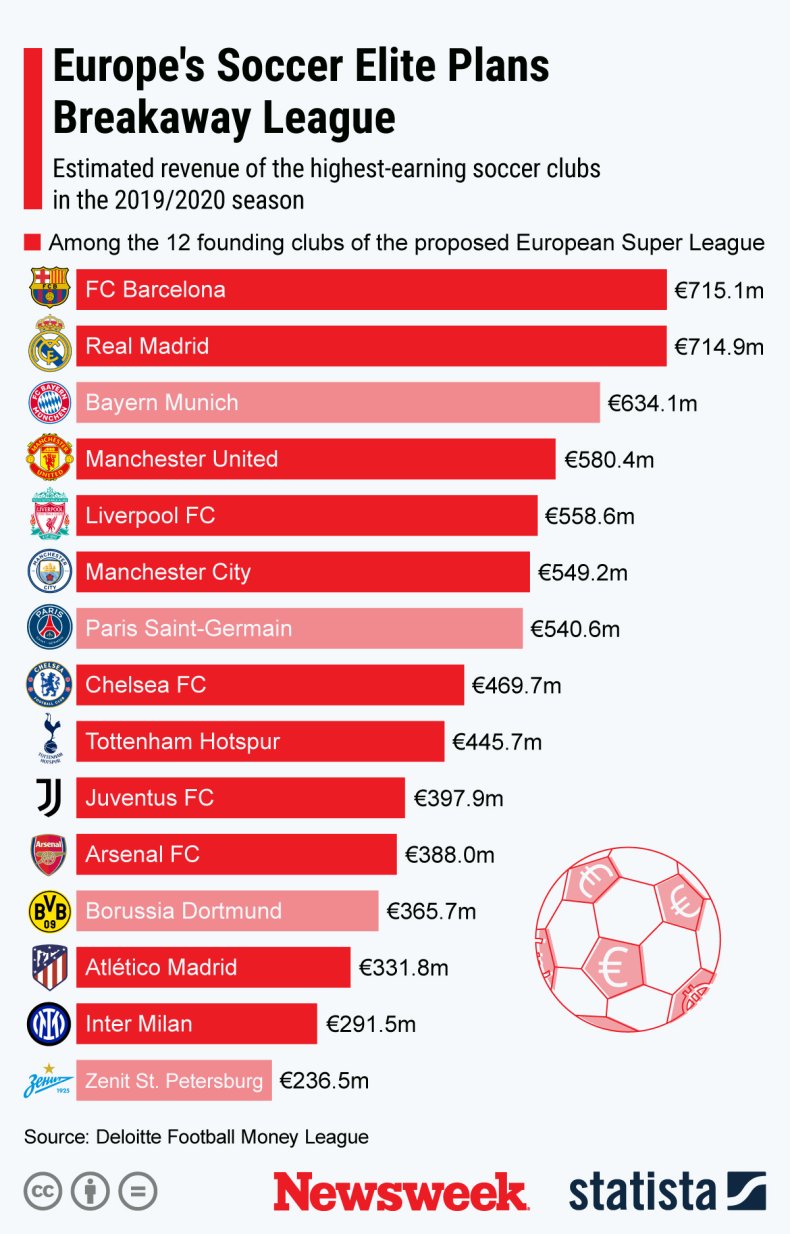 How will the European Super League work?
In their statement, clubs said the tournament should begin in August with games to be played mid-week as is currently the case with the Champions League and Europa League tournaments.
The 20 clubs would be split in two groups of 10, with home and away fixtures and the top three teams in each group qualifying for the quarterfinals. Teams finishing fourth and fifth would play a two-legged playoff to complete the quarterfinals picture, with the tournament then following a two-leg knockout format from then on. The final, as is the case for the Champions League, would be held at a neutral venue in May.
It remains to be seen, however, whether clubs would be allowed to compete in their domestic competitions. The Premier League and La Liga all threatened legal actions against breakaway clubs, as did UEFA.
About the writer
Dan Cancian is currently a reporter for Newsweek based in London, England. Prior to joining Newsweek in January 2018, he was a news and business reporter at International Business Times UK. Dan has also written for The Guardian and The Observer.