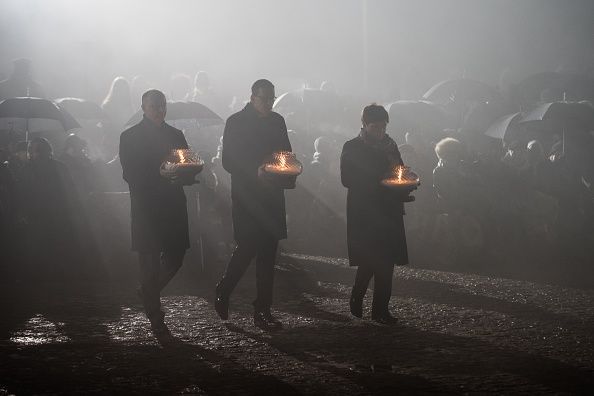 Israel's Ministry of Education announced Monday that a new curriculum outlining each European country's role in the Holocaust will be made mandatory starting this week in high schools across the country.
Related: Neo-Nazis and Hitler Supporters Thrive With Impunity in Poland, Jewish Leader Says
Schools will now dedicate at least two hours per week to the role of European nations in World War II and their involvement in the killing of an estimated 6 million Jews.
The announcement came as Israel and European Union member Poland argued about a new Polish bill that rejected the phrase "Polish death camps" to describe the Nazi concentration camps in the country. Poland's lower house of parliament passed a law on Friday that could send people to jail for up to three years if they referred to Nazi death camps as Polish.
Israeli leaders were outraged by the law. "It is a historic fact that many Poles aided in the murder of Jews, handed them in, abused them and even killed Jews during and after the Holocaust," Naftali Bennett, Israel's Education and Diaspora Affairs Minister, said Saturday. "It is also a historic fact that the Germans initiated, planned and built the work and death camps in Poland. That is the truth, and no law will rewrite it. These facts must be taught to the next generation."
Israeli Prime Minister Benjamin Netanyahu also accused Poland of denying history and denying the Holocaust.
"The law is baseless. I strongly oppose it," Netanyahu said in a statement.
Poland's deputy ambassador to Israel was summoned to the Ministry of Foreign Affairs for a discussion.
But Polish authorities argue that Germany should take the blame for the death camps constructed on Polish territory.
"Auschwitz-Birkenau is not a Polish name, and Arbeit Macht Frei is not a Polish phrase," Poland's Prime Minister Mateusz Morawiecki shot back on Twitter, referring to the infamous Nazi slogan "Work makes you free."
Poland's President Andrzej Duda took a more measured tone, saying he would review the controversial new law. Netanyahu and Morawiecki spoke on the phone Sunday and agreed to discuss ways to avoid further diplomatic fallout after Poland's initial approval of the law.
Poland has long maintained that it was not responsible for the Nazi atrocities committed on its territory during World War II. Millions of Poles were killed during the German occupation of Poland, including approximately 3 million Polish Jews.