Europe's Energy Crisis Is Turning Into a Food Crisis | Opinion
Friday's announcement by Gazprom that it will halt natural gas flows from Russia into Germany indefinitely through the Nord Stream 1 pipeline will likely send European natural gas prices back toward $100 per million Btu, a record level that was set last week.
The shutdown, which Gazprom blamed on a maintenance problem, came the same day the G7 countries said they will impose a price cap on Russian oil. The shuttering of Nord Stream 1 will impose even higher costs on the continent's consumers and heavy industry. But it will land a particularly heavy blow on Europe's beleaguered fertilizer sector, which has already shuttered as much as 70 percent of its production capacity due to soaring natural gas prices. And as more plants are shuttered, the hard reality of Europe's energy crisis is becoming clear: What started as an energy crisis has become a fertilizer crisis and it will soon become a food crisis.
In July, when European natural gas prices were significantly below today's levels, the International Fertilizer Association estimated that a protracted conflict between Russia and Ukraine along with declining use of fertilizer due to high costs could result in the loss of nearly 2 percent of global corn, wheat, rice, and soybean production. But the association also predicted that numerous countries in Africa, as well as others, including Mexico, could see even larger declines in their food production.
Even small declines in the production of grain can result in significant price increases. The four biggest grains—corn, wheat, rice, and soybeans—all require significant inputs of ammonia-based fertilizer. A surge in natural gas prices due to the shutdown of Nord Stream will make fertilizer production in Europe even more expensive, because about 70 percent of the cost of producing fertilizer is the price of natural gas.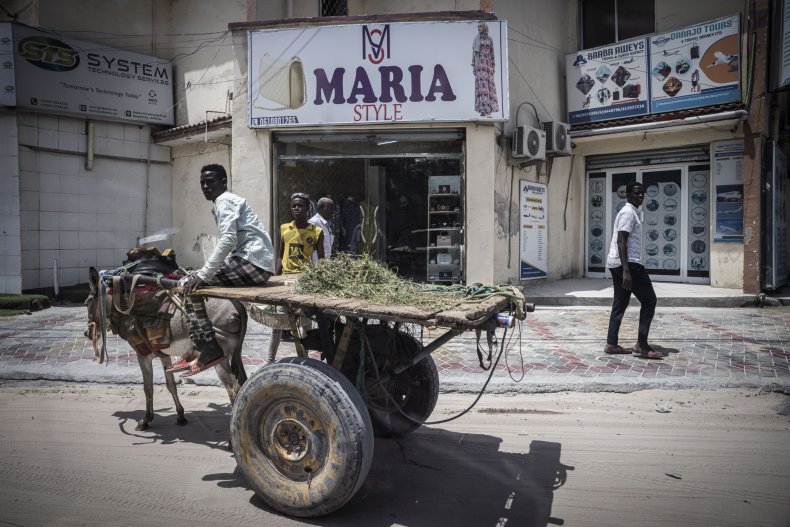 According to CRU Group, fertilizer producers in the region are losing about $2,000 for every ton of ammonia they produce. (Ammonia is a foundational chemical for the fertilizer industry.) Given the lousy economics, producers across the continent are shuttering their plants. That, in turn, has led to soaring fertilizer prices.
In early 2021, a ton of ammonia was costing farmers in Western Europe about $250 per ton. That same fertilizer today is selling for about $1,250 per ton. And those prices may go higher.
Last month, Yara International ASA, the Norwegian fertilizer producer, said it will slash its ammonia production to about a third of its capacity. Fertilizer producers in Hungary and Poland also slashed output in August, and CF Industries said it will stop ammonia production at its remaining plant in the U.K. Lithuanian fertilizer company, Achema AB, said it will halt production this month.
On Saturday, John Harpole, president of Denver-based Mercator Energy, a firm that provides natural gas brokerage services to the fertilizer sector, told me that fertilizer production is "over for Europe" because producers can't make money at today's prices. Harpole believes that the Nord Stream shutdown will result in a significant increase in the price of gas at the TTF trading hub in Holland. On Friday, the spot price of gas at TTF closed at about $71 per million Btu. For comparison, that same amount of fuel at Henry Hub, the U.S. benchmark, was selling for a bit less than $9.
Harpole added that the year-ahead price of natural gas at TTF in the futures market is at or above the current spot price. That means European fertilizer producers have little reason to believe they will be able to make a profit on their product any time soon. "There will be no more exports of fertilizer from Europe," he said.
In addition to the loss of fertilizer production in Europe, China began restricting fertilizer exports about a year ago, and Russia began limiting exports of fertilizer in March. Russia, which supplies almost every type of crop nutrient, produces about 50 million tons of fertilizer per year, or about 13 percent of global fertilizer production. Add in the fact that exports of grain from Russia and Ukraine have also been slashed, and the looming food crisis becomes even more evident.
In another report issued in July, the International Fertilizer Association warned that global fertilizer use could fall by 7 percent this year, and the shortfall in fertilizer use in sub-Saharan Africa could be as much as 23 percent compared to 2021.
About two weeks ago, Akinwumi A. Adesina, the president of the African Development Bank Group, said that Africa "now faces a shortage of at least 30 million metric tons of food—especially wheat, maize, and soybean imported from Russia and Ukraine." Africa is struggling to mitigate a famine that could throw some 30 million Africans into what Adesina called catastrophic levels of food insecurity. "It could deepen economic stress and political unrest," he went on. "With millions struggling to buy food, fuel, and fertilizer, anti-government protests are a real possibility."
While African leaders are worried about a looming famine and civil unrest, European leaders are having to choose between thinking about future food supplies and keeping their people warm this winter.
"Countries can't mandate fertilizer production because they are so worried about having enough natural gas to heat people's homes," Harpole said. "They are having to choose between future food production and heat and they are going to choose heat."
There's much more to be written about the unfolding fertilizer and food crisis. The shuttering of Nord Stream 1 appears to be only the latest development in what will likely be a sustained period of higher food prices, food insecurity, and even famine, for tens of millions of people around the world.
Robert Bryce is the host of the "Power Hungry Podcast," executive producer of the documentary, "Juice: How Electricity Explains the World," and the author of six books, including most recently, "A Question of Power: Electricity and the Wealth of Nations." Follow him on Twitter: @pwrhungry.
The views expressed in this article are the writer's own.