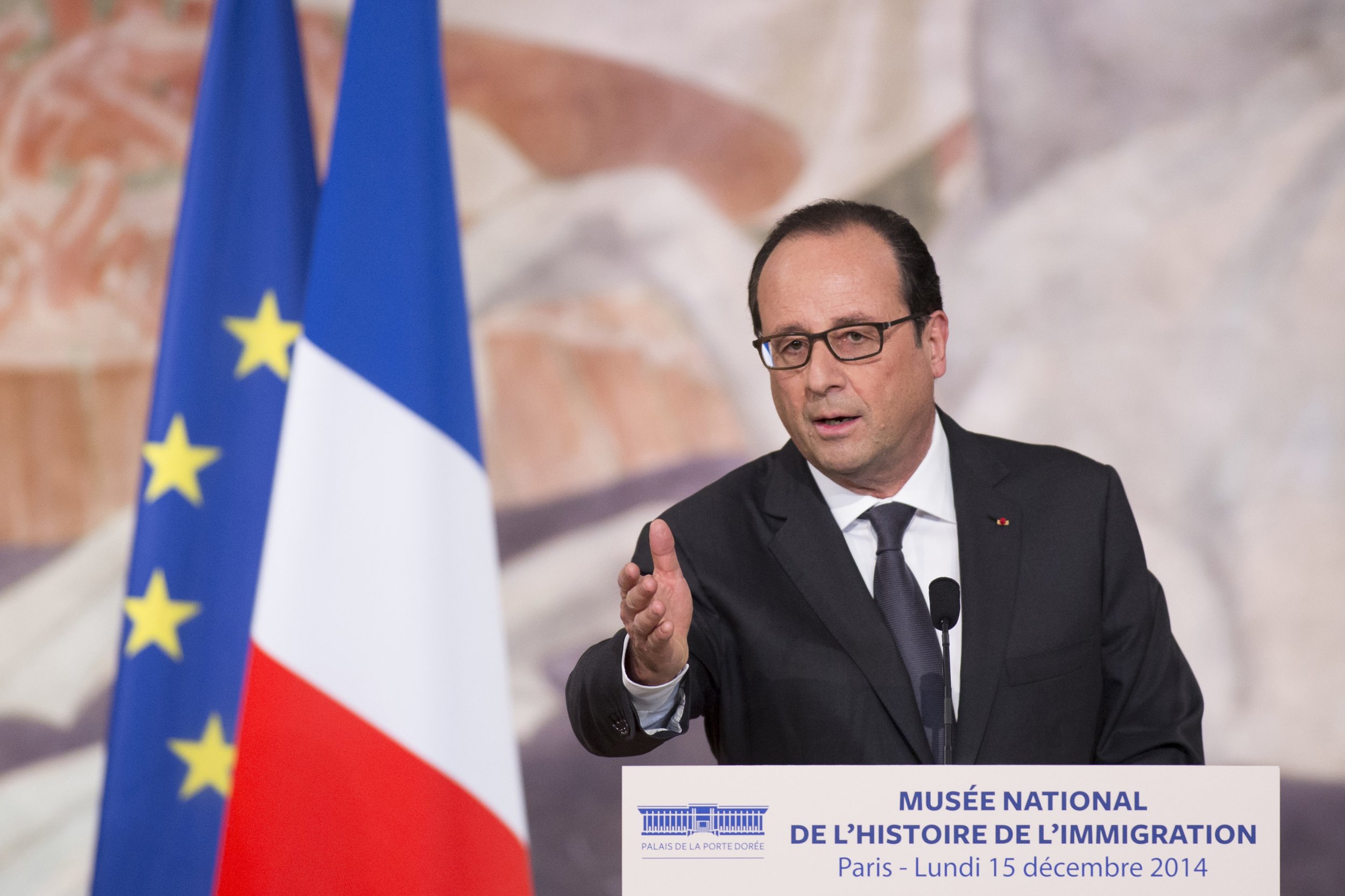 In less than three weeks, Britain's David Cameron and France's Francois Hollande have set out starkly contrasting approaches to immigration, while Angela Merkel has warned fellow Germans against manipulation by far-right xenophobes.
The divergent stances of the three heavyweight leaders show how hard it will be to agree on any reform of European Union policy on migrants, which Cameron has set as a goal before a promised 2017 referendum on Britain's membership of the bloc.
Each is responding to growing anti-immigrant, anti-EU populist movements that threaten the long dominance by mainstream parties of the center-left and center-right.
It remains to be seen which, if either, approach will prove effective in countering the far right and meeting Europe's demographic and social challenges.
Cameron has chosen to dramatize the immigration issue and make it a test for Britain's EU membership in an attempt to undercut rising support for the UK Independence Party before a general election next May.
He is demanding that the EU change its founding treaty, which enshrines the principle of free movement of people as well as goods and capital, to make it easier to crack down on unemployed migrants and alleged welfare abuses.
Studies show immigrants from other EU states are big net contributors to the welfare system and make fewer claims than British citizens, but Cameron wants to ban them from receiving benefits for the first four years worked in the country.
He has set - and missed - a target of bringing net migration below 100,000 a year, far fewer than the 260,000 recorded in the year to June.
"I will negotiate a cut to EU migration and make welfare reform an absolute requirement in renegotiation," the Conservative premier said in a Nov. 28 speech after UKIP won its first two parliamentary seats in special elections.
While he insisted he was not discriminating against Poles, by far the largest group among nearly 1 million EU citizens who have arrived since 2004, critics accuse Cameron of pandering to anti-foreigner prejudice and letting UKIP set the agenda.
MORAL HIGH GROUND?
Across the Channel, France's Socialist president presented a diametrically opposed view on immigration this week in his first speech on the sensitive topic in 2-1/2 years of power.
Trailing the far-right National Front and the conservative UMP in opinion polls, Hollande urged the French to embrace immigration as an economic and cultural boon to their country, and not to heed those who argue France is losing its secular identity due to the spread of Islam.
He defended the level of new arrivals, which at roughly 230,000 a year are only slightly fewer than Britain's. Most are spouses or children of existing residents, entitled by law to join them, or refugees legitimately seeking asylum, he said.
"There have always been demagogues who exploited a few breaches of our common rules to justify rejection," Hollande said, denouncing those who play on fear and "dream of a little France, a spiteful France, a France turned in on itself".
His quest for the moral high ground did not stretch to practical steps to fulfil his 2012 campaign promise to give non-EU foreigners the vote in local elections. That, he said, would require a two-thirds parliamentary majority, something he lacks, to change the constitution.
Hollande was positioning himself not only in opposition to National Front leader Marine Le Pen, who depicts France as overrun by Muslim immigrants, headscarves and halal meat, but also against former president Nicolas Sarkozy.
Sarkozy, attempting a comeback as the UMP leader, has vowed to suspend French membership of the EU's Schengen zone of passport-free travel until it is reformed to tighten controls, a position Hollande called "a backward step".
"NO PLACE FOR INCITEMENT"
In Germany, Merkel has distanced herself from weekly demonstrations by mostly unaffiliated rightists against Muslim immigration, which are gaining momentum. She has urged citizens to reject racism and stressed that Germany needs immigrants to help cope with a dwindling native population.
"We have freedom to demonstrate in Germany, but there is no place for incitement and insulting people who come to us from other countries," Merkel said on Monday after a poll showed voters want her to pay more attention to the protests.
In the eastern city of Dresden, rallies led by a group called PEGIDA, or Patriotic Europeans Against the Islamisation of the West, have grown from a few hundred to 10,000 a week and now 15,000, and spread to other cities.
Waving German flags, they chant "Germany - love it or leave it", along with the slogan "We are the people" that helped to topple Communist rule in East Germany in 1989.
Political analysts say Merkel faces a risk that the protests fuel support for the anti-euro Alternative for Germany, which narrowly failed to enter parliament last year and has since won seats in the European Parliament and several state legislatures.