Eurovision 2016: 14 Influential Music Hotspots in Host City Stockholm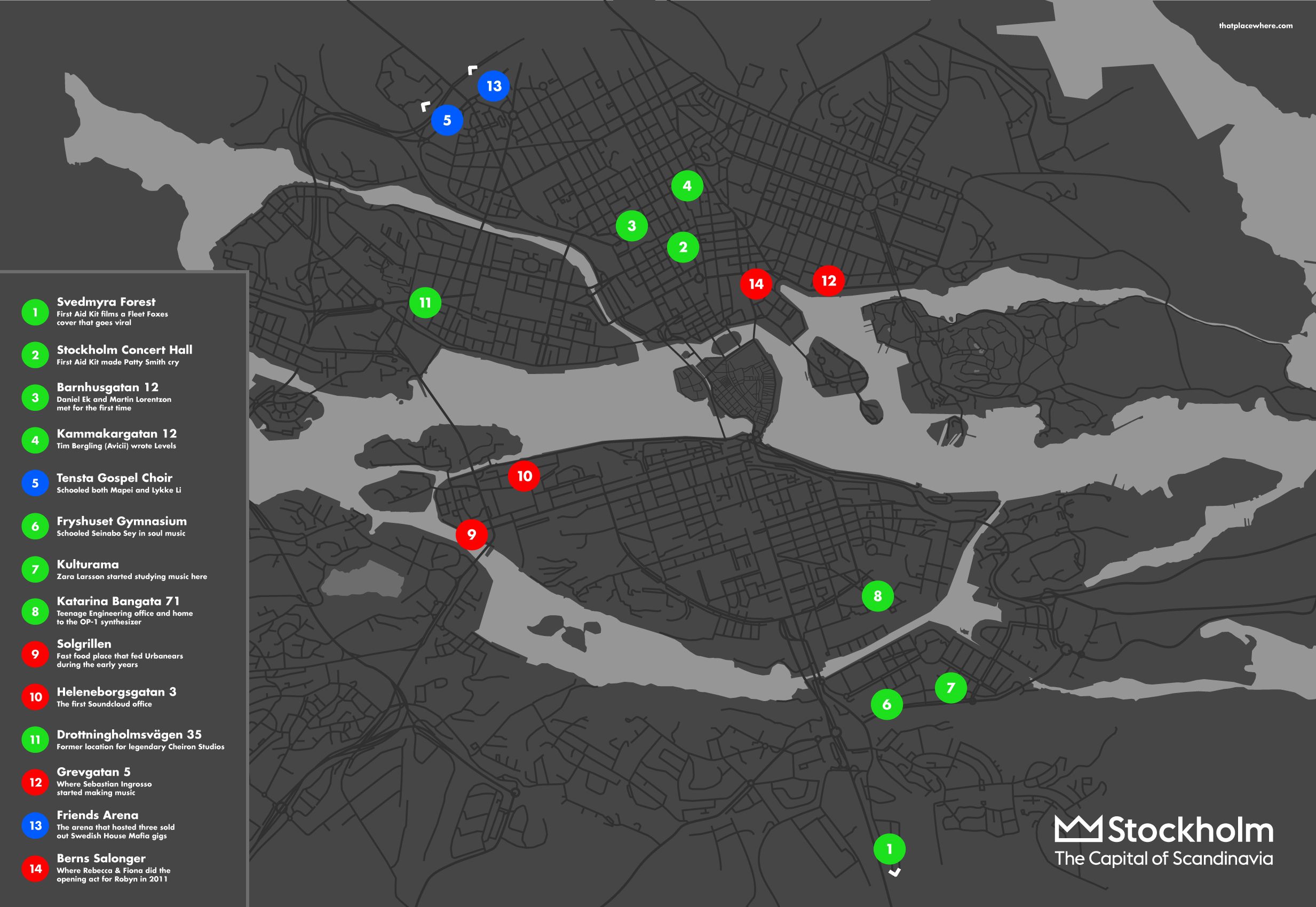 All eyes are on Stockholm this weekend as it hosts Europe's annual Eurovision Song Contest for the third time, but, camp theatrics aside, a new project is setting out to show just how influential the Swedish capital has been on the global music industry.
A new short film, That Place Where, released on Thursday spotlights 14 Stockholm hotspots that attest to the city's musical credibility. Acting as a guided tour around the city, the project draws attention to musical locations. Highlights include the place where Spotify founders Daniel Ek and Martin Lorentzon first met, the former studio of Grammy Award-winning producer Max Martin—who worked on tracks such as Backstreet Boys' "I Want It That Way" and Britney Spears' debut single "... Baby One More Time"—and the spot where DJ and electronic music star Avicii wrote his hit song "Levels."
Watch the film below:
Other significant places include the first offices of streaming service SoundCloud and the location of the gospel choir that gave rising star Lykke Li her desire to sing.
The project was created by the Stockholm Business Region to spotlight the city's influence on contemporary music as it plays host to Eurovision on Saturday.
"What's unique about Stockholm is that music and technology are created everywhere. It's not just one place or area," says Stockholm Business Region's PR manager Ann-Charlotte Jönsson. "Stockholm is a melting pot for music and music technology, and that's why we wanted to create the concept That Place Where. Our vision is to inspire visitors to discover some of the defining places and moments for music and music technology. It's a fun alternative for those who want to see a different side of the city, and find out more about Stockholm's music scene."
The 14 places featured in That Place Where are:
Svedmyra Forest: Where First Aid Kit filmed a Fleet Foxes cover that went viral.
Stockholm Concert Hall: Where First Aid Kit made Patti Smith cry.
Barnhusgatan 12: Where Daniel Ek and Martin Lorentzon met for the first time.
Kammakargatan 12: Where Tim Bergling (Avicii) wrote "Levels".
Tensta Gospel Choir: Schooled both Mapei and Lykke Li.
Fryshuset school: Schooled Seinabo Sey in soul music.
Kulturama: Where Zara Larsson went for dance classes.
Katarina Bangata 71: Office of Swedish electronics company Teenage Engineering and home to the OP-1 synthesizer.
Solgrillen: Fast food place where staff at headphone brand Urbanears ate during the early years.
Heleneborgsgatan 3: The first SoundCloud office.
Drottingholmsvägen 35: Former location of Cheiron Studios (where Max Martin produced "... Baby One More Time").
Grevgatan 5: Where DJ and producer Sebastian Ingrosso started making music.
Friends Arena: The arena that hosted three sold out Swedish House Mafia gigs.
Berns Salonger: Where DJs Rebecca and Fiona did the opening act for Robyn in 2011.
The short film is accompanied by a website, www.thatplacewhere.com.