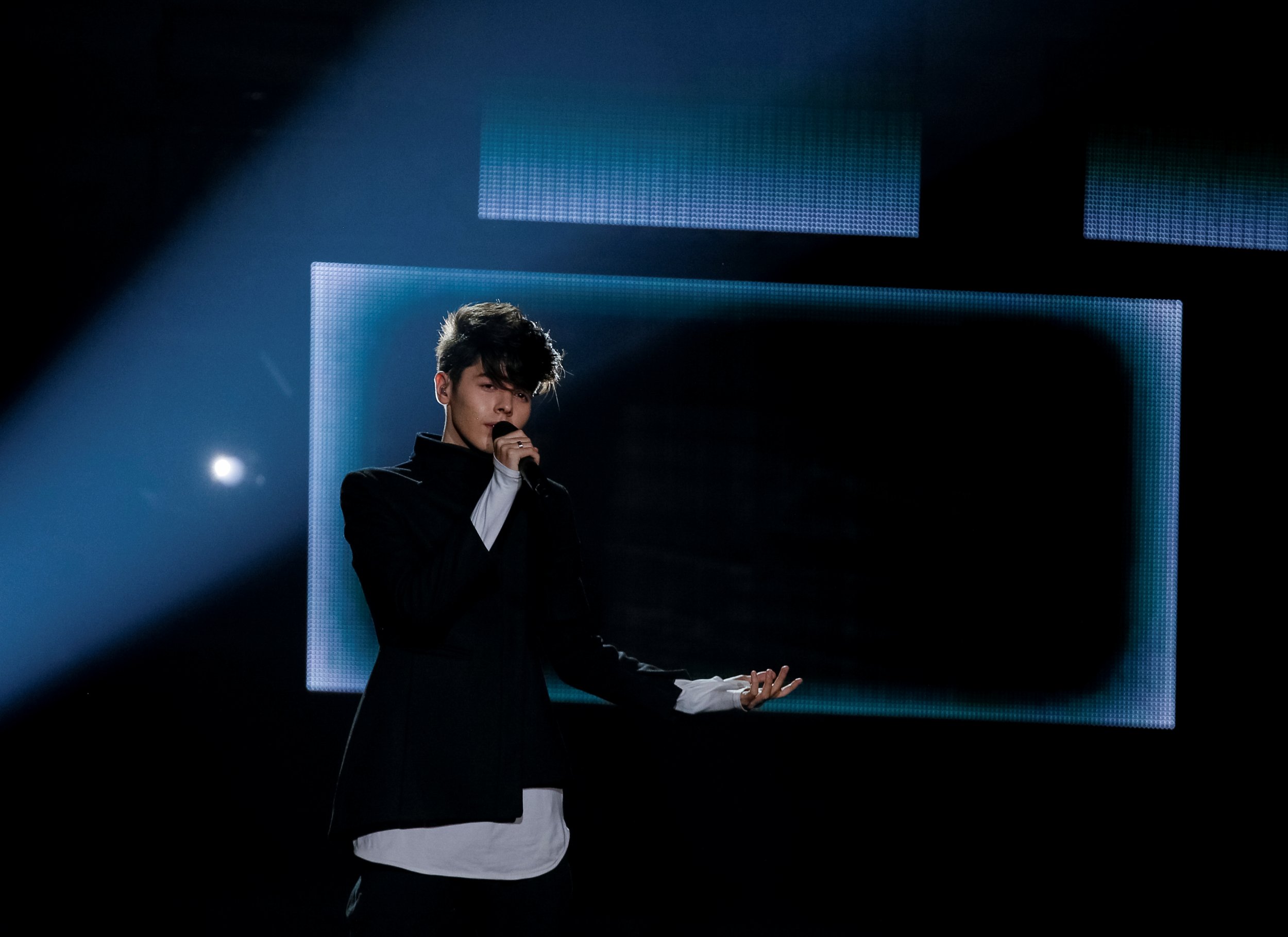 Eurovision, Europe's annual international song contest has one cardinal rule: Performances and performers must remain apolitical. This is also the competition's infamous noble lie, as politics abounds every year in some measure or other, usually through nations rewarding their friendly neighbors the top score of 12 points.
Read More: How "Vladimir Putin" crashed Slovenia's Eurovision song choice show
This year, with the competition hosted in Ukraine—the site of Europe's most dramatic example of live warfare—could well be most political Eurovision yet. Here is why:
Eurovision reflects tense times
Firstly, a thread of political intrigue among the gaudy musical histrionics is present almost every year in some respect. The nature of the competition, in which dozens of participating nation members of the European Broadcasting Corporation send a musical act to compete for public and jury votes from all but their own country, encourages the display of national and regional idiosyncrasies. Sometimes the acts play out national clichés, sometimes not. Many entries sing in English; all of France's entries so far have included at least some lyrics in French, for example. Read into that what you wish.
In many cases, the acts have been chosen by popular vote in the countries they represent. Such an annual plebiscite across over 20 European states is bound to spit out at least a couple of entries that reflect public opinion on reflect current affairs.
In 1989 Germany attempted to win the contest for the second time ever with Flieger ("Flyers"), a tender ballad about seeking to be reunited with a former lover. The following year—after the momentous fall of the Berlin wall dividing East and West—Germany sent a much bouncier "Frei zu leben" ("Free to live"), a duet between two reunited lovers. One of the most significant events in modern German history undoubtedly influenced its musical preferences.
Other overtly political highlights include Armenia being forced to change the name of its entry "Don't Deny" in 2015, after Turkey and Azerbaijan suspected it to be a reference to the Armenian genocide, sang on the year of the event's centennial. In 2009 Georgia pulled out entirely, refusing to change the words to its selected entry "We Don't Wanna Put In," submitted a year after a brief but bruising war with Russia.
On the continent made up of nations of vast economic, political and ethnic realities, Eurovision's theatrics often incense neighborhoods. Last year's winner, Ukraine, angered viewers in nearby Russia, when Jamala, a singer of Crimean Tatar origin, sang a song about Kremlin-commanded oppression of her people in Soviet times —a song given extra significance by Russia's annexation of Crimea from Ukraine in 2014, internationally considered illegal.
Jamala's win brought the European competition to Kiev for 2017, a tournament even more controversial in the region.
Russia, Ukraine and Bulgaria drawn into controversy
Ukraine's modern history is a story of east and west. Pro-Russian forces have sought to strengthen post-Soviet ties with Moscow, while at least two pro-Western revolutions have rejected the old order. Even before Kiev faced a Russian-backed insurgency in its east and an annexation in its south, its Eurovision entries reflected its politics, most famously when 2007 entry Vera Serduchka's largely nonsensical song " Dancing Lasha Tumbai " appeared to change its chorus on stage to "Russia, goodbye." The singer denied this.
This year's installment turned sour early on. In March, Ukraine's security services banned Russia's singer from entering Ukraine. Why? Moscow had decided to send Yuliya Samoylova, who violated Ukrainian law in publicly visiting Crimea since Russia's annexation.
In response, Russia rebuffed offers to broadcast Samoylova's song from Russian soil, pulling out of the event and cutting their state TV's broadcast of the event to millions of Russians.
The fact that Samoylova is one of Russia's most famous wheelchair users in the performance arts has given Kiev a PR headache ahead of an event whose slogan is "Celebrate Diversity." Some have argued Russia may have made the choice precisely for this reason. The Kremlin has repeatedly commented on the situation, with President Vladimir Putin's spokesman Dmitry Peskov hitting out last month, claiming Kiev's decision " seriously devalues the upcoming contest. "
However, the controversy did not stop there. This week bloggers released found footage of Bulgaria's entry Kristian Kostov, performing on stage in Crimea months after the annexation.
Russian media had already claimed Kostov as a Muscovite as he lives and studies in Moscow, and he idolizes Russia's most famous male pop star Filip Kirkorov.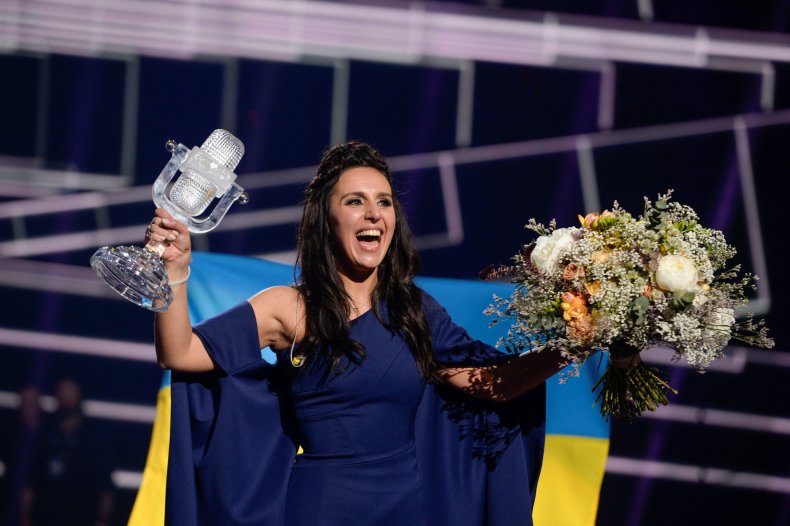 Despite the footage, Kostov will participate in the final on Saturday. Ukraine's security forces are investigating, but as Kostov was 14 at the time he was under the legal age for prosecution. Regardless, it has left organizers with a tough choice—address the issue and risk letting politics overshadow the competition or ignore it and encourage Russia's state media machine to further claim discrimination.
To heighten the tension Kostov is one of the favorites. He could clinch Bulgaria's first win—in 2016, the country finished behind only Russia, Ukraine and Australia (Yes, Australia is in a European song contest, despite being nearly 9,000 miles away.)
Ukrainian member of parliament Vadim Denysenko has already claimed Russia is planning to claim a Kostov victory as their own. Moscow will undoubtedly also relish the chance to cry double standards, should Kostov win, as the teenager was not punished for his trip to Crimea and their contestant was.
Ukraine looks toward Europe
The music performances aside, hosting Eurovision is a political project for any country formerly in the Soviet Union's sphere of influence. Europe's attention and a tourism uptick are behind Eastern Europe's collective rationale for investing in the competition.
Kiev expects 20,000 guests in the space of 14 days and millions of European TV screens to blare out images of the capital's golden onion domes and lively streets. The event reportedly cost 23 million euro, the majority of which will come out of Ukraine's state budget. That is 3 million euros more than last year's host Sweden, despite Ukraine being in much worse economic shape and paying for a war in its east. Prime Minister Volodymyr Groysman has repeatedly assured Europe that Kiev would not forfeit hosting rights for safety or monetary concerns.
Domestically, some have questioned the prudence in the glitzy makeover central Kiev has received, when in the day prior to the final two Ukrainian soldiers died fighting in the country's rebel-held east and six were injured. Three soldiers died the week prior, with troops far less preoccupied with the musical show and much more focused on recovering the bodies that remained unburied, behind enemy lines and within enemy firing range for days.
Since the war's start in 2014 and its grounding to a habitually murderous, unresolved halt a year later, Kiev has progressed little in recovering control of its territories in the east. However, politicians in Kiev have consistently pushed for a wider, public rejection of Kremlin influence, highlighting that Ukraine's natural place is with the West. The competition comes the same week that the EU approved a visa-free regime for Ukrainians.
"I would say that today Ukraine conclusively formed its divorce with the Russian Empire and that is precisely how, philosophically, we should perceive this," Poroshenko told Ukraine's channel 1+1 on Thursday.
"We are not just talking about visa-free crossing of borders, we are talking about Ukraine's return to its historical place in the ranks of European countries," he said.
Although sympathetic with Ukraine at the start of tension with Russia in 2013, some EU states have since waned in their backing. Last year a Dutch referendum opposed a Ukraine-European Union treaty on closer political and economic ties, while Hungary has repeatedly sought to end economic sanctions on Russia. With the war in Syria making the issue of refugees a more pressing concern for many EU states since fighting in Ukraine cooled to periodic deadly skirmishes, Kiev has been out of sight and out of mind for many Europeans. Eurovision is Ukraine's chance to perhaps charm them anew.