'Eurovision': Are Rachel McAdams and the Cast Really Singing?
Eurovision has shot to the top of Netflix's charts across the world since being released over the weekend, and viewers have had songs like "Double Trouble," "Husavik" and "Lion of Love" in their heads ever since watching the Will Ferrell and Rachel McAdams comedy. With songs so catchy (and Fire Saga's tunes featuring some serious whistle tone), viewers have been left wondering exactly who is singing in the Netflix film.
Is the cast of Eurovision really singing?
For the most part, the voices of Sigrit Ericksdottir (Rachel McAdams) and Alexander Lemtov (Dan Stevens) are not those of the actors but of European singers.
Much of McAdams' singing is courtesy of one-time Junior Eurovision contestant Molly Sandén who represented Sweden in 2006. Stevens' voice, meanwhile is courtesy of Sweden's Erik Mjönes. Though Stevens previously provided his own vocals in Beauty in the Beast, he told Attitude that for Eurovision: "They stuck with a talented Swedish baritone."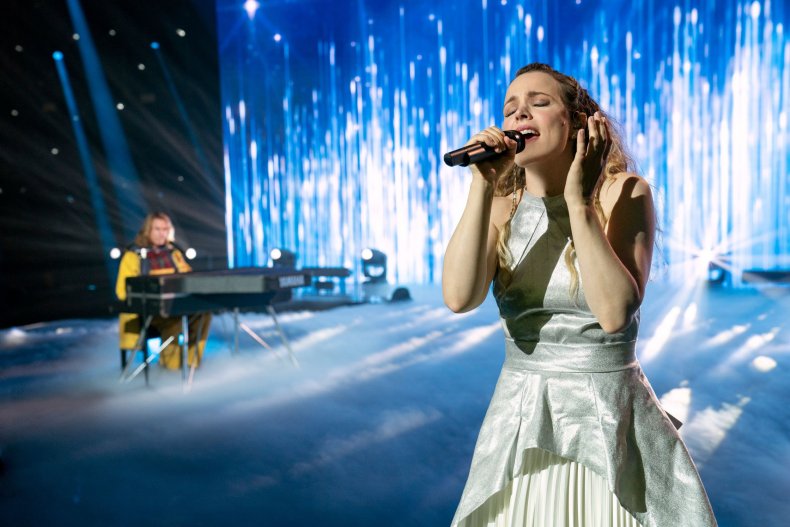 He added in a Decider interview: "Sadly, it's not [him singing]. It was going to be. In post-production, I was going to get into the booth. And then, obviously, coronavirus came and changed the post-production schedule rather rapidly. We stuck with the original track, which is sung by a Swedish baritone, Erik Mjönes, who is great."
McAdams, however, does do some of the singing in The Story of Fire Saga. When viewers see Sigrit composing "Husavik" on a hotel room piano, that is the actual voice of the Mean Girls actor. For the full versions of "Husavik" and "Double Trouble," however, her voice is mixed with that of Sandén.
Eurovision's music producer Savan Kotecha told Vulture that both singers performed the song and then, "sent the files to the film mixers and they blended them." However, the soundtrack for the movie features just Sandén's renditions of the numbers.
Other actors, however, do provide their own vocals. The real Eurovision Song Contest stars who appear in the sing-along use their actual voices, as does Ferrell. Speaking to ET Canada, McAdams said of her co-star: "Will is a great singer, comes from a very musical family."
Fans of Ferrell's movies will have seen the actor sing a number of times, in films like Step Brothers and Anchorman. He also revealed on The Late Late Show in 2015 that his stand-up act used to begin with him singing a version of the Star Trek theme tune. He was also one of the singers on the notorious celebrity cover of John Lennon's "Imagine" that did the rounds on social media earlier this year.
Eurovision Song Contest: The Story of Fire Saga is streaming now on Netflix.