EU's Clean Energy Pledge Imperiled By Rising Prices, Extreme Climate Events
Europe has reached a climate inflection this year. It is facing its worst drought in centuries, with two-thirds of the continent now under a "warning" or "alert" by the Global Drought Observatory. At the same time, energy prices in the region have risen by 39.7% this year alone, according to Eurostat, driven in large part by Russia's invasion of Ukraine.
Both of these situations challenge the future of Europe's clean energy transition. And now, European policymakers must balance their long-term commitment to "net-zero emissions" with the short-term pressures to slow down rising energy prices.
"Europe is making a dramatic change in its energy strategy following the Russian invasion of Ukraine," said Joseph Majkut, director of the Energy Security and Climate Change Program at the Center for Strategic and International Studies.
"They want to accelerate the deployment of renewables and other clean technology while at the same time reducing the use of Russian natural gas," he said. "And doing those things at the same time is a challenge."
Europe is facing one of its driest summers on record. Mariya Gabriel told the BBC that the ongoing heat waves, an above-average wildfire season and water shortages have created unprecedented stress on the continent.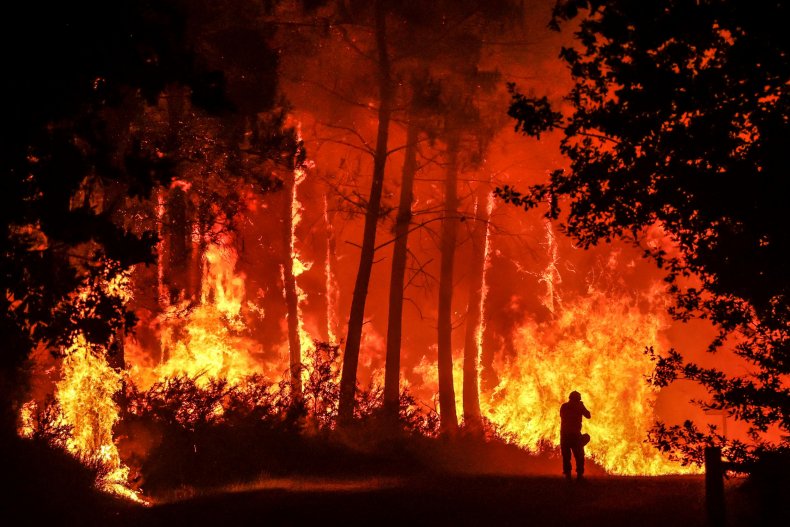 "Climate change is undoubtedly more noticeable every year," she said.
Eurostat reports that these wide-ranging environmental changes have affected everything from agricultural yields to soil quality and food prices, which are up 8.9% this year.
"We are going to continue dealing with the effects of climate change as they become more extreme, more pervasive, and more obvious," Majkut told Newsweek.
Severe heat has become more frequent and intense worldwide, and most scientists now say that global warming is its key driver. Burning fossil fuels releases gasses that create a greenhouse effect in the atmosphere and change our planet's climate, according to the European Environmental Agency. Last year, the E.U. reasserted this understanding by passing the European Climate Law, which set a legally binding target to reach net-zero greenhouse gas emissions by 2050.
But that was before Russia invaded Ukraine.
Before the invasion, Russia supplied nearly 27% of the E.U.'s imported oil and 40% of its gas, according to the BBC. But those numbers were slashed after the E.U. announced a ban on 90% of Russian imports by the end of 2022. The ban contributed to an acute supply shock for both commodities.
While most nations have stayed true to their original emissions pledge, just one year later, a few signatories are already wavering.
Some policymakers have addressed this decreased supply with calls for corporate taxes, price caps, aid packages, and increased investments in clean energy technologies, but other policymakers have pushed to increase the domestic production of fossil fuels and imports of foreign oil.
More than one million barrels a day of crude oil made it to Europe from the Middle East in the first three weeks of July, nearly doubling volumes from a year ago, according to data from Bloomberg.
Speaking to reporters at the G7 Summit in June, German Chancellor Olaf Scholz said that "the future does not lie in gas," but added an important qualifier.
"In the short-term, gas is going to be necessary," he said, "and there can be investments in the transitional phase which are going to have to be supported."
Additionally, countries like Germany, Italy, and Poland have all indicated a willingness to increase the domestic production of coal to offset future gas shortages.
Some are worried that these "solutions" will decrease energy costs in the near term but increase emissions over time.
"The European government's actions speak louder than words," said Bruce Stokes, visiting senior fellow at the German Marshall Fund of the United States, "in the sense that the German government is considering keeping nuclear power plants open, and people are burning more coal."
As summer begins to fade into fall, and temperatures begin their descent into the heating season, pressure increases on policymakers to find a solution.
"My guess is that the pressure to go to more carbon-based fuels over this winter will only increase," Stokes said.
But hope for a carbon-free future remains.
"Net-zero ambition is still real," Majtuk told Newsweek, "and the political will to get there may be stronger than we think."
He argues that the E.U.'s stated long-term goals for the energy transition remain unchanged, and is optimistic that the union will remain resilient in the face of challenges.
"Now the energy transition that [Europe is] embarking upon has both climate and energy security imperatives," Majtuk said. "So the questions are not about if we'll get to net-zero, but when we will get there and what the path will look like."