Eva Longoria Forced to Apologize After Downplaying Black Women's Election Turnout
Eva Longoria is facing backlash today for diminishing the role that Black women voters played in getting Joe Biden elected.
The Desperate Housewives star upset a lot of people with her remarks in which she claimed that Latinas were the "real heroines" of the Democrats' election victory, while seemingly downplaying the voter turnout among Black women.
Appearing on MSNBC, Longoria, the 45-year-old said: "The women of color showed up in a big way. Of course, you saw in Georgia what Black women have done, but Latina women were the real heroines here. Beating men in turnout in every state and voting for Biden/Harris at an average rate close to three to one."
Following a swift reprimanding on social media from hundreds of people who accused her of "anti-Blackness", Longoria issued an apology.
"I'm so sorry and sad to hear that my comments on MSNBC could be perceived as taking credit from Black women," she tweeted. "When I said that Latinas were heroines in this election, I simply meant that they turned out in greater numbers and voted more progressively than LATINO MEN."
She added: "My wording was not clear and I deeply regret that, there is such a history in our community of anti-Blackness and I would never want to contribute to that."
The actress, who co-presented this year's Democratic National Convention also tweeted: "Black women have long been the backbone of the Democratic Party, something we have seen played out in this election as well as previous ones. Black women absolutely should be applauded and lifted up! They brought this victory home in a BIG way!"
Longoria's interview sparked a conversation on Twitter, with many users calling her out on the platform.
"Eva Longoria can try to downplay the significance of black women securing the presidency for Democrats all she wants, but she hasn't been relevant since Desperate Housewives," podcaster Kinsey Clarke tweeted. "So. Let's not look to her for any political insight or analysis. Gone, girl."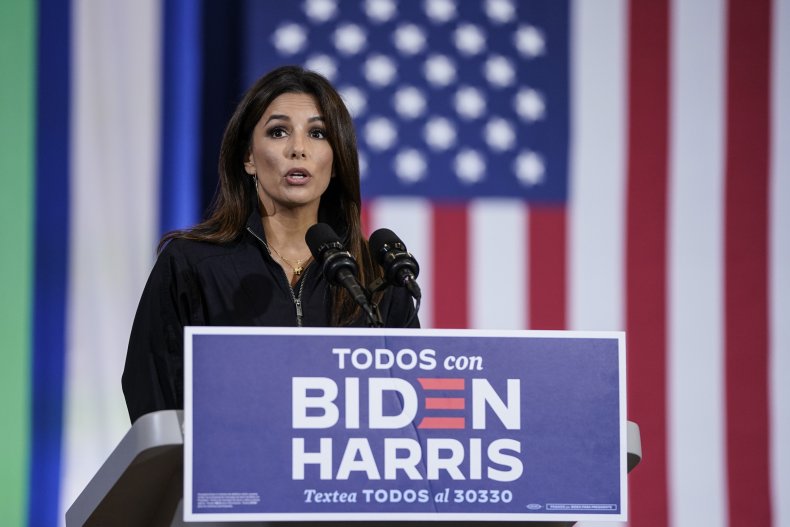 Author Daniel José Older added: "This is not okay @EvaLongoria. Saying Black and Latina women as if they are 2 separate categories is erasure of Afrolatinas. Daying yeah Black Women did a lot BUT Latinas are the REAL heroes is both wrong and foul. And a lot of our folks went for 45. We need to deal with that."
Many tweeted to say that Longoria's claims were false.
According to statistics published by the Financial Times, Donald Trump made his biggest gains in Hispanic communities, particularly in Florida and Texas.
NBC reports that Biden reached 270 Electoral College votes in large part because of Black voters in Philadelphia, Detroit, Milwaukee and Atlanta.