Eva Longoria Praised for 'Amazing' DNC Hosting Skills
Eva Longoria Baston has received widespread praise for her part in Monday's Democratic National Convention.
An unconventional Democratic National Convention took place Monday with the Desperate Housewives actress and longstanding immigration activist taking center stage as the host on the first night of the event.
A co-founder of the Latino Victory Fund, which champions Latinx candidates for public office, Longoria was designated M.C.s for the night, acting as an anchor for the 2020 convention.
"During the next four nights, we will gather safely from our homes to listen, to learn, to be inspired, to act, to vote, and to build that more perfect union," Longoria said to viewers. "I am honored to be with you this evening. I am here tonight as a ninth-generation Texan, as a daughter of a veteran and a teacher, as a mother, as a voter, and as a patriot."
The 45-year-old added: "I share Joe Biden's belief that the story of America is one of ordinary people coming together to do extraordinary things. And at our best, our country rewards hard work, we celebrate diversity, we look out for each other, and we lift one another up."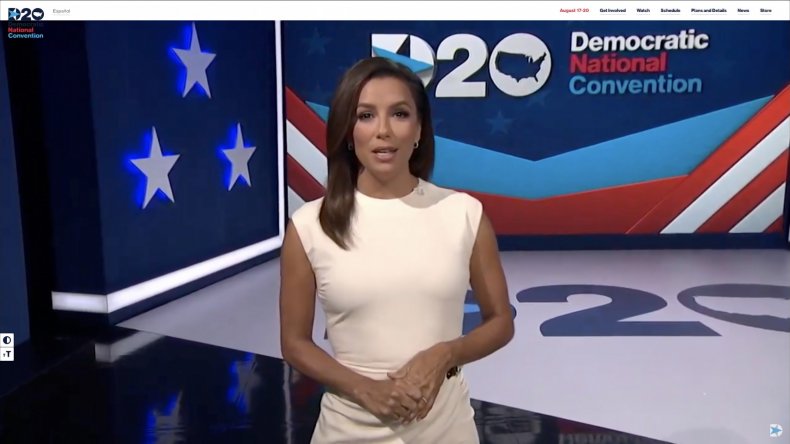 Longoria's address and hosting on the night garnered approval from many on Twitter.
Activist and writer Charlotte Clymer tweeted: "Hey, um, real talk: has Eva Longoria thought of running for office? Because she's pretty amazing. #DNC2020."
NBC News's Suzanne Gamboa added: "Why is Eva Longoria the emcee for the Democrats' convention? She's been a political activist for about a decade. She helped launch Latino Victory to get more Latinos elected to state and national public office, works to improve women's roles in Hollywood in front of and behind..."
Writer Gabe Ortíz tweeted: "Some of you surprised by Eva Longoria tonight haven't been paying enough attention to her activism over the past several years. #DemConvention."
Community star Yvette Nicole Brown also praised Longoria, tweeting: "I'm gonna say it one mo' again, @EvaLongoria is SO good at hosting this!"
CNN's White House correspondent John Harwood simply tweeted: "Eva Longoria is good at this."
However, not all praise was positive as Republican Sen. Marco Rubio criticized the actress for being "out of touch."
"Brilliant move!" he tweeted. "No one is more in touch with the challenges & obstacles faced by everyday Americans than actors & celebrities."
Rubio's sentiments were shared by author Matt Taibbi, who tweeted: "Am I supposed to know why Eva Longoria is moderating?"
Tracee Ellis Ross, Kerry Washington, and Julia Louis-Dreyfus will serve as M.C.s during the remaining three nights of the DNC convention.