Eva Melander Talks About Her 'Extraordinary Transformation' for 'Border,' the Swedish Fairytale Where Guilt Is Sniffed Out
What if you could smell fear? Border, the Swedish movie directed by Ali Abbasi, explores those possibilities, along with many others, in the 2018 movie based on John Ajvide Lindqvist's short story of the same name.
Under a heavy amount of prosthetic makeup, Eva Melander underwent a remarkable transformation to star as Tina. The customs agent has the power to smell fear and anxiety. She uses her superpower to "sniff out" illegal imports and moral corruption at an unnamed Swedish border crossing. Her instincts have never been wrong until she comes across a traveler named Vore (Eero Milonoff) who has a genetic condition that gives him a strange heavy-browed appearance just like hers. While aiding in a police investigation, Tina is about to embark a journey where she learns more about herself, Vore and his sinister secrets. Tina is awake for the first time but she's never been more afraid.
Border is Scandinavian mythology but its relatable theme centers on self-identity. Melander plays Tina with a sensitivity that will make audiences open their hearts, laugh and maybe even cry. In an interview with Newsweek, Melander talked about how she prepared for the role, her favorite scene and how she thinks Tina's story continued when the cameras stopped filming.
Spoilers ahead.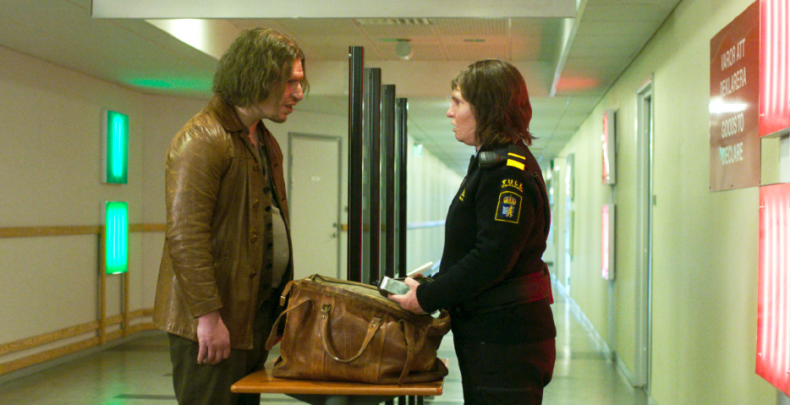 How did you prepare to play a character like Tina?
It was a lot of preparation. I gained 40 pounds by doing bodybuilding four times a week, building muscles from my waist to my shoulders. I was eating every 90 minutes. I had a food schedule on my refrigerator. I gained a lot of [pounds] in a short period of time, which was very hard, for sure. It's like poisoning your body in a way. I didn't get to exercise or do any cardio.
How did it affect your psyche?
Mentally, I was preparing to be half-animal, half-human—that's the way I thought of it—because it's impossible to do a troll. It's a fairytale. I watched dogs on YouTube, like how they smell and sniff… since I'm doing this character who has the sense of smell as her superpower. She can feel if people are guilty. She can smell fear and anxiety.
What was the makeup like?
I had so many prosthetics. Nine pieces. Even on my eyelids! It was only my lips that were not covered.
This was like the most extraordinary transformation I've ever done and I knew it was going to be. I was excited about that, but, of course, it costs a lot. I did four hours of prosthetics before shooting 10 hours and then taking it off was one hour. It was a hard time to go through. I was kind of carrying Tina for this period of shooting… it was very heavy, mentally and physically, to do this character.
How did you help show that Tina is a troll living in a human world?
This civilization was not built for her. She is a character who belongs in nature. For her, it would be normal to be out in the forest with animals. So going in and out of a car, living in a house, sitting on chairs, she has to adjust to all these human things. It's hard and uncomfortable for Tina.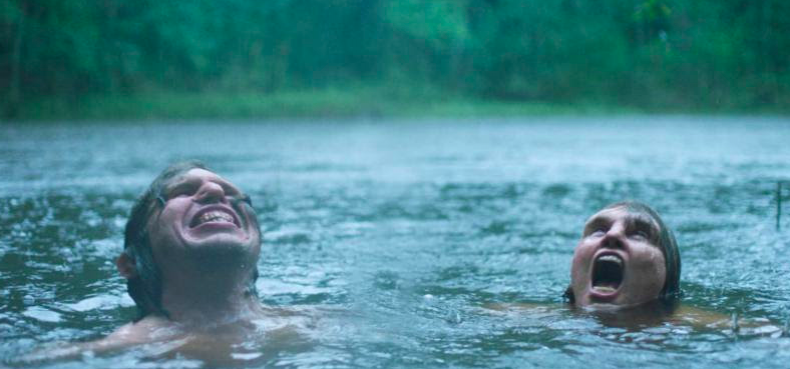 What was the atmosphere like on the set?
I could feel that I was carrying a lot of sorrow and I was carrying a lot of feelings of being alienated and sadness... I found people to be very supportive since they knew I was going through a tough period of time.
Had you read the short story before the film?
I hadn't read it before I was asked if I wanted to be cast for this part but I started with the short story. That's how I began to prepare for the role. I had read other stuff by this author [John Ajvide Lindqvist] but for me, this Border short story, I really think it is a very beautiful story—a very dark and harsh beautiful story.
What was your favorite scene to film?
My favorite was when she comes to see Vore where he lives when he's at the hostel and he's out there eating those worms and she's like, "No, that's terrible." And he's like, "Why? Who says?" And she's like, "Well, everybody." [Laughs]
The film ends with Tina getting a postcard to go to Finland, where other trolls apparently live. Do you think if she went there Tina and Vore would be together again?
I'm not sure. I have a feeling, personally, like no she's not going to. Maybe she's going to [Finland] to see other trolls, and maybe she will meet him, but I don't think at that moment [she would reconnect with Vore], but maybe later.
Border debuted in theaters Friday.
Eva Melander Talks About Her 'Extraordinary Transformation' for 'Border,' the Swedish Fairytale Where Guilt Is Sniffed Out | Culture