Flagging Up Injustice in Zimbabwe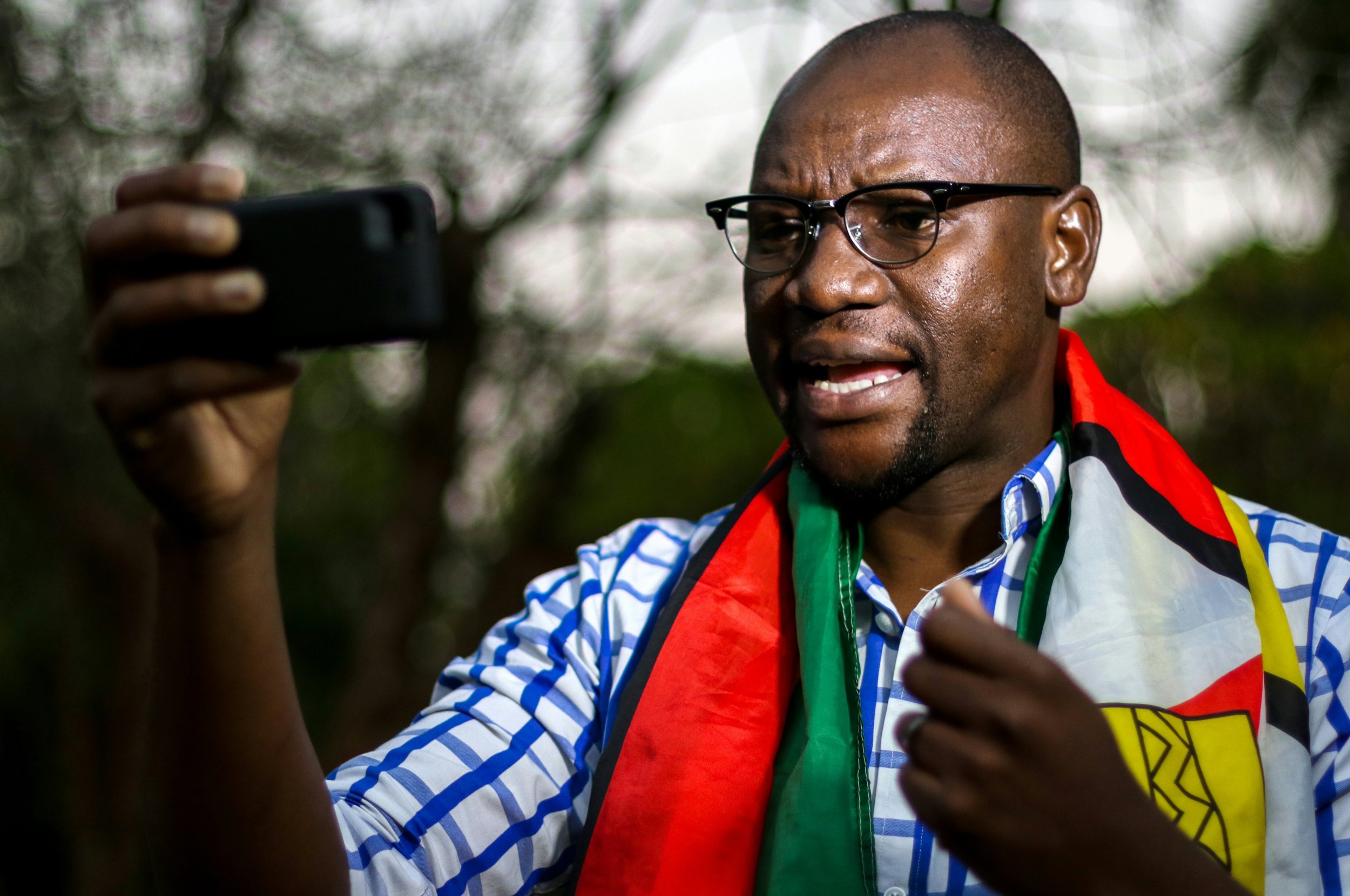 For 36 years, Zimbabwe has been synonymous with its veteran leader, Robert Mugabe.
The 92-year-old leader—Africa's oldest serving president—has dominated the political and media conversation in the Southern African country. In recent months, Zimbabwean media has been saturated with debate about who will eventually succeed Mugabe, who says he wants to rule until he's 100.
But since April, an activist movement born on social media has punctured the Mugabe-focused discourse and generated fervent discussion about the embattled country's future. The hashtag #ThisFlag went viral on Twitter after a Baptist pastor based in the capital Harare shared a video, in which he lamented how he had been "separated from the promise of my flag" by a government accused of rampant corruption and suppressing political opposition.
Pastor Evan Mawarire posted the video on April 19, the day after Zimbabwe celebrated its independence—which was achieved in 1980 and since when Mugabe has ruled the country. Mawarire says he made the video in desperate frustration after realizing he was unable to generate the funds to pay for his children to attend school, a deficit he attributes to the country's failing socio-economic system. Zimbabwe's GDP growth has dropped under 2 percent, its economy is half the size it was 15 years ago and a cash crisis has seen food prices soar, bringing back dreaded memories of the hyperinflationary era of 2008-09, when annual inflation reached 231 million percent and the price of bread rose to 10 million Zimbabwean dollars.
For Mawarire, Zimbabwe's decline means that total change in the political system is necessary—including the president. "We have had a same government with the same system and the same ideas for 36 years," says Mawarire, 39, who runs His Generation Church in Harare with a congregation of around 70 people. "As a young Zimbabwean, my desire is to see wholesale change—we just want something new and we know we can't do it with the same people."
Speaking out against the regime is a dangerous business in Zimbabwe. More than 100 people died and hundreds more were abducted as Zimbabwean security forces brutally cracked down on political opposition ahead of the 2008 election—which Mugabe eventually won in a second round vote after opposition leader Morgan Tsvangirai defeated the president in the first poll. In March 2015, a vocal critic of the Mugabe regime, Itai Dzamara, was snatched from a local barbershop and bundled into an unmarked car. He has not been heard from since, with his family and supporters accusing the military of being behind his abduction. The military has denied these claims but the usually efficient Zimbabwean intelligence services have failed to produce a single lead in the case, despite Dzamara being missing for 15 months.
"I would be lying to you if I said I'm not concerned [about my safety]," says Mawarire. "But at this point I don't know what else to do. I can't keep quiet any longer and this is what I've been urging the citizens—let us not remain silent."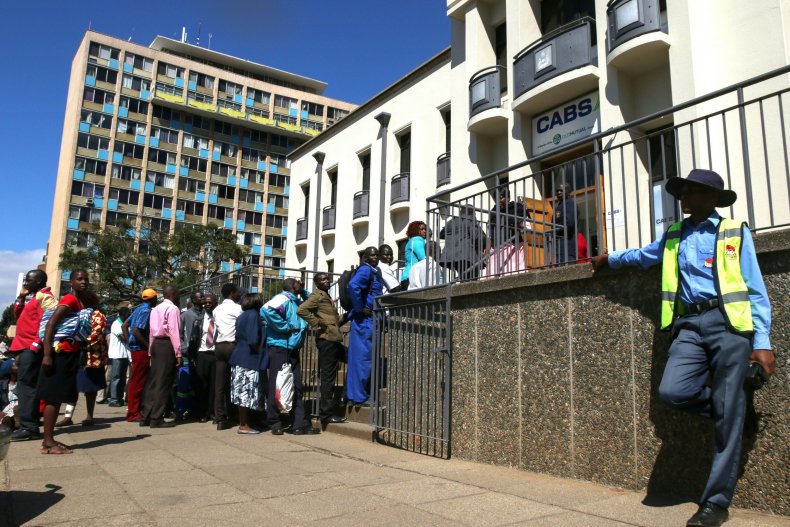 According to Mawarire, the Zimbabwean flag makes a promise to its people—and Mugabe's government has failed to deliver on its promises. Ahead of the 2013 election, the ruling Zanu-PF party pledged to create 2 million extra jobs for the country, where almost three-quarters of the population lives in poverty, according to the World Bank. While Zimbabwe's true unemployment rate is a mystery, it has been estimated as high as 80 or 90 percent (the state-run Zimbabwe National Statistics Agency put unemployment at 10.7 percent in 2011). The government is also forging ahead with an indigenization program—which requires foreign firms to transfer at least 51 percent of their shares to black Zimbabweans—that political opponents say will drive foreign investors out of the country.
The current cash crisis is the latest manifestation of Zimbabwe's political and economic malaise. Mawarire says he has heard of elderly people queuing at banks for three or four days just to withdraw $30 from their pension. Zimbabweans fear that a repeat of 2008—when hyperinflation wiped out the value of pensions and savings and left at least eight in 10 people out of work—could be just around the corner, he says. "The fear is that we are about to lose everything that we worked so hard to rebuild since 2008. We have been through this before. We just don't trust the system anymore."
Unsurprisingly, the Zimbabwean political hierarchy has not taken kindly to Mawarire's campaign. Government ministers launched the hashtag #OurFlag in a bid to reclaim the social media space, but the trend gained little traction in comparison. Zimbabwean higher education minister Jonathan Moyo—himself very active on Twitter—described the movement as a "pastor's fart" and accused Mawarire of being funded by the U.S., labelling Mawarire as a "pastor for hire." Mawarire also says he has received death threats—including an anonymous phone call where the caller threatened to strangle him with the flag—and was physically confronted by ICT minister Supa Mandiwanzira following a radio interview. Mawarire says the minister waited for him in the radio station's car park and alleged he was trying to destabilize the government, threatening to "deal" with the pastor.
Mawarire says he is disappointed with the government's response, which he calls "an insult to the citizenry." "When people stand up to speak or contribute towards nation building in divergent ways to the government, they accuse us of being funded and founded by the West, as if we can't think for ourselves," says Mawarire.
The government's accusations have brought Mawarire's motives for the #ThisFlag movement under scrutiny. He insists that he is not affiliated to a particular political party and is not advocating a revolution or violent overthrow of the current administration. Mawarire says Zimbabwe's next general election—scheduled for 2018—provides the horizon for his movement and constitutes "a shot that we have as Zimbabweans to exercise our right to put in place a government that we want and can hold accountable."
Until then, the citizen-led movement will continue its activism. Mawarire says they are planning to hold a debate with the governor of Zimbabwe's central bank about the recent introduction of bond notes, a cash substitute that some people fear could be a precursor to the resurrection of the Zimbabwean dollar. The movement is also petitioning for the removal of Zimbabwe's energy minister Samuel Undenge, who is caught up in a corruption scandal following the revelation that government power-generation projects were inflated by more than $500 million.
Amid the security threats and vitriol directed his way on social media, Mawarire admits things might be easier if he abandoned his home country and relocated. But he says the prospect of abandoning his stake in Zimbabwe's future is something he is not willing to contemplate right now. "Even if I do leave, the question is then what? I am still going to have to face my children when they grow up, and they are going to ask me: 'Dad, what did you do when Zimbabwe was burning?'"