Evan Rachel Wood Tells Survivors 'Don't Give Up' After Marilyn Manson's 'Donda' Collab
Evan Rachel Wood has seemingly condemned Marilyn Manson's inclusion on Kanye West's new album Donda.
The Westworld actress spoke out and addressed "survivors" while on stage this weekend, shortly after it was reported that Manson was confirmed to be featured on the album and after his appearance on stage with West in Chicago last Thursday.
Wood is one of a number of women who has accused her ex-boyfriend Manson (real name Brian Warner) of "horrific abuse"—claims the rockstar denies.
Following the album's release over the weekend, Wood shared a clip of herself on Instagram performing "You Get What You Give" by the New Radicals to a crowd at Hollywood's Bourbon Room on Saturday.
She captioned the video: "'You get what you give.' For my fellow survivors who got slapped in the face this week. I love you. Don't give up."
"I've been saving this but it seems like the appropriate time," Evan said in a video before raising her middle finger as she sang Manson's name.
While Wood did not reference West or Manson directly, it is highly likely she is referencing Manson's inclusion on Donda and appearance at the listening event, which was attended by almost 40,000 people.
The 33-year-old detailed her experience with Manson in February when she posted a harrowing statement on Instagram.
"The name of my abuser is Brian Warner, also known to the world as Marilyn Manson," Wood wrote at the time.
"He started grooming me when I was a teenager and horrifically abused me for years. I was brainwashed and manipulated into submission. I am done living in fear of retaliation, slander, or blackmail.
"I am here to expose this dangerous man and call out the many industries that have enabled him, before he ruins any more lives. I stand with the many victims who will no longer be silent."
The former couple started dating in 2007. She was 18 at the time while he was 36. They got engaged in 2010 but split seven months later.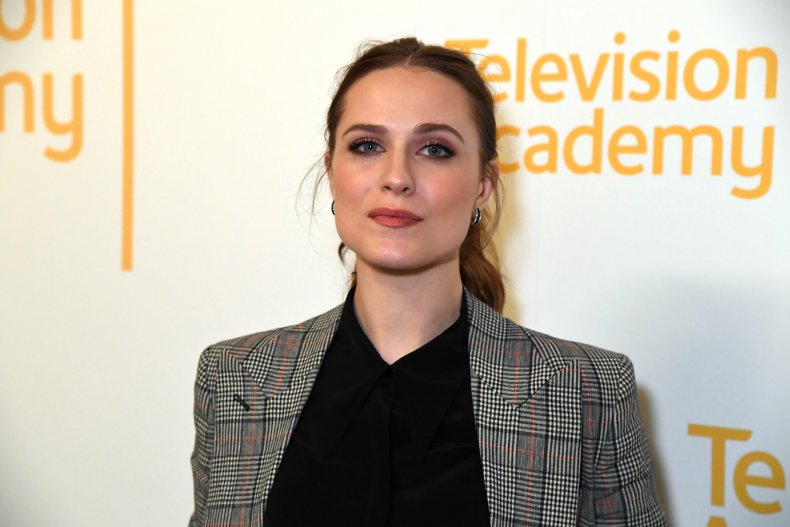 In 2009, Manson spoke about Wood in a Spin interview, saying: "I have fantasies every day about smashing her skull in with a sledgehammer."
Following West's claims, other women came forward with similar accusations against Manson, including actress Esmé Bianco, of Game of Thrones fame.
As of June this year, Manson is facing four sexual assault lawsuits—he denies all allegations against him.
Addressing the situation on Instagram earlier this year, Manson wrote: "Obviously, my art and my life have long been magnets for controversy, but these recent claims about me are horrible distortions of reality.
"My intimate relationships have always been entirely consensual with like-minded partners. Regardless of how—and why—others are now choosing to misrepresent the past, that is the truth."