Evangelical Leader Franklin Graham's Niece Jerushah Duford Joins Lincoln Project Against Trump's Reelection
Jerushah Duford, a granddaughter of the late evangelical Christian leader Billy Graham, has signed on to the Lincoln Project, an effort by Republicans and former Republicans to remove President Donald Trump from office in the November election by supporting Democratic presidential candidate Joe Biden.
Duford has joined the Lincoln Women arm of the anti-Trump campaign. The announcement of her joining the project comes as her uncle, conservative evangelical leader Franklin Graham, a staunch supporter of President Donald Trump, is slated to speak at the Republican National Convention on Thursday.
"I have not spoken to my uncle, but his voice was a large reason for my speaking out," Duford told Newsweek on Monday.
She previously told Forbes for an article published Monday that she sees herself as "speaking to the woman who has always voted Republican but is not sure if they can anymore, but they're also not sure how they feel about voting Democrat because they've never done it."
"I'm speaking to the woman who feels that tug in their spirit. We want to empathize with them that we know you feel this tug, and you feel uncomfortable voting Democrat because you never have. But at the same time, it's OK to follow your conscience," Duford said.
Newsweek reached out to the Lincoln Project for comment, but it did not respond by the time of publication.
The Lincoln Project's website urges conservatives and Republicans to end their support for Trump. "The priority for all patriotic Americans must be a shared fidelity to the Constitution and a commitment to defeat those candidates who have abandoned their constitutional oaths, regardless of party," it says. "Electing Democrats who support the Constitution over Republicans who do not is a worthy effort."
White evangelical Christians have been seen as Trump's strongest base of support since his election in 2016. Exit polling by Pew Research Center showed that fully 8 in 10 white evangelicals backed Trump at the polls.
"I think a large portion of evangelicals, especially women, voted for Trump as the 'lesser of two evils.' They walked into the voting booth, held their breath and hoped they were making the right choice," Duford told Newsweek. "I think the last four years has, at the very least, created concern and confusion amongst many evangelicals, and I'm hoping they will listen to that tug in their spirit this November."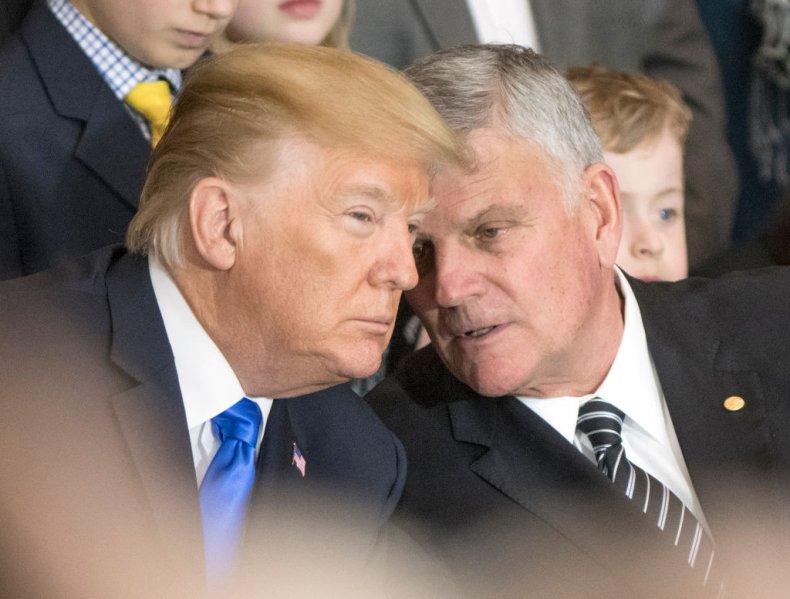 Duford said she considers herself to be "a homeless evangelical" due to the broad support Trump has received from the Christian community. "The world is watching and when church leaders hold Trump up as a representative of our faith, the damage to the gospel is immense," she said. "The world sees the hypocrisy, and the result is them wanting nothing to do with it."
Other women leading the Lincoln Women effort include Texas Republican Jennifer Waisath Harris, who worked for two Texas secretaries of state and for a former U.S. ambassador; Beth Fukumoto, a Hawaii Republican House Leader from 2014 to 2017; and Jane Calderwood, chief of staff for former three-term Senator Olympia Snow, Forbes reported.
"That the Lincoln Project has stood up and is taking action, both against Trump and what the Republican Party has become, I think is huge," Fukumoto, who now identifies as a Democrat, told the publication.