Evangelical Pastor Claims People in Heaven Are 'Crying Out' About Voter Fraud: 'Angels Have Been Dispatched'
Evangelical Christian Pastor George Pearsons claimed that people in heaven—as well as ballots—are "crying out" about alleged voter fraud in the 2020 election, saying that "angels have been dispatched."
President-elect Joe Biden and Vice President-elect Kamala Harris were declared the winners of the presidential election on November 7, after the Associated Press, Fox News and other television networks called Pennsylvania and Nevada in the Democratic ticket's favor. President Donald Trump has refused to concede, pushing unfounded claims of widespread election fraud—for which his campaign has not provided evidence.
Pearsons, a senior pastor at the Eagle Mountain International Church in Texas, repeated many of these claims during his Sunday sermon, while suggesting God was on Trump's side. Right Wing Watch first reported the pastor's remarks.
"So not only are the voters crying out, not only are we raising our voices over this corruption and this fraud, but the ballots are doing the same thing," the pastor said.
"All the way down the line, even to people who have died and gone to Heaven. ... Especially if those people were born again, they're in Heaven right now and they're crying out," Pearsons told the congregation.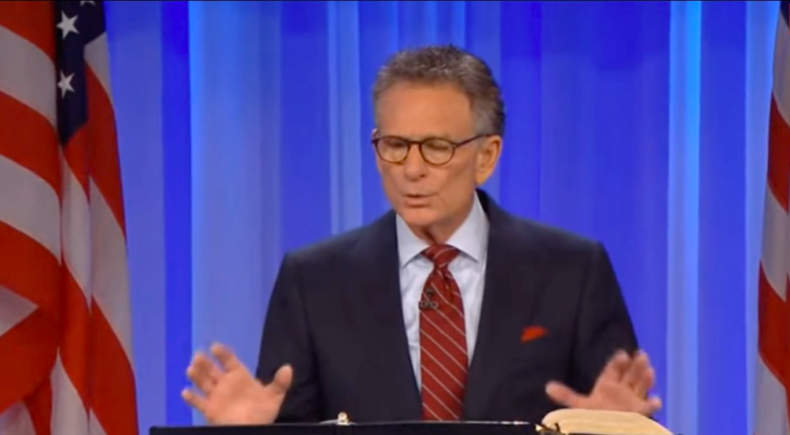 "They're crying out against the injustice of this. You cannot come against the Lord of the Sabbath, the Lord of angel armies. Angels have been dispatched; they are out there. That is why that voice is crying out. It is not just the people. It is the ballot itself," the pastor said.
Newsweek reached out to Pearson's church for further comment but did not immediately receive a response.
The day after the November 3 election, during a broadcast by the Victory Channel, Pearsons claimed that God was "not happy" about Biden pulling ahead of Trump as more ballots were counted.
"'I'm not happy with what you're doing to my nation, and I'm not happy about what you're doing to my man'—now he's speaking about Mr. Trump right there," the pastor said, claiming he was sharing God's message.
Several other prominent evangelical leaders have prayed or spoken in support of Trump in the wake of the election. The president's personal spiritual adviser Pastor Paula White denounced what she described as the "demonic confederacies that are attempting to steal the election from Trump" in an election-eve prayer service.
"I hear victory, victory, victory, victory, victory, victory, victory, victory right now in the corners of heaven" White chanted, adding "angles are being dispatched right now."
White evangelical Christians have been a key base of support for Trump since his election in 2016. Exit polls showed that about 8 in 10 white evangelicals voted for the president that year. That support appears to have declined slightly in 2020, with exit polling by Edison Research for the National Election Pool showing 75 percent support for the president.