Evangelical Pastor Robert Jeffress Defends Trump's Border Wall: 'Heaven Itself Is Going to Have a Wall Around It'
An evangelical preacher who is a prominent supporter of President Donald Trump has said that if a wall is good enough for heaven, then it is good enough for the U.S. southern border.
Pastor of First Baptist Dallas Church Robert Jeffress appeared on Fox & Friends Sunday to argue against a claim by House Speaker Nancy Pelosi that the wall would be an "immorality."
Read more: Donald Trump says NBC, MSNBC are 'worse than fake news CNN'
Jeffress invoked God, the heaven and the Bible to justify the wall that Trump wants $5.6 billion for, a sticking point that has caused the partial shutdown of government.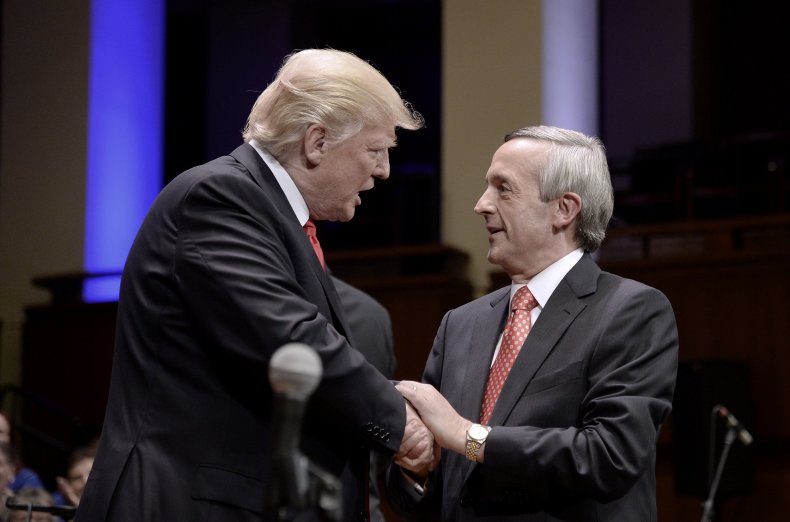 Jeffress said that according to the Bible, God instructed the Jewish leader Nehemiah to build a wall around Jerusalem to keep people safe.
"It's absolutely absurd...the Bible teaches that the primary responsibility to government is to maintain order and keep its citizens safe," he said.
In an apparent reference to the Book of Revelation, he said: "The Bible says even Heaven itself is going to have a wall around it. Not everybody is going to be allowed in."
"So if walls are immoral, then God is immoral," he concluded.
What the Bible states about the morality of walls is ambiguous. It also describes how the Jewish leader Joshua actually tore down walls.
"There is nothing immoral about a wall but what is immoral is for Democrats for political reason to block the president from fulfilling his God-given responsibility to keep our country safe and it's certainly immoral for Democrats to support sanctuary cities which are nothing but havens of lawlessness.
"Instead of vilifying and demonizing President Trump, we ought to thank God every day we have a president like Donald Trump who takes his oath of office seriously and is willing to do whatever it takes to keep this country safe."
Trump enjoys considerable support among Christians and a survey by the Public Religion Institute found 67 percent of white evangelicals, 52 percent of white Protestants and 56 percent of Catholics backed Trump's proposal.
Not all Christians believe that Revelation is a literal description of the end of the world. Others view it as a metaphor for God's final redemption of the world.
Jason Miller, a leader with the Franciscan Action Network, told The Huffington Post: "The United States has a right to secure our border, and we should and we have, but we also shouldn't turn away those in need, especially those seeking asylum.
"Christians especially need to keep that last point in mind, especially those who believe that our nation was founded on Christian ideals."