Evangelicals in Midwest Who Ditched Trump Cost Him the Election, Early Data Suggests
Prior to the election in swing states where lots of evangelicals vote, $140,000 worth of billboards contrasted biblical quotes with those of President Donald Trump. One had an image of Jesus on the left with the phrase, "Turn the other cheek," while on the right was a photo of Trump saying, "I'd like to punch him in the face." The signs were up in Michigan, Pennsylvania, Wisconsin and more.
With exit polls trickling in that suggest Trump's support among white evangelicals slipped around 5 percentage points nationwide to 76 percent, and more in a few battleground states, the coordinated effort among this group that makes up roughly one-fifth of the electorate might have ensured victory for Joe Biden.
The billboards—part of a campaign dubbed, "His Words Matter"—were courtesy of Vote Common Good, which spent $2.5 million to defeat Trump, and teamed with other organizations such as Faith 2020, Catholics for Biden, and The New Moral Majority. They went on a bus tour, stopping in 41 states for rallies that drew as many as 250 evangelicals each, and always made the local news on TV and in newspapers; they mailed postcards to Republican voters in Michigan urging them to vote against Trump; and they cut commercials with evangelicals pledging to do just that.
In Wisconsin,Trump is poised to lose by less than 1 percent of the votes, as is the case in Georgia and Pennsylvania, while the difference in Michigan is about 2 percent. In Kent County, Michigan, considered an evangelical stronghold, Biden earned 50,000 more votes than did Hillary Clinton four years earlier, ensuring it flipped from Republican in 2016 to Democrat in 2020.
Vote Common Good, run by Minnesota Pastor Doug Pagitt, was founded two years ago, long before Biden was the Democrat nominee for president, though it didn't matter who the contender was since its goal was to simply defeat Trump.
"We targeted habitual Republican voters like evangelicals and Catholics, Pagitt told Newsweek. "We knew if we moved votes just enough, we'd cut into his winnable margin. We believe we had an impact."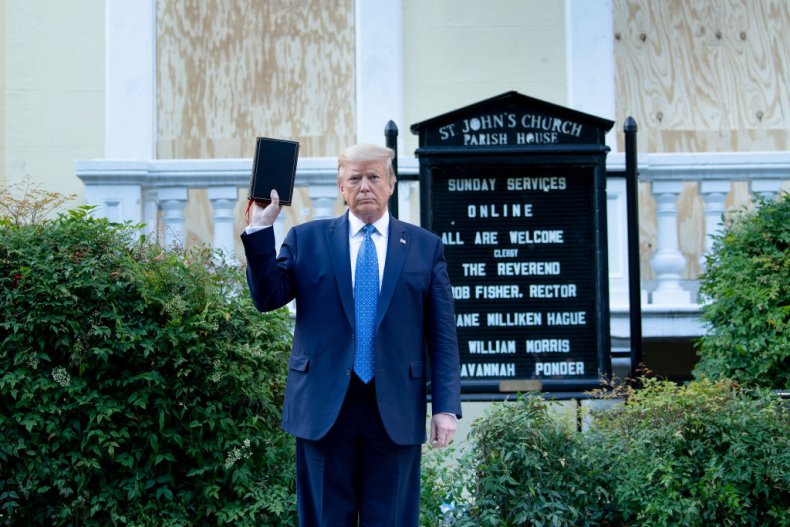 In Michigan, Pagitt said his group's data suggests 70 percent of white evangelicals voted for Trump, down from 81 percent four years ago. He said their research indicates 300,000 white evangelicals statewide ditched Trump, more than the 157,000 non-evangelicals who did likewise in the state.
Even those on the other side agree that such efforts paid off, such as Everett Piper, author of Not a Daycare: The Devastating Consequences of Abandoning Truth and former president of Oklahoma Wesleyan University. "It is indisputable that there was an organized effort from the evangelical left to unseat President Trump," he told Newsweek, singling out the group Pro-Life Evangelicals for Biden.
That group circulated a petition explaining that, while it disagrees with Biden and the Democrats on abortion, poverty also kills. "So does lack of healthcare and smoking. Racism kills. Unless we quickly make major changes, devastating climate change will kill tens of millions."
One of its prominent evangelical signatories, and a co-founder of the effort, was Ronald Sider, president emeritus of Evangelicals for Social Action, who told Newsweek that while only 8,000 signed the document, it generated plenty of news at major outlets, so word got out that it was OK for evangelicals to vote for Biden, even if they hadn't cast their ballot for a Democrat in decades. Sider notes that another petition, "Evangelicals for Biden," garnered 175,000 signatures.
"What is clear is that Biden chose to reach out to evangelicals in a way that Hillary Clinton simply did not," Sider said. "Our group will now make sure that Biden doesn't go (to) the extreme on issues like abortion and religious freedom. We don't agree with him on all issues, so we'll continue to be active."
But Piper, who calls Pro-Life Evangelicals for Biden an "oxymoron," predicts that many evangelicals who turned away from Trump in favor of Biden in 2020 might end up with buyer's remorse.
"The Democrat strategy of renting an evangelical paid off," Piper said. "If it weren't for Christ's promise that, in the end, the gates of hell will not prevail against his true church, I'd suggest the Body of Christ just committed cultural suicide by naively handing the gun to its executioner."
"Trump is like a self-cleaning oven; he does all the work for you," countered Pagitt. "Trump makes the argument he's unfit for office. Our job was to convince those who knew they were uncomfortable with him to not fall back into their habitual voting pattern. We created the context of a different choice."