Evangelicals Support Trump Much Less Than He Believes, Despite The Jerusalem Embassy Move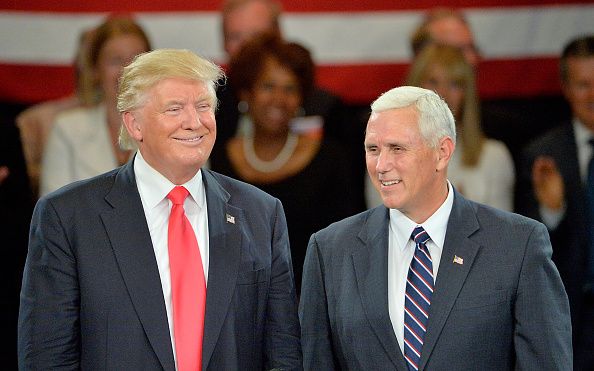 Just 30 percent white evangelicals in the United States would approve of President Donald Trump no matter what he does, according to a new survey that demonstrates Trump's support from this key demographic isn't as steadfast as some would believe.
"Three in 10 white evangelical Protestants are strong Trump supporters, while 42 percent are weak Trump supporters" and another 13 percent are strong Trump opponents, according to the Public Religion Research Institute survey, "One Nation, Divided, Under Trump," published Tuesday.
Trump made the controversial decision on Wednesday to recognize Jerusalem as Israel's capital, a move aimed at appeasing his evangelical supporters who view Jerusalem's place in the world through a biblical lens. The move sparked outrage across the Arab world, and many Middle East leaders said the decision signaled the end of the Israeli-Palestinian peace process. The Trump administration said it was merely carrying out a 1995 edict from Congress to relocate the embassy, though Republican and Democratic presidents since had found ways to delay.
Supporters of President Trump have suggested that the move was worth the controversy because it would shore up the support of some of his most steadfast supporters at a time when Trump's popularity is falling.
As a candidate, Trump promised evangelicals that he would move the U.S. embassy to Jerusalem and recognize Jerusalem as Israel's capital, which it has been for 4,000 years—at least according to the Bible.
"The whole land of Canaan, where you now reside as a foreigner, I will give as an everlasting possession to you and your descendants after you," God told Abraham in Genesis 17:8. Both Jews and Muslims see Abraham as a central figure, however.
Still, it is not clear that evangelicals all feel strongly about Israel. Another survey released on Monday demonstrated that younger evangelicals are much less supportive of Israel than their older counterparts despite their belief in the bible, and many believe Christians should be more considerate of Palestinians.
"Despite media portrayals giving the impression that evangelicals have one point of view when it comes to Israel, in reality there is a wide range of perspectives," Gary Burge, an evangelical New Testament scholar wrote in the Atlantic.
"Numerous evangelicals like me are less enamored of the recent romance between the church and Republican politics, and worry about moving the U.S. embassy. For us, peacemaking and the pursuit of justice are very high virtues."
To be sure, white evangelicals continue to be among the strongest Trump supporters, with a full 72 percent of respondents saying they approve of his job performance. according to the survey. During last year's presidential election, around 81 percent of white evangelicals voted for Trump, exit polls show.
"What struck me is that Trump supposedly got 81 percent of the white evangelical vote and he now has 72-percent approval, which means that white evangelicals are still tracking roughly what they voted," Henry Olsen, a senior fellow at the Ethics and Public Policy Center, told reporters during a panel discussion about the newly released survey.
But that nine-percent drop in support is crucial—it could translate to as many as 8 million votes, enough to swing even a not-so-close election.