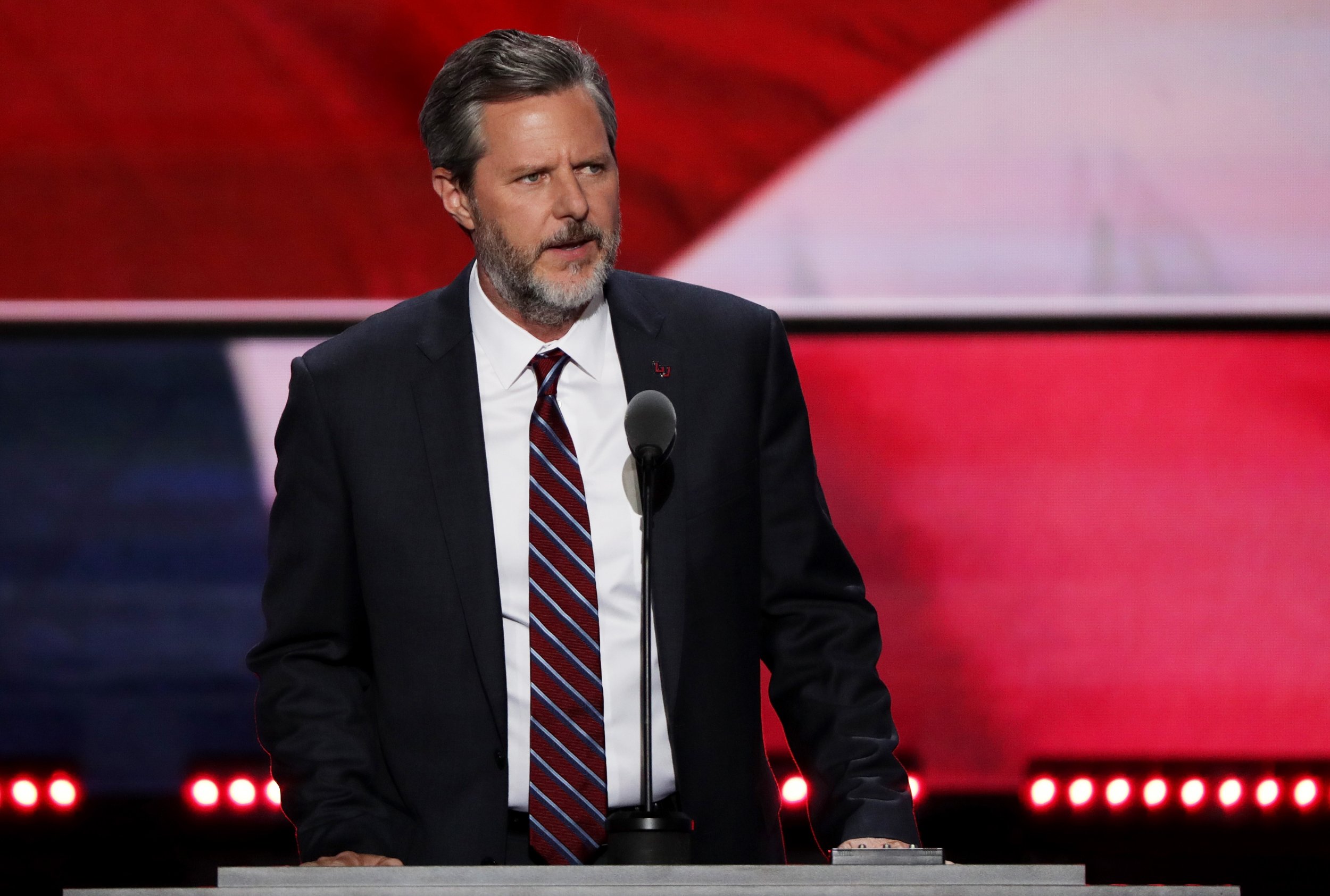 Liberty University President Jerry Falwell Jr. claimed that it "may be immoral" for evangelicals leaders "not to support" President Donald Trump in a recent interview.
During his conversation with Washington Post journalist Joe Helm, published on Tuesday, Falwell argued that all Christians should support the president.
"You've been criticized by some other evangelical leaders about your support for the president. They say you need to demand higher moral and ethical standards. You disagree with them on that?" Helm asked Falwell Jr.
"It may be immoral for them not to support him because he's got African American employment to record highs, Hispanic employment to record highs," the lawyer and university administrator said. "They need to look at what the president did for the poor. A lot of the people who criticized me, because they had a hard time stomaching supporting someone who owned casinos and strip clubs or whatever, a lot them have come around and said, 'Yeah, you were right.'"
When Helm asked Falwell Jr. whether Trump could do anything to lose his support, he responded: "No."
"That's the shortest answer we've had so far," Heim commented, before Falwell Jr. added: "Only because I know that he only wants what's best for this country, and I know anything he does, it may not be ideologically 'conservative,' but it's going to be what's best for this country, and I can't imagine him doing anything that's not good for the country."
Another strange answer came after Helm inquired whether it's "hypocritical for evangelical leaders to support a leader who has advocated violence and who has committed adultery and lies often."
"When Jesus said we're all sinners, he really meant all of us, everybody," Falwell Jr. responded. "I don't think you can choose a president based on their personal behavior… you choose a president based on what their policies are. That's why I don't think it's hypocritical."
Later in the interview, Falwell Jr. appears to attack impoverished citizens, saying they offer little to society. "A poor person never gave anyone a job. A poor person never gave anybody charity, not of any real volume," he said.
Falwell Jr.'s comments to the Post was not unusual for the frequent Trump defender and supporter. Last September, the president of the Christian conservative university stated he was considering ending Liberty University's ties with Nike following their Colin Kaepernick Just Do It campaign.
After Nike launched the advertising campaign, the school's partnership with the sportswear giant to provide gear for their athletic teams until 2024 was reportedly criticized by conservatives.
The 30th anniversary Just Do It campaign features the former San Francisco 49ers player who protested police brutality and racism by kneeling during the national anthem before an NFL game.
At the time, Trump said the company is "sending a terrible message" for using Kaepernick and "there is no reason" for it.