'Evangelion 3.0+1.0' Release Date Announced: The End of 'Evangelion,' Again
After eight years in intermittent production, Evangelion 3.0+1.0 finally has a release date. The fourth and final entry in director Anno Hideaki's Rebuild of Evangelion, Evangelion 3.0+1.0 will premiere in Japan in 2020, with a newly announced June 27 release date.
Official Evangelion social media accounts paired the release date announcement for Evangelion 3.0+1.0 with a poster, plus ticket presale details.
While a U.S. release date for the fourth Rebuild of Evangelion movie has not yet been confirmed, its long-awaited Japanese release finally breaks the stasis around the project, which was originally expected to be released in 2015. The delay can be partially attributed to Anno stepping away from the project to write and co-direct 2016's Shin Godzilla reboot, which introduced a new, mutating Godzilla while exploring similar themes to Anno's groundbreaking anime, Neon Genesis Evangelion.
Neon Genesis Evangelion originally concluded in the 1997 movie End of Evangelion, but Anno returned to the series a decade later for the 2007 release of Evangelion: 1.0 You Are (Not) Alone, which kicked off the four-movie Rebuild. In that movie and its follow-up, Evangelion: 2.0 You Can (Not) Advance, Anno retold major storylines from the original Evangelion anime series, telling a similar story with new animation and cinematic scope.
But in the Rebuild's third entry, Evangelion: 3.0 You Can (Not) Redo (released in the United States in 2016), Anno deviated substantially from what came before, journeying into the future of the Evangelion world and setting its story 14 years after the apocalyptic Third Impact.
While Evangelion has always been influential and beloved among anime fans, the series' profile is higher than ever in the United States, since Netflix became the streaming home for Neon Genesis Evangelion and End of Evangelion, bringing the story of Earth's cosmic reckoning to a wider audience. While grappling with the end of the world, as cyborg mechs piloted by children fight back against invading "Angels," Evangelion is also a very personal story about depression, following the quiet and frustrated Shinji Ikari until his personal psychological issues come to define a new future for all of humanity.
While a teaser trailer for Evangelion 3.0+1.0 released in August reveals little about the plot of the upcoming finale, it includes quick glimpses at returning characters, including Eva pilots Asuka, Rei Ayanami and Mari Illustrious Makinami. After the events of Evangelion 3.0, the concluding entry will have to deal with the aftermath of the Fourth Impact.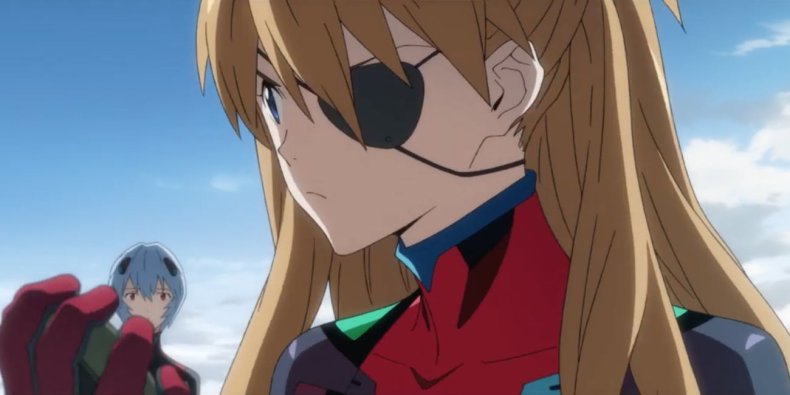 Previous entries in the Rebuild of Evangelion tetralogy have had significant waits between their Japanese debut and North American screenings. But for Evangelion: 3.0, that wait less than a year, with U.S. screenings following the November 2012 Japanese premiere in the summer after.