Evangelist Franklin Graham Compares Canadian Truckers to Paul Revere
A prominent U.S. evangelist has likened thousands of Canadian truckers blocking traffic over a COVID-19 vaccine mandate to a key figure in the American Revolutionary War.
As the so-called "Freedom Convoy" sends cities into gridlock and ensnarls major highways near the U.S. border, evangelist Franklin Graham on Tuesday threw his support behind the protesting truckers via Twitter, asking his followers to "pray for our neighbors to the north."
"The issue isn't primarily masks or vaccines—the issue is FREEDOM, the freedom to make our own choices," said Graham, President of Samaritan's Purse and the Billy Graham Evangelistic Association. "These truckers are a modern-day version of Paul Revere, riding against oppression."
Revere was a patriot in the American Revolution and is best known for his "midnight ride," which was immortalized in Henry Wadsworth Longfellow's 1861 poem, Paul Revere's Ride. On April 8, 1775, Revere rode on horseback through towns in Massachusetts to alert patriots of a planned advance by the British military to quash the budding revolution.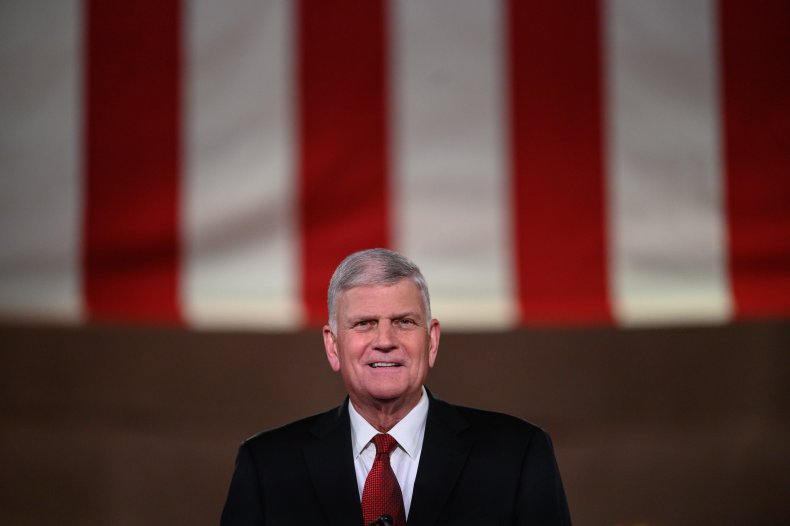 Graham said on Twitter that people delivering fuel or food to protesting Canadian truckers risked being arrested.
"I hope freedom-loving Canadians will take a jerry can of diesel fuel and a box of [Tim Hortons] doughnuts to every trucker they see in Ottawa—and another dozen for the police who are working," Graham tweeted. "Stand up for those who are standing up for your freedoms!"
Graham, son of prominent evangelist Billy Graham, has spoken in favor of vaccinations, along with other national voices, including Black megachurch minister T.D. Jakes and former Southern Baptist Convention President J.D. Greear. A survey from the National Association of Evangelicals released last year found that although 95 percent of evangelical leaders said they would get vaccinated against COVID-19, most of their congregants have been resistant to getting the jab.
Newsweek reached out to Graham for comment.
The Freedom Convoy arrived in Ottawa on January 28 in response to a requirement from the Canadian federal government to get vaccinated against the virus or face potential testing or quarantine requirements. Since then, the protest has grown and on Tuesday blocked the Ambassador Bridge in Detroit, Michigan. The bridge is used daily by nearly 40,000 commuters, tourists and truck drivers carrying $323 million worth of goods between the two countries.
Sixteen Canadian trucking associations issued a statement Tuesday calling for an end to the blockade, which they warned could impact millions of dollars in cross-border commerce.
Canadian Prime Minister Justin Trudeau has refused to meet with protest organizers and condemned them in a speech in Parliament Tuesday.
"This blockade, these protesters—they're not the story of this pandemic," he said. "They're not the story of Canadians in this pandemic."
According to Trudeau, 85 to 90 percent of truckers have complied with the mandate.
Correction 2/10/2020, 4:00 p.m. ET: This article was updated to clarify Graham's comments about people risking arrest to deliver fuel or food to protesting Canadian truckers.