Evangelist Franklin Graham Says Facebook Ban Was 'Personal Attack'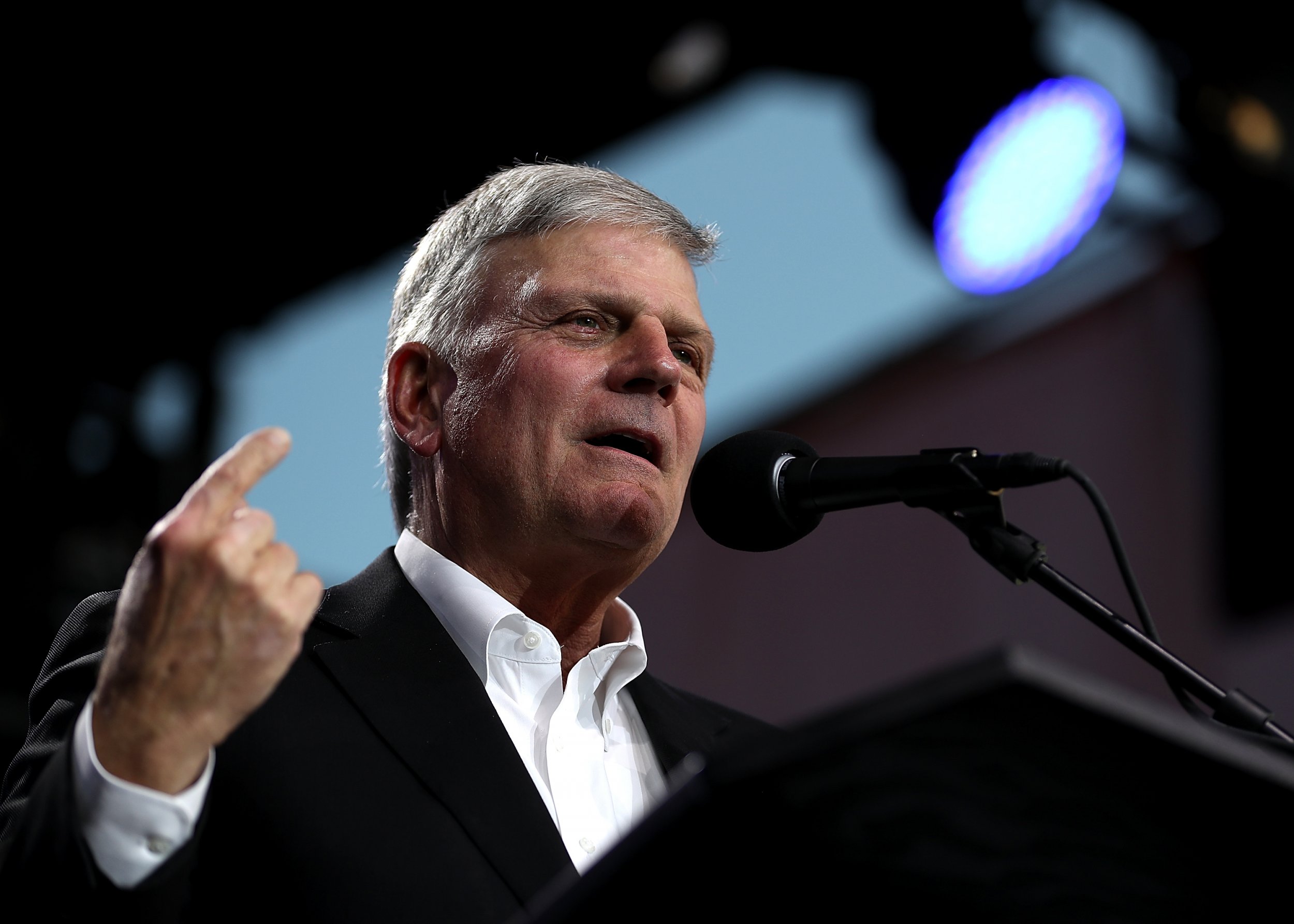 Franklin Graham—son of well-known evangelist Billy Graham—said that Facebook personally attacked him after he was banned from posting to his social media account for 24 hours.
During a Fox News segment on Sunday, Graham, President and CEO of the Billy Graham Evangelistic Association and Samaritan's Purse, condemned Facebook for what he believed was a "personal attack" towards him.
"Why are they going back to 2016," he said. "I think it was just really a personal attack toward me."
A Facebook spokesperson told The Charlotte Observer on Saturday that Graham was banned for one day last week because of a post that was published in 2016. The spokesperson went on to explain that they had made a mistake deleting the content and banning Graham.
Graham revealed he received a notification from the social media platform informing him that he had violated their "community standards on hate speech." In the 2016 post, Graham commented on singer Bruce Springsteen's decision to cancel his concert in North Carolina to protest the passing of House Bill 2, known as the "bathroom law," in the state.
Following his ban, Graham re-shared the post in a discussion about Facebook's moderation of content and invited his supporters to point out which part of it constituted "hate speech."
"Since Facebook took down the 2016 post last week, I'll copy it here so you can read it for yourself. Do you see any hate speech here? April 9, 2016---Bruce Springsteen, a long-time gay rights activist, has cancelled his North Carolina concert. He says the NC law #HB2 to prevent men from being able to use women's restrooms and locker rooms is going 'backwards instead of forwards.' Well, to be honest, we need to go back! Back to God. Back to respecting and honoring His commands. Back to common sense. Mr. Springsteen, a nation embracing sin and bowing at the feet of godless secularism and political correctness is not progress. I'm thankful North Carolina has a governor, Pat McCrory, and a lieutenant governor, Dan Forest, and legislators who put the safety of our women and children first! HB2 protects the safety and privacy of women and children and preserves the human rights of millions of faith-based citizens of this state," he wrote on Facebook.
"Facebook is trying to define truth," Graham added. "There was a character in a movie a few years back who said, "The truth is what I say it is!" That's what Facebook is trying to do. They're making the rules and changing the rules. Truth is truth. God made the rules and His Word is truth. Actually, Facebook is censoring free speech. The free exchange of ideas is part of our country's DNA."