Eve 6 Slams Aaron Lewis' Ukraine Comments Video for Surprising Reason
Over the weekend, the former frontman of early-2000s rockers Staind, Aaron Lewis, went viral over comments he made during an Ohio concert about the war in Ukraine. Ever the online raconteur, Max Collins of Eve 6, called out Lewis—but not for the specific comments he made.
The video, recorded at Lewis' Portsmouth, Ohio show on Thursday, was surfaced by attorney Ron Filipkowski and has been seen over 616,300 times. The clip is just shy of two minutes, but a much longer video of what Lewis said is available on YouTube.
In the clip, Lewis addresses the Russia-Ukraine war, and suggests that people should listen to Russian President Vladimir Putin.
"You know, as f***ed up as it sounds, maybe we should listen to what Vladimir Putin is saying. Maybe, just maybe, when [World Economic Forum chair] Klaus Schwab and [billionaire philanthropist known for giving to left-wing causes] George Soros and every other dirty f***ing Earth-destroying motherf***er all jumps on the same bandwagon, maybe—just maybe—we should f***ing take a good look at that. Why are they trying to protect Ukraine so much? What do they all have to lose?" Lewis said.
"It's all bullshit. It's all bullshit. Have you seen the pictures with wooden guns and and all the bodies and body bags laying in the background and all of a sudden one of the bodies starts moving and f***ing sits up and fixes his f***ing body bag? While the person that's that's the reporter is reporting? People if you haven't seen that, you better start f***ing looking elsewhere," he continued.
When Lewis talks about "wooden guns," he's referring to a picture that went viral of soldiers holding fake rifles. Though the photo is real, it was taken during training exercises on February 19, according to Reuters. It has been used as propaganda to spread the false claim that the war in Ukraine is not actually happening.
Similarly, the video Lewis refers to of the body sitting up and "fixing" the body bag is a real video, but taken out of context. The video was not taken from Ukraine, but from a protest against climate policy in Vienna, Austria, according to Reuters. The video had gone viral among war skeptics as depicting "crisis actors," a popular trope of conspiracy theories alleging that victims in various news events are actually actors hired to stage events.
"If you haven't seen Vladimir Putin actually say that he's fighting the deep state right now, which is the same people we're fighting, which is the same people everywhere on the face of this earth, that people are fighting for freedom. You know, we need to reassess and think about who it is, who these people are, what makes them worthy of us putting all of our faith and all of our trust in these f*** snake-oil salesmen," Lewis concluded, before joking "That should be good tomorrow!" and playing his recent hit "Am I the Only One."
Some conservatives, including QAnon followers—though it does not appear that Lewis believes in QAnon—have backed Putin and Russia in the war against Ukraine. Recently, commentator Candace Owens called Ukraine President Volodymyr Zelensky a "very bad character," and Republican Representative Madison Cawthorn of North Carolina called Zelensky a "thug" and his government "incredibly corrupt and incredibly evil."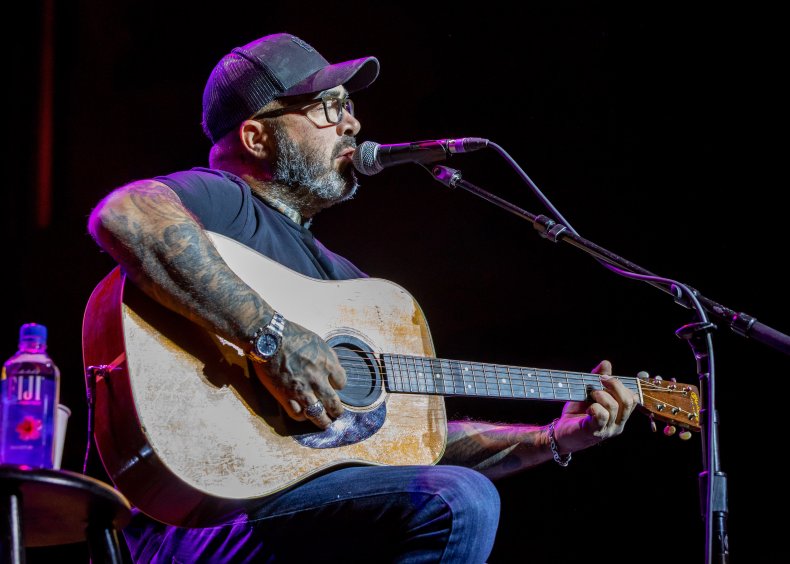 While most of the internet focused on Lewis spreading debunked conspiracy theories about the war, Collins used the Eve 6 Twitter account to point out something else he found odd about the video.
"there's a lotta crazy stuff in this video but none of it comes close to the absolute insanity of having 4 monitor wedges for a solo acoustic show," Eve 6 tweeted.
Monitor wedges allow performers on stage to hear their own audio. Larger bands will often have different mixes put into each monitor, focusing on a particular element of the sound mix. A solo acoustic show, though, would generally be able to get away with one monitor, as its sound mix would be relatively simple—vocals, guitar and possibly some additional reverb or other subtle effects.
Many musicians and audio experts chimed in. Legendary engineer Steve Albini, who recorded seminal albums like Surfer Rosa by Pixies and Nirvana's In Utero, and worked with musicians like Laura Jane Grace and Sunn O))) in recent years, asked if he had additional in-ear monitors, which fit over the musician's earlobe.
"Can't see, does he also have in-ears? That would be amazing. Not in a belt-and-braces way but a slippers-over-shoes way," Albini wrote.
Zach Myers of Shinedown mentioned a previous time his band played with Staind, who used a surprising number of monitors.
"Years ago. He actually used to fly a side fill straight over his head. Dead center of stage pointing down. Im not making this up," Meyers said. "4 wedges , actual side fills , hanging side fill ..... oh and Ears."
"is feedback an essential part of that guy's acoustic show?" Anthony Maietta, engineer for Good Times Recordings, wrote.
Newsweek reached out to Lewis through his label, Big Machine Label Group, for comment.