Hours before the House is expected to vote on the impeachment of President Donald Trump, House Speaker Nancy Pelosi circulated a letter Tuesday among her colleagues urging them to vote to impeach or be seen as "derelict in [their] duty" as public servants. In response, the president tweeted that she was putting "tremendous pressure" on House members.
On Tuesday, President Trump tweeted, "Democrat 'leadership,' despite their denials, are putting tremendous pressure on their members to vote yes on this ridiculous Impeachment. If they vote yes, it will be much easier for Republicans to win in 2020!"
Meanwhile, Speaker Nancy Pelosi, in a "Dear Colleague" letter circulating among caucus members urged House Democrats to "join her on the floor" Wednesday for the upcoming vote on impeachment articles.
"No Member came to Congress to impeach a President. But every one of us, as our first act as a Member of Congress, stood on the House Floor, raised our hand and took a sacred oath: 'I do solemnly swear that I will support and defend the Constitution of the United States against all enemies, foreign and domestic.' That oath makes us Custodians of the Constitution. If we do not act, we will be derelict in our duty," she wrote.
"Very sadly, the facts have made clear that the President abused his power for his own personal, political benefit and that he obstructed Congress as he demanded that he is above accountability, above the Constitution and above the American people," Pelosi continued.
"In America, no one is above the law," she wrote, ending with a call to "support and defend our Constitution from all enemies, foreign and domestic," and "God Bless America!"
White House Press Secretary Stephanie Grisham tweeted on Tuesday to equate Pelosi's letter with "overthrow[ing] the will of the voters."
"Translation: 'If we as Democrats do not act, we will not accomplish what we set out to do the day President Trump took office - and that is overthrow the will of the voters in 2016,'" Grisham tweeted.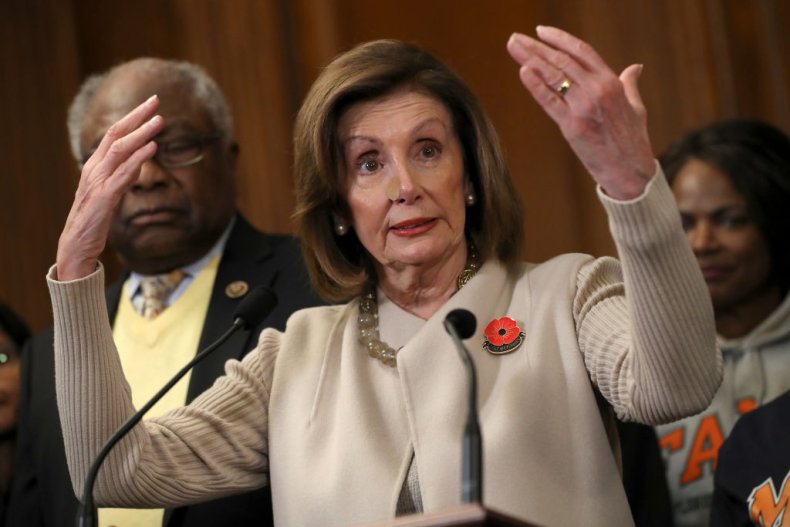 In an open letter released by the White House from President Trump to Speaker Pelosi, he said of the impeachment process, "More due process was afforded to those accused in the Salem Witch Trials."
President Trump remains under fire for allegedly asking Ukrainian President Volodymyr Zelenskiy to commit to a "quid pro quo" trade with America during a July telephone call. Trump is said to have threatened to withhold military aid that had already been approved unless Zelenskiy provided the president with information on the dealings of former Vice President Joe Biden and his son Hunter involving the Ukrainian gas company Burisma.
The president is currently undergoing an impeachment hearing in connection with these allegations and, on Wednesday, may become the third American president to face impeachment in the country's history.
President Trump denies any wrongdoing.