Is Eve Polastri Really Dead? What 'Killing Eve' Star Sandra Oh Said About Season 2 Finale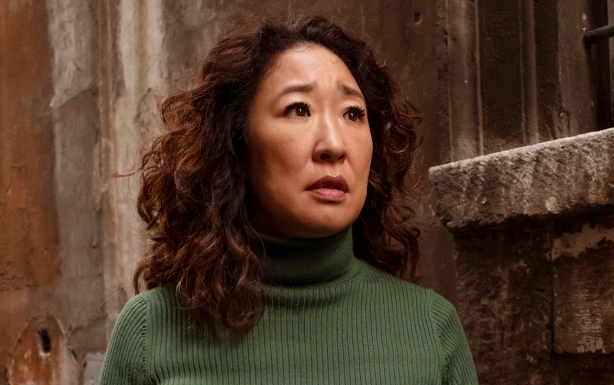 Season 2 of BBC America's Killing Eve ended with a bang, literally and figuratively. Disturbed assassin Villanelle (Jodie Comer) shot MI6 operative Eve Polastri (Sandra Oh) in the back after she refused to move to Alaska with her, and rebuffed her invite to a spaghetti dinner. Eve had previously told Villanelle she was afraid the assassin would kill her, but after Eve axed Raymond to death, Eve wasn't afraid to turn her back on Villanelle, though it might have been a fatal decision. The final seconds of Season 2 shows Villanelle walking away and into the ancient ruins of Rome, while Eve lying lifeless on the antediluvian Roman floor. But is she really dead?
After emerging from the underworld of Rome, Eve realizes Villanelle tricked her into slaughtering Raymond. And now she doesn't want anything to do with Villanelle. "What exactly do you think is going on here?" Eve says. "You love me," Villanelle pleads. "I love you." But Eve is unmoved: "You don't understand what that is." "I do — you're mine," Villanelle says. "You are. You're mine! I thought you were special." But even that doesn't change Eve's mind. "I'm sorry to disappoint," she says, before turning her back.
It's very unlikely that Eve won't survive. For one, Killing Eve was renewed for Season 3. Also, in an interview with Entertainment Weekly, Oh said she was "fine" after the finale.
And while Villanelle shooting Eve in the back might have seemed, it's on par with their dysfunctional relationship. Season 1 ended with Eve stabbing Villanelle in the stomach while they were lying in bed together. EW asked Oh what Villanelle's motive was, was it to teach Eve a lesson, or was she really trying to kill her in an "If I can't have her, no one can" sort of way.
"Honestly, that interpretation can only be explored in the third season. I totally understand that question, because even as the third season is forming, that is a question. What was Villanelle thinking at that moment? Was she really wanting to kill her? Was she not? We have not yet decided," Oh told the publication. "I will say the blood is coming from a certain area, and I think that we may move that around, the area of the shot. [Laughs.] All that stuff is really being creatively decided right now. What is the meaning of where she shot her? Obviously, it's somewhere in her back, and in her body, but where it is and how close to the kill. I want to answer this question… next year. I have an idea, but we haven't shot it yet."
A release date for Season 3 has not yet been confirmed.