On Eve of Sandusky's Trial, Paterno Fans at Penn State Get Mad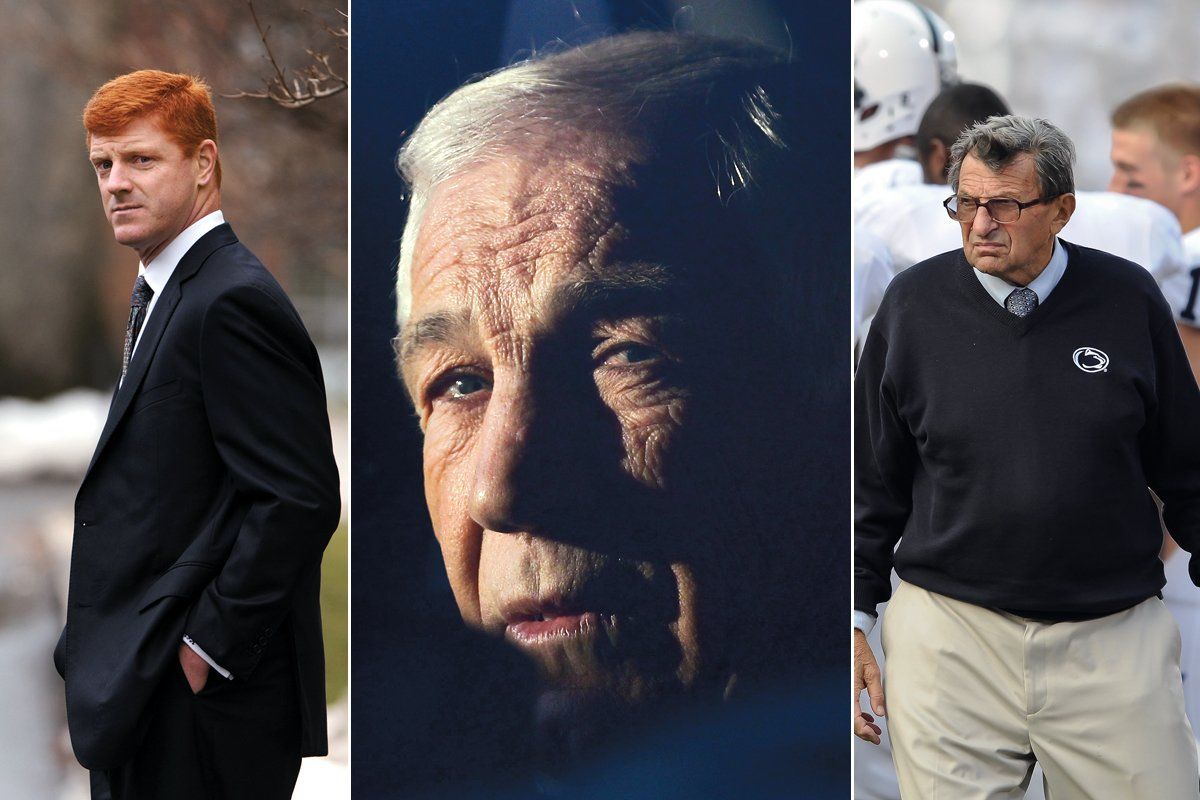 STATE COLLEGE, Pa. – Four months after his death, Joe Paterno remains a martyred saint here. And the College Heights neighborhood where Penn State's legendary football coach lived most of his 85 years is the heart of St. Joe's holy land.
So what was Judas doing walking its streets?
Two large, leashed dogs propelled the 6-foot-4 Mike McQueary along Park Road, the tree-lined border between College Heights and the 15,000-acre campus of the Pennsylvania State University. The weather was crisp and bright on May 9—less than a month before ex-Paterno aide Jerry Sandusky was due to be tried on 52 counts of child molestation—and McQueary's fiery red hair flashed like a warning beacon as he passed from shadow to sunlight.
Once-sunny Happy Valley has been overwhelmed by shadows since Nov. 5, 2011, when Sandusky and two Penn State administrators accused of a cover-up in the case were arrested. McQueary, who reported witnessing what may be the scandal's most sordid episode, soon found himself at the heart of the darkness, having lost his job as a Penn State football assistant—and his good name.
For helping expose the alleged crimes and, by extension, the secretive Penn State culture that may have facilitated them, he became a hero to many Americans. But here in Mount Nittany's shadow, where the resulting tumult has factionalized a small town and a large university, he's an outcast, a villain, a traitor.
That's why his morning foray into the heart of Paterno country was either foolhardy or defiant. Less than 20 yards from where one of McQueary's dogs now relieved itself was a new Catholic student center that bore the name of Paterno's widow. The Paterno Library and Beaver Stadium, the 110,000-seat football facility, were short walks away. And the late coach's quirky four-bedrooom ranch, clashing with the surrounding Tudors and Dutch colonials, stood nearby, on shady McKee Street.
State College doesn't understand McQueary. He grew up here, played quarterback at State College High and at Penn State, became one of Paterno's trusted assistants. But one night a decade ago he says he saw Sandusky and a 10-year-old boy in a football-building shower. And instead of unburdening himself to police, McQueary went to his father, who advised him to inform Paterno. A day later, sitting at a kitchen table in the old coach's house, he did so, ultimately triggering an earthquake of events that included not only Sandusky's arrest but Paterno's once-unthinkable dismissal.
Residents here continue to believe the black clouds now stationed over their town might have blown away if only McQueary had contacted police that night. Had he done so, they insist, Sandusky, the 68-year-old ex-coach accused of molesting at least 17 young boys, might have been stopped long before he was. Paterno might still be alive and coaching. And the university's "We Are ... Penn State" pride as well as the integrity that was its signature virtue might still be intact.
"There had always been a kind of cocky quality to Penn State students and to the whole atmosphere there," said Marci Hamilton, a Penn State graduate and child-advocate attorney who filed the first civil lawsuit in the case on behalf of a youngster known only as John Doe A. "That's gone. This is still a good place, a morally good place, but there's a lot of self-questioning going on."
Now, as the dog walker neared McKee Street, where Paterno's widow still lived in the house bordering Sunset Park, a silver Honda slowed alongside. A window in the vehicle lowered and a muscular arm emerged. The young driver raised his left hand and pumped its middle finger furiously in McQueary's direction.
As the agitated dogs barked at the departing car, their master walked on impassively.
The Indians who used to live in the valley now dominated by Penn State called the mountain that filled its southern horizon Nita-Nee, meaning a "barrier against the elements." In popular Penn State mythology, Mount Nittany not only shielded this place from the harshest weather but protected it from the uncertain world beyond.
That appealing image of a magical Brigadoon disappeared forever last Nov. 5, when Sandusky was arrested and two university officials were also charged for their failure to report what they knew. Within days, the besieged trustees fired Paterno and president Graham Spanier, 2,000 students rioted, and the world got a disturbing glimpse of a secrecy-obsessed university that seemed more concerned with football than the well-being of children.
Because of the juxtaposition of such disturbing crimes with the school's squeaky-clean image, and because of Paterno's national reputation as the conscience of college sports, the scandal-generated debates were deeply felt and vitriolic, pitting neighbor against neighbor, student against student, and virtually everyone against the trustees.
"It's bizarre how the mountains just kept everything inside," said Bill Moushey, a veteran journalist and the coauthor of a new book on the scandal, Game Over: Jerry Sandusky, Penn State, and the Culture of Silence. "That was always part of the place's charm. But when you apply it to something like the Sandusky scandal, it's all somewhat unnerving."
After the initial outburst, after the 24-7 media attention finally abated, after Paterno's death, and after a legal gag order in the Sandusky case, the furor waned slightly, and there was quiet if not peace. Now the rumble of trouble can again be heard. The town will no doubt confront more unpleasant truths during Sandusky's trial, set to begin in early June, as well as in an anticipated flood of victims' cases when the criminal trial concludes, and in several investigations, including one on behalf of the chastened university by former FBI director Louis Freeh. They will hear of alleged crimes against as many as 100 victims; more details about what Paterno knew and when he knew it; and suggestions that Penn State tolerated—perhaps even abetted—Sandusky to protect a football program that generated a $53 million profit in 2011.
"Who knows what this place will look like after the trials and the investigations are through," said one Penn State professor who, like 400 other past and present university employees, has been interviewed by Freeh's team. "When there's testimony in the trial, when the lawyers are picking through the university's secrets, when Freeh's report comes out, Penn State people will probably be at each other's throats again."
Already, the town is beginning to fight the battle over Paterno's legacy. "Joe is the real victim here," wrote one reader with the screen name "OneIron User" in the online comments section of the local newspaper the Centre Daily Times, after a May story sympathetic to Sandusky's victims. That prompted a reply and a not-uncommon theory from "BuckRogers": "A jury from Centre County will acquit Sandusky and throw the alleged victims under the bus, just because the villagers believe (in the Bizarro world of Happy Valley) that it will restore the good name of the region."
Though the individual lawyers and prosecutors, the NCAA, and the Big 10 all are conducting their own probes into the scandal, it's Freeh's internal investigation that has generated the most angst among defenders of the veteran coach who came to be known as St. Joe. "It seems to be focusing on [Paterno's] control and his influence rather than on Jerry Sandusky," said Anthony Lubrano, a newly elected Penn State trustee who ran for the seat pledging to redeem Paterno's reputation. "A lot of people in the Penn State community are expecting the Freeh report to pile on Joe and athletics. If that's what it says, it will only worsen the feelings up here."
Neither Sandusky's wife, who has stayed with her house-confined husband through the ordeal, nor Paterno's widow and children, would comment for this story. But the Paternos continue to defend the late coach's image. They lashed out against the book Moushey co-wrote with Bob Dvorchak, in particular its cover photo of a weary, defeated-looking Paterno. In an unusually lengthy statement prepared by family spokesman Dan McGinn, the Paternos not only attacked the book's substance ("an egregious use of false and slanderous statements") but the way in which it was produced ("this unprofessional and irresponsible rehash from clip files and anonymous interviews was slapped together ... and rushed to market"). "The pro-Paterno people are going crazy," said Moushey, who stands by the reporting he and Dvorchak did.
As Paterno's boosters stand up on his behalf, Sandusky's alleged victims appear sidelined, or worse. At a January memorial service for the late coach, Nike chairman Phil Knight drew the loudest ovation from the 12,000 attendees when he defended Paterno for having done his duty in passing on McQueary's story to his superiors. "Whatever the details of the investigation, this much is clear to me," Knight said. "If there is a villain in this tragedy, it lies in that investigation and not in Joe Paterno's response." Neither Knight nor anyone else at the lengthy ceremony mentioned Sandusky's victims.
There are even those who question the victims' motives and stories. "It's sad but it's not unusual," said Hamilton, the lawyer for Joe Doe A, who Sandusky allegedly abused more than 100 times over four years. "Blaming the victim is easier sometimes than fixing the institution. If there are people who have a strong reverence for their university or their church and something breaks that relationship, they get angry ... We see members of the Catholic Church getting angry at the victims [of clergy abuse]. And unfortunately it's the same phenomenon here with some, though certainly not all, Penn Staters."
The sentiment against alleged victims is so common here that prosecutors in February requested that the Sandusky jury pool come from somewhere beyond Centre County, where the school is located. It's almost certainly why, in what was a complete reversal of form for a high-profile case, defense attorney Joseph Amendola fought—successfully—against a change of venue. "That tells you how strange this whole case is," said Moushey. "I've covered a lot of high-publicity trials over the decades and most of the time it's the defense that wants to get out of Dodge."
Meanwhile, festering resentment against the trustees for firing the school's two most powerful figures—which could have been seen as a bold and brave act—transformed a recent race for three open spots on the board into a furiously contested election among 86 candidates. The three that were chosen—in record levels of voting that took place in April and early May—are all determined to polish Paterno's tarnished legacy. Lubrano, one of those chosen, has called for the trustees to issue a public apology on their handling of Paterno's dismissal.
The university itself has tried to walk a fine line. On the one hand, a School of Communications course that had examined the relationship between the coach and the media has been canceled, while efforts to rename the stadium for the coach have been stalled, in part because the family has refused its permission and in part because administrators are nervous about what may yet be revealed. "They'd like to wait until after the trial and after Freeh's report," one professor said, "until they can say for sure that Joe was clean." On the other, the school can hardly afford to sever its longstanding ties to Paterno. Perhaps to safeguard the flow of donations, which decreased sharply after the scandal but have since rebounded, the school's leadership recently has reached out to Paterno's wife and children, all of whom were upset by the callous firing.
"We would like to have Sue Paterno back in the fold with regard to being an ambassador for the university," said trustees chairwoman Karen Peetz. "We are regularly making overtures to have those kinds of conversations. The Paterno family stands for Penn State. They've given much of their time and their funds to Penn State, so I have nothing but belief that's the case, that they're all about Penn State."
Sue Paterno recently has begun to re-emerge in the community, appearing at various charity functions—some with ties to the university—as she tries to ensure that "we're doing what he would want us to do." Whatever her future, she will not have to worry about money. Her husband's 61-year coaching career will yield a $13.4 million state pension payment and the university will provide more than $6 million in compensation to the family—including use of a suite at Beaver Stadium.
Sandusky has made several appearances at the Bellefonte courthouse, usually accompanied by his wife, Dottie. By all accounts, she believes the man she married in 1966 is innocent, but she has not spoken publicly since December when, through Amendola, she released a statement to that effect: "Jerry and I love kids and have always tried to help and care for them. We would never do anything to hurt them. I am so sad anyone would make such a terrible accusation, which is absolutely untrue."
Meanwhile, McQueary has continued to distance himself from his alma mater and his hometown. On May 8, he filed a whistleblower suit against Penn State, and in June he is likely to be a key witness for the prosecution's case against Sandusky. Virtually unemployable now in football, the 37-year-old McQueary has put his house on the market and apparently intends to start a new life in a new location.