Even After Cutting in Line for Vaccines, Teachers won't Return to Work | Opinion
Teachers across the country continue to fail your children. Leaning on unsubstantiated COVID-related fears and exploiting a pandemic for personal and professional gain, teachers still refuse to return to classrooms despite, in some cases, cutting the line for a vaccine.
It's time for parents to speak up in a collective voice to pressure teachers to get back to work or face losing their jobs or their early vaccine access.
Last week, Washington governor Jay Inslee announced teachers would qualify earlier than they were supposed to for vaccine access. In other words, all the talk about equity doesn't extend to the elderly; a young, tech-savvy teacher with easy access to the internet can get a vaccine they don't yet need while seniors struggle to log into the confusing websites to find out where vaccines are available.
Inslee's move was meant to push teachers back into the classroom. But it failed. The Seattle Education Association voted to stay home, despite jumping the line for vaccines.
Fifth grade teacher Danielle Woods told a local radio station that "the vaccine is not a silver bullet. The vaccine is going to reduce risk but it's not going to go to zero."
Now the risk must get down to zero? One wonders how this teacher gets groceries or gets her hair cut. Would she risk a deadly infection for a run to the local grocery store or salon?
There's always going to be risk. There's not even a guarantee a student or teacher won't get into a car accident on the way to school. Should we close the schools until we have safe, self-driving cars to bring the threat of bad drivers down to zero?
In Cleveland, the teachers' union took a similar posture.
"Teachers wouldn't be able to do their job, because the equipment simply isn't there for them to do their job," union president Shari Obrenski told News 5. "Having a vaccination, and a first dose of a vaccination, doesn't keep you from getting COVID. My vaccination does not help my students. My students are still at risk for COVID. Their families are still at risk for COVID, if we aren't doing what we need to do.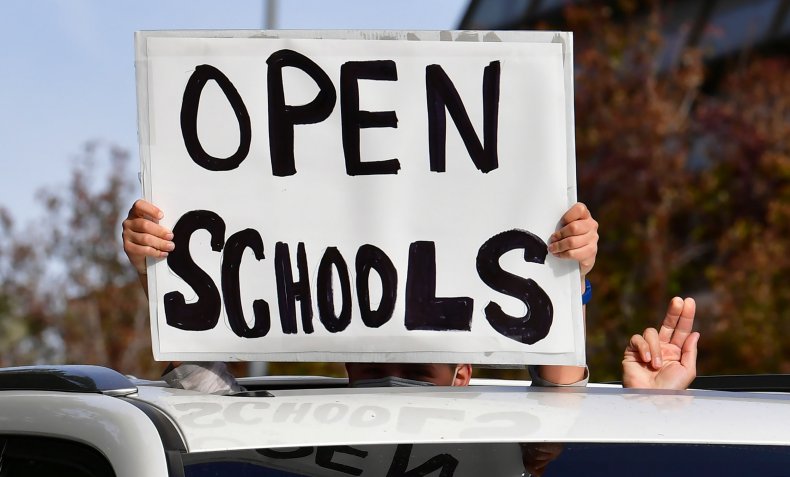 Suddenly, the vaccine isn't enough. Unions relied on a lack of access to the vaccine as a reason to stay out of the classroom. Now that they have access, teachers are changing their talking points.
In Tacoma, Wash., a group of teachers formed a group called Safe Return Tacoma and staged a "sick out" to call attention to their demands. One of its members, Andrea Kunkle, told a local TV station that personally getting a vaccine isn't enough. The entire community needs the vaccine—including children.
"What about our community? Because sure, we can have a big push and say, 'Yeah, let's all of us jump the line and we all get vaccinated. Great, we're all safe,'" Kunkle told KIRO 7 TV. "But our family, members of our community and our students are not. And many of our students are in Black and brown communities. They are in multi-generational houses and they are particularly vulnerable to this disease."
Kunkle isn't above using minority students as human props to stay home from work. Never mind that students don't need—nor are they cleared to take—the vaccine. By the measures teachers demand, they won't return to the classroom for at least another year at best and, at worst, until COVID is eradicated. That likely won't ever happen.
Other teachers are using minority students as props, too.
In California, the United Teachers of Los Angeles claims reopening schools perpetuates "structural racism" because it supposedly benefits wealthier districts where infection rates are lower. This was in response to a modest plan tying school funding to opening schools just for elementary grades, as that demographic is one of the least susceptible to health complications from COVID.
It's clear that teachers simply don't want to go back into the classroom. Working from home in your pajamas and avoiding a lengthy commute to school—while not taking a pay cut—is appealing. Teachers can fall back on claims of COVID fears all they want. The science and data are quite clear: you can safely return to the classroom.
Contemporary societal norms suggest we shouldn't criticize teachers. They take care of your kids and are not highly paid. But they're taking societal good will for granted, hoping you won't call out their egregious selfish behavior.
But teachers' unyielding posture is deeply harmful to children. Your kids aren't just falling behind academically. They're hurting emotionally and physically. Mental health emergencies for kids are skyrocketing. The isolation, in some cases, is literally killing them.
Do the demands of teachers, even those with early access to vaccines, make sense to you? Surely not. So why aren't more parents speaking up? Your children only have you as their biggest advocates. It's time to start acting like that advocacy role matters.
Jason Rantz is a frequent guest on Fox News and is the host of the Jason Rantz Show on KTTH Seattle, heard weekday afternoons. You can subscribe to his podcast here and follow him on Twitter: @jasonrantz.
The views expressed in this article are the writer's own.