Even in a Crisis, Trump and DeVos Are Determined to Fail Students | Opinion
The Trump administration's Department of Education, led by Secretary Betsy DeVos, finalized rules this week that will diminish protections for survivors of sexual harassment and assault in K-12 schools and colleges across the country. The new rules are set to go into effect on August 14
As many of us begin another month of isolation due to the COVID-19 pandemic, and thousands of students and schools struggle to adjust to this new reality, it's disturbing that the administration has revealed that taking rights away from survivors of sexual harassment and assault remains a top priority.
My organization, the National Women's Law Center, and over 200 other organizations urged the department just a month ago to suspend rulemaking during this unprecedented educational crisis. Our letter acknowledged that this unpredictable climate means ongoing stress for many students and requires new resources and requirements for schools. In other words, it's an important time for the department to guide students and schools—not disrupt them.
I worked at the Department of Education until 2018. I developed policy and guidance interpreting Title IX, the federal civil rights law that prohibits sex discrimination, including sexual harassment, in schools. It's no surprise that the president, who has bragged about committing sexual harassment himself, has permeated many aspects of the government with politics that dismiss sexual violence, protect perpetrators and shield institutions from accountability.
Before I left the department, it became clear from comments made by Trump appointees, as well as its policy direction, that the new administration would prioritize the rights of accused students and institutions instead of protecting the rights of all students. The rules released Wednesday confirm that.
The rules require schools to ignore many reports of sexual harassment and create processes that would unfairly advantage students accused of rape, including requiring schools to start an investigation with the presumption that no sexual harassment occurred. That is, schools will effectively be required to presume that all students who report sexual harassment are lying.
It's not just civil rights organizations like my own who have spoken out against these rules. Colleges, educators and school administrators, like the American Council on Education, the School Superintendent Association and the American Federation of Teachers have spoken out. Medical experts, including mental health professionals, have spoken out. Government officials, including 145 state legislators from 41 states and 19 state attorneys general have spoken out. And thousands of students and survivors continue to fight for their rights.
The department insists that these rules are necessary to provide due process to named harassers. But the truth is, there isn't a conflict between ensuring a fair process for both survivors and for alleged perpetrators. This false narrative is being used to justify giving special rights to accused students that unfairly tilts the scales in their favor. A fair process is one that allows those who have experienced harassment to be heard, but these rules will prevent many students from ever coming forward.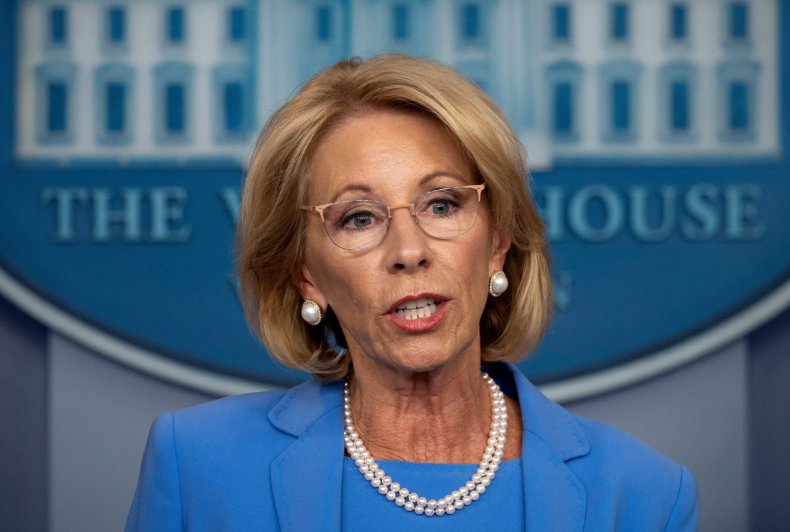 We know sexual violence on college campuses is pervasive. Among undergraduate students, about 25 percent of women and 6.9 percent of men experience sexual assault. And in K-12 schools, one investigation uncovered 17,000 official reports of sexual assaults by students over a four-year period. This widespread problem of sexual violence makes it clear: Our schools need more harassment prevention efforts, not less.
So why is DeVos and the administration fighting so hard for institutions to do less to protect students? Why are students who experience sexual harassment being forced to run a more difficult series of traps—like submitting to direct, live cross-examination—than students who experience other types of harm at the hands of their classmates or teachers?
It's evident through the president's comments that many of our leaders continue to normalize sexual violence, and their policies can unsurprisingly match. But beyond Trump's extreme remarks, it's evident from many of the high-profile #MeToo stories, as well as cases I work on every day as an attorney, that there is deep-rooted and toxic skepticism of sexual harassment claims that rely on rape myths and sexual stereotyping.
We will challenge this rule in court. We expect to win because it's unlawful and an unprecedented departure from nearly 20 years of Title IX policy. This administration also has a poor record: To this date, 93 percent of lawsuits challenging the Trump administration's regulatory actions have been successful.
Beyond its legality, what message is our government sending by rolling back our rights and desperately pushing to silence survivors of sexual assault, especially during a global health crisis when thousands are losing their lives, millions more are losing their jobs and students are being forced to navigate an uncertain future?
The trauma of sexual violence is already more than anyone should have to bear; compounding that trauma by requiring schools to ignore survivors or force them into distressing processes after they report is simply unconscionable.
Before students return to school next fall, we'll be fighting for them to be safe beyond the COVID-19 virus, even if Trump and DeVos won't.
Shiwali Patel is director of justice for student survivors and senior counsel for the National Women's Law Center.
The views expressed in this article are the writer's own.