The Much-Newer Republic: Mass Resignations Plague 'TNR' After Management Shake-Up

It's a familiar trauma for legacy media outlets, and it's The New Republic's turn to go through the vertically-integrated-digital-media-thinkfluencer grinder.
A sweeping editorial shake-up at the 100-year-old magazine has resulted in mass resignations, sentimental "eulogies" penned by former staffers and industrywide naval-gazing. The short of it: Editor Franklin Foer and longtime literary editor Leon Wieseltier are out, and former Gawker and Atlantic Wire editor Gabriel Snyder is in as editor-in-chief. The decree was passed down Thursday by Facebook billionaire Chris Hughes, who purchased the magazine in 2012, and newly hired CEO Guy Vidra, who reportedly referred to himself recently as a "wartime CEO" while using Silicon Valley buzzwords like "disruption."
The bad news: A storied publication long beloved by Beltway insiders is about to be radically transformed. The potentially good news: A storied publication long beloved by predominantly white and male Beltway insiders is about to be radically transformed (into a "digital media company," if management is to be believed).
The current staff isn't taking the news well, a reaction that likely has much to do with the unceremonious nature of the announcement. (According to a Daily Beast report, Foer did not know he was being pushed out until Gawker reported his rumored firing on Thursday.) As of this morning, more than two dozen masthead employees had reportedly resigned their posts. In a statement on (ironically) Facebook, Senior Editor Julia Ioffe, who quit today, argued against the New Media vs. Old Guard narrative. Here's a preliminary list of quitters:
In July, after TNR ran a cover story headlined "Don't Send Your Kid to the Ivy League," Newsweek crunched the numbers and found that slightly more than half the names on the magazine's masthead held Ivy League degrees: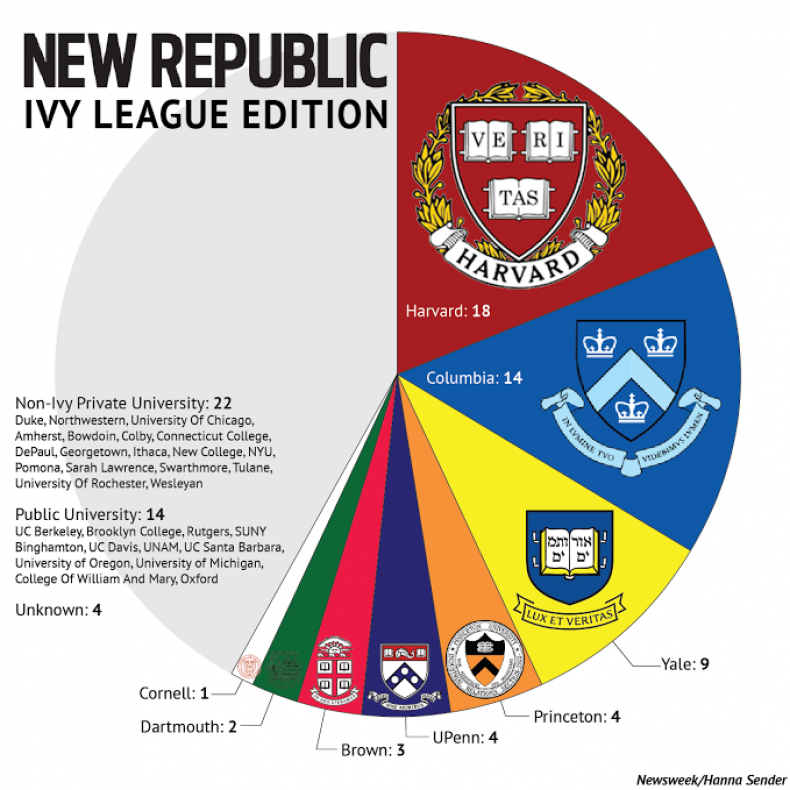 That is no longer the case! According to a preliminary count, as many as 17 Ivy League alums have just departed TNR. As of December 5, The New Republic is slightly less overrun with Ivy-educated zombies.
The good news, alas, is that there are now dozens of journalism jobs waiting to be filled:
Disclosure: This reporter used to work for incoming TNR Editor Gabriel Snyder at The Atlantic Wire.