'Even Xi Jinping is ashamed of you' Hong Kong Protesters Slam Carrie Lam During Talks
The Chief Executive of Hong Kong, Carrie Lam, broke her silence on Thursday night to attend a two-hour town hall in an effort to defuse the tension that has mounted in recent months.
For the first time since violent protests erupted in the Chinese-ruled city four months ago, Lam met with the public to allow individuals to air grievances and voice concerns. She assured the public that this was not a "PR stunt."
The meeting, which took place at Queen Elizabeth Stadium, allowed 150 people, selected by lottery, to make statements. The statements were overwhelmingly negative, questioning why Lam has failed to hold police officers accountable for abuses against protesters, and the handling of the situation in general.
According to a local media source, one speaker insisted, "Even Xi Jinping is ashamed of you," referencing the Chinese president.
Others highlighted their fear and concern that the city is no longer safe. One individual voiced her disappointment, highlighting that good leaders don't "cause society to tear apart."
"I don't want to come out. I want to have an enjoyable summer. But...I know I am the future generation...That's why we stand out bravely," said one speaker towards the end of the evening.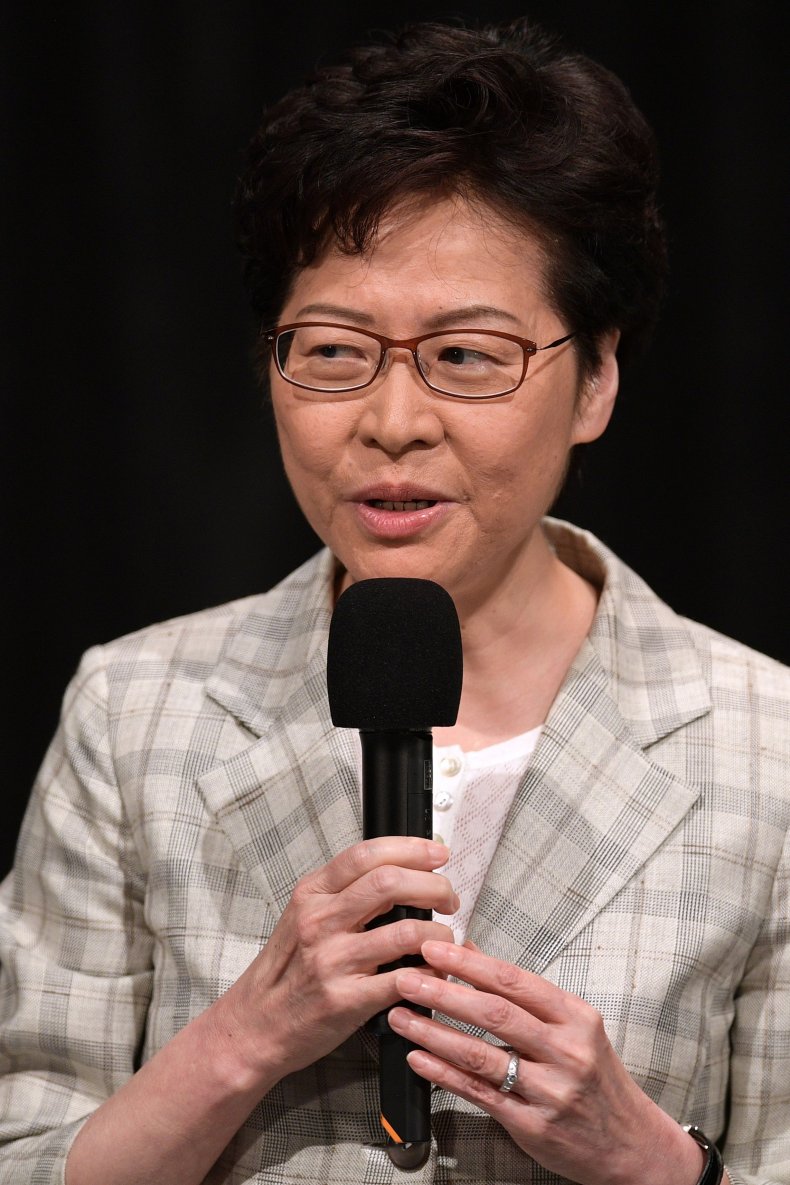 Due to clashes with police, security was announced to be at a minimum, but according to local media, approximately 3000 police officers were on hand to protect Lam and deal with any disturbances.
Violent protests broke out over a controversial legislation that would allow extradition to mainland China. The bill was scrapped three weeks ago, but has done little to quell the unrest and violence.
The protests have since expanded to demand more autonomy and independence from mainland China, and the release of arrested protestors among others.
Prior to the meeting, The New York Times published an opinion piece by Lam which said, "Deep wounds have been opened in our society. These will take time to heal. But it remains this government's hope that conversation will triumph over conflict and that through its actions, calm can be restored and trust can be rebuilt within the community."
But with calls during the town hall for Lam to step down, along with push back from China, calm may be elusive.
In a meeting with foreign press, a deputy commissioner at the Chinese foreign ministry's Hong Kong office, Song Ru'an, said, "It will be blatant political blackmail and coercion if anyone believes only acceptance of each and every demand of the opposition counts as response."