We are all more like characters in An Evening with Beverly Luff Linn than anyone is likely to admit. Following the tangled relations between a vanload of people in the lead up to a mysterious event at the Moorhouse Hotel, the evening with Beverly Luff Linn itself, director Jim Hosking's follow-up to 2016's The Greasy Strangler isn't as fevered (he co-wrote this film with David Wike), but does cut closer to the childish heart of humanity.
Beverly Luff Linn doesn't have the same defenses as The Greasy Strangler (our review), which layered Riki-Oh 's gorey plastic bodies, prosthetic penises and a strange, almost arthouse ending over its essentially puerile (in a good way!) appeal. Luff Linn opens in similar territory, with profoundly doltish characters working a business that seems unworkable, in this case a franchise coffee shop that mostly deals in carnival-cup cappuccinos that disgust customers. But Beverly Luff Linn never offers a retreat into anything as surreal as a grease-covered serial killer, instead sticking close to more familiar discomforts, beginning with store manager Shane Danger (Emile Hirsch) awkwardly firing his wife, Lulu Danger (Aubrey Plaza), according to corporate edict.
Shane's feelings of inadequacy lead him to rob Lulu's brother Adjay's vegan shop of its cash box, which Lulu quickly absconds with, hiding in the Moorhouse with inept hired muscle and wannabe drifter-adventurer Colin Keith Threadener (Jemaine Clement). As Colin pines for Lulu from across the gap between their twin beds, Lulu pursues her great lost love, in town for a special engagement, Beverly Luff Linn himself (Craig Robinson).
At first, An Evening with Beverly Luff Linn feels like it's playing with pieces of melodrama, crashing absurd characters against each other and watching them tangle. Aubrey's Lulu brings to every encounter a faux-aristocratic contempt, smoldering out from her mothy, estate sale wardrobe as she contemptuously holds Colin aloft. Shane waves a gun around and stalks Lulu, but is completely absent of menace, thanks in part to the blonde wig and Rita Hayworth sunglasses that make up his disguise. That all of the romantic subplots swirl around Luff Linn, who speaks entirely in grunts and growls, seems to highlight how An Evening with Beverly Luff Linn doesn't care about the content of its characters' torments.
It's not a notion Beverly Luff Linn is quick to counter, especially when so much of what's fun and funny about it is pitched at the exact level of appeal of playing with your food. (Even better than the cheesy onion rings Colin scarfs are the hotel bar drinks, each of which come with one of those jumbo Tootsie Roll logs as a stirrer.) Characters call each other names like "big fat penis face," while Lulu self-importantly chides Colin for eating bar nuts by telling him "You know those might have poo on them, you don't want to get poo in your mouth, do you?"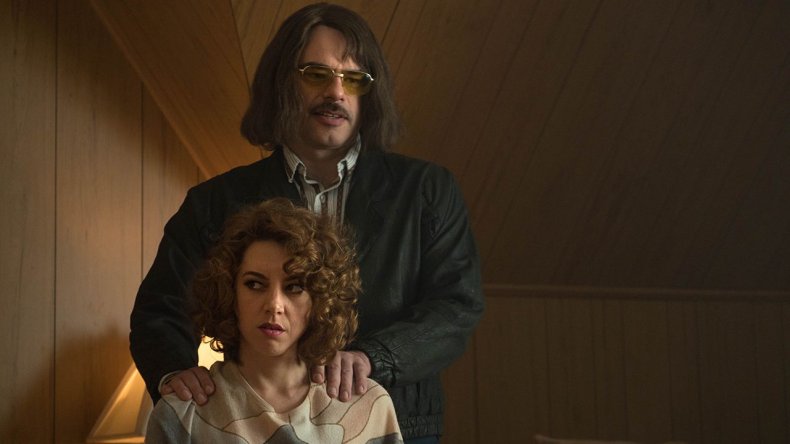 But then a strange thing happens: their childishness begins to feel less like flippancy and more like raw pathos. Colin's laborious story of how he got his name (something to do with an uncle and… teeth?) isn't poignant in itself, but Luff Linn leaves Clement the room to breathe a tragic, hangdog energy into his character. Rodney Von Donkensteiger's (U.K. comic actor Matt Berry, opening another front in his slow invasion of American comedy) overbearing protectiveness of Luff Linn begins to feel less like a joke and more like true romance (which pays off sweetly in an after credits sequence).
The mechanisms of this drama continue to be juvenile, but begin to feel less like immaturity and more like a sympathetic guilelessness, instantly identifiable to anyone who's felt the emptiness at the heart of adulting like a boss. When a character condescendingly orders, "The Earl Grey, I'm sure you haven't heard of it," I could feel the barb reach back and burst my own embarrassed memories of performing sophistication.
What the actual, magical evening with Beverly Luff Linn reveals I will not spoil, except to say I was surprised by its romantic earnestness. An Evening with Beverly Luff Linn is an odd combination of characters who talk like playground bullies and an almost mystic somberness, as if Twin Peaks invaded Best in Show. But what's most impressive is how much open emotion emerges from its eerie, fart-haunted world.