An Evening With Rembrandt And Vermeer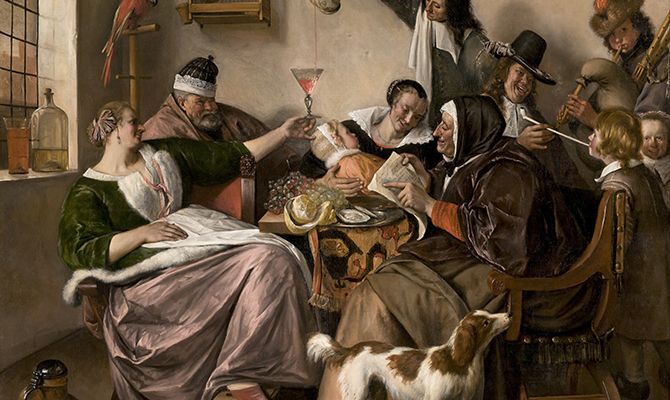 It was a veritable nightclub: yearning masses huddled in the cold, hemmed in and blocked out by a velvet rope. A security guard, practicing professional heartlessness, deflected entreaties. A woman in front of us turned back with a halfway hopeful assurance: her friend had come earlier in the day, when the line was two blocks long, and had only had to endure fifteen minutes of this late November misery, with the wind whipping in off the East River and the windows above yellow with beckoning warmth.
But this was not some sweaty, thrumming hole in the Meatpacking District, crammed with third-rate celebrities and their myrmidons. We were at the Frick Collection on the Upper East Side, the 1914 mansion built by steel magnate Henry Clay Frick and today one of the city's great collections of pre-modern European art. And inside were not the Biebs or RiRi, but celebrities of an older, infinitely more graceful order, part of a show called "Vermeer, Rembrandt, and Hals: Dutch Paintings from the Mauritshuis," which runs until January 19. Go see it, as I did, on a Friday evening, when the Frick is free and open until 9 p.m. (though check with the museum; a couple of Fridays are for members only), and you will emerge reluctantly into the modern world as from some impossibly plush fold of spacetime.
The arrangement is fortuitous -- for us Americans, at least. While the Mauritshuis, which is in The Hague, is getting a facelift, the Frick has borrowed 15 paintings from its collection of 17th-century Dutch masters--augmented in this show with the Frick's own masterpieces from the Dutch Golden Age. (The Frick offerings, including three Vermeers, are in display in the West Gallery of the museum.)
Many will come -- as they did Friday, as far as I could tell -- to see Johannes Vermeer's Girl with a Pearl Earring. Known as the "Dutch Mona Lisa," the mystery girl was famous even before Scarlett Johansson played her in a 2003 movie based on a Tracy Chevalier novel. She has the museum's Oval Room all to herself, to accommodate the crowds who have come to ogle a painting not seen in the United States since 2000--and not in New York since 1984. And there she is, her eyes drawn back by an unknowable longing, her lips parted with something that looks like sorrow.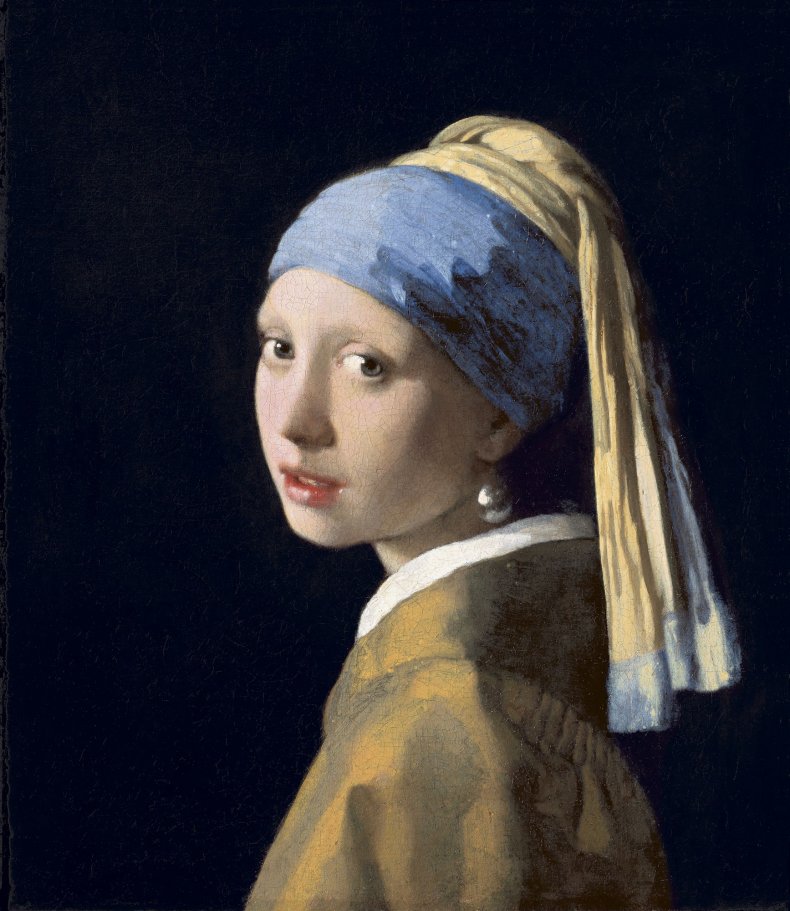 "Who is she?" asks Margaret Iacono, the Frick curator in charge of the exhibition. "How did she come by that enormous pearl? Is she a seductress who looks out at us over her shoulder with a sultry gaze and wet lips or is she a wide-eyed young girl looking innocently at us? Vermeer doesn't make it clear, which entices us and keeps us looking."
"I find her to be enchanting," a gray-haired visitor named Martha told Newsweek. "Everything just seems so moist," she said of the painting, repeating several times how "enchanting" it was. Martha is a native of Manhattan, a species usually averse to tourists at museums. But maybe the out-of-towners had not heard of the free Friday evening, because the walls seemed to resound with the sounds of native Noo Yawk.
This was a Dutch city, after all, established as Nieuw Amsterdam in 1625 and largely governed by the humanist ideals of the Northern Renaissance -- the same movement that inspired the portraits, landscapes and still-lifes now on such marvelous display at the Frick.
Robert Thomason, a reference librarian from Brooklyn, is retired and thus "short on money and long on time." He was entranced by the paintings, the Rembrandts especially, but also by what those paintings said about New York's progressive, tolerant founders.
"[We] were light years beyond Boston and New Haven," Thomason said, even if the Dutch settlement was nevertheless plagued by slavery and other injustices. By the standards of that time, Nieuw Amsterdam was indeed a beacon of enlightenment.
Sherelle, from Queens, "wanted to see everything." She works at the Frick, which she describes as a "peaceful" experience. Now she would get to see its art, finally, though not all of it: most of the museum's sumptuous rooms are closed on Friday nights, though you can still catch glimpses of El Greco's St. Jerome and Duccio di Buoninsegna's The Temptation of Christ on the Mountain.
Still, the museum's three open galleries (the West and East Galleries and the Oval Room) had plenty to occupy Sherelle: Carel Fabritius's The Goldfinch, an ethereal delicacy that became the subject of Donna Tartt's new novel; the warm, simple joys of home radiating from Jan Steen's As the Old Sing, So Pipe the Young; Rembrandt's Portrait of an Elderly Man, a ruddy-faced burgher who "seems to have plopped down for a moment to let Rembrandt paint him," as Lea Van Der Vinde, head curator of the Mauritshuis, writes in the catalog for the show.
Iacono, the Frick curator, tells Newsweek that our love affair with Dutch classical painting endures because "the pictures are just so accessible. Since the works from this period are by and large secular, the viewer doesn't have to be familiar with specific religious narratives or symbols or mythological stories to understand the images." She adds that "the extraordinary technical talents of these artists continue to entrance us."
Nothing is timeless; nothing lasts. But that these paintings from almost four centuries ago still hold a spell over us, still have the power to entrance and enchant, says something modestly uplifting about the human race. Even the two bros discussing "performance" in the shadows of Rembrandt — even they were touched by the majesty of that distant time and place.
"It's wonderful, it's beautiful," a security guard explained in happy, accented English when I remarked to him about how surprisingly full the museum was on a Friday evening when there were, seemingly, so many other diversions at hand. "That is why it is crowded."