Though the Ever Given container vessel was recently freed from the Suez Canal after spending nearly a week obstructing global trade, the ship is not quite out of hot water just yet, according to officials at the Suez Canal Authority (SCA).
SCA Chairman Osama Rabie announced Thursday that Egypt is seeking more than $1 billion in compensation for the incident in the Suez Canal, which held up 422 ships and billions of dollars in cargo.
Global trade will likely feel the impact of the jam for months to come. Ships traveling from Asia to Europe were forced to take a 3,100-mile detour around the Cape of Good Hope, along the coastline of South Africa.
The Panama-flagged Ever Given and its $3.5 billion worth of cargo could be stuck again if the issue goes to court—Rabie added that the ship will not be allowed to leave Egypt if the investigation into the incident runs into any trouble, and if the owners of the ship refuse to cooperate in reimbursing Egypt for damages.
Rabie told an Egyptian broadcast channel on Wednesday that it is "the right of the country" to seek compensation and that Egypt "should get its due" for its part in refloating the ship.
The SCA did not reply to requests for comment by Newsweek. The entity announced Saturday that all ships stymied by the blockage had passed through the canal after the Ever Given was dislodged on March 29.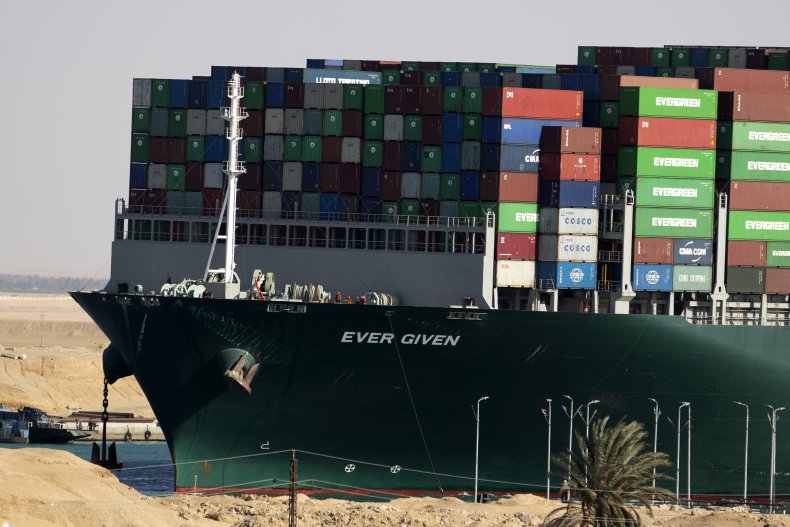 The Ever Given's owners, the Japanese firms Luster Maritime and Higaki Sangyo Kaisha, filed suit against the ship's operator, the Taiwanese conglomerate Evergreen Marine Corporation, in the United Kingdom's High Court on Thursday, according to The Lawyer.
A German corporation that hired the crew from India is not party to the lawsuit. The layers of ownership of container ships can further complicate the process of assigning blame in the wake of accidents en route, particularly given international jurisdiction.
Rabie announced Saturday that Egypt's investigation of the incident would wrap up early this week.
In the days that the Ever Given was stuck, a crew of 10 tugboats managed by the firm Boskalis worked to float the ship while dredgers dug up sand and mud from its bow.
"I am excited to announce that our team of experts, working in close collaboration with the Suez Canal Authority, successfully refloated the Ever Given ... thereby making free passage through the Suez Canal possible again," Boskalis CEO Peter Berdowski said in a statement.