A container ship that has been blocking the Suez Canal, a key trade route, for seven days has finally been set free and is on the way to Great Bitter Lake.
Leth Agencies, a transit service, announced on Monday that the Suez Canal Authority and its staff members were successful in re-floating the Ever Given. The ship got lodged in the canal on Tuesday, blocking the trade route for a week and raising concerns that it could prompt spikes in gas prices—and therefore, also cause spikes for most products that people purchase in stores.
Video from the scene on Monday showed the ship headed for Great Bitter Lake, the widest part of the canal.
The owners of the Ever Given blame a gust of wind for pushing it and the 20,000 shipping containers aboard it sideways, wedding it between the banks. Several failed attempts were made to free the ship in the days leading up to Monday's successful mission.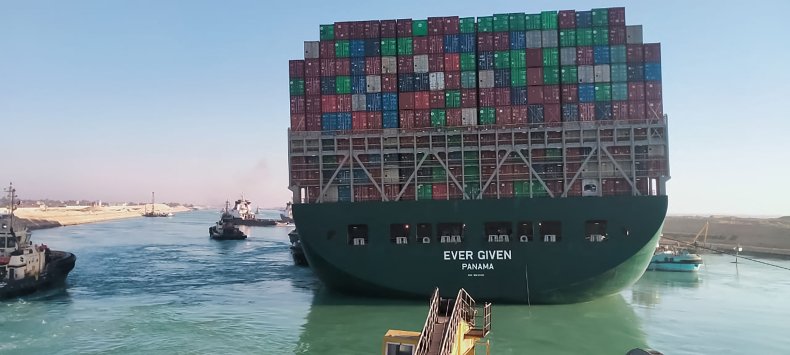 On Friday, President Joe Biden told reporters the United States has equipment capacity that most countries don't have and the White House was looking into ways to help.
More than 300 vessels were waiting to transit down the Suez canal, according to Leth, and the team's success in refloating the ship was thanks to the help of high tide and tugboats. Once it arrives in the Great Bitter Lake, the Associated Press reported it will be inspected. Moving the ship to the Great Bitter Lake could provide the space needed for ships to navigate around it.
The Suez Canal in Egypt connects the Mediterranean Sea to the Red Sea, giving vessels a more direct route that reduces travel time by at least a week. On average, 51 ships pass through the canal each day, according to CNN, for a total of about 18,800 ships in 2020.
"His Excellency, Admiral [Osama] Rabie, would like to reassure the international navigation society as navigation shall be resumed immediately upon the complete restoration of the vessel's direction and directing it to the Bitter Lakes waiting area for technical inspection," the Suez Canal Authority said in a statement on Monday.
Even if ships are able to resume transit plans immediately, it's going to take some time to clear the backlog of vessels waiting for their turn. With no set timeline for freeing the Ever Given, some ships diverted course to go around the southern tip of Africa, which can add two weeks to a journey, according to CBS News. Increased wait times to get through the canal, and adding time onto trips, creates the potential for delivery delays after a year of disrupted supply chains because of the coronavirus pandemic.