Ever Given's Crew Have Remained on Ship for 3 Weeks as Egyptian Authorities Seize Boat
The Ever Given container ship that blocked the Suez Canal last month has now been seized by the Egyptian government—leaving the crew stuck on board after three weeks.
Egypt's state-run news outlet Ahram Gate first reported that the country seized the ship over the owners failure to pay $900 million in compensation after its six-day blockage of the vital trade route.
A spokesperson for Bernhard Schulte Shipmanagement (BSM), the vessel's management company, confirmed to Newsweek that the 25 Indian national crew remains onboard as the ship is anchored at the Great Bitter Lake.
"We are in close contact with them and they are in good health," the spokesperson said. "Their hard work and tireless professionalism are greatly appreciated."
The Suez Canal Authority (SCA), led by Osama Rabie, has said the Ever Given will remain in Egypt until the investigations are over and the debt is paid. According to a report from The Wall Street Journal, Rabie recently said they hope for a "speedy agreement" and that the minute the ship pays the money it will "be allowed to move."
But the National Union of Seafarers in India told the Times of India that not letting the crew leave amounts to ransom.
"We would neither like to get involved or interfere in the investigations nor do we want to prejudice the investigation," the union's general secretary Abdulgani Serang told the news outlet. "But, we will certainly react and respond to a situation if Indian seafarers need to be assisted.
Serang continued, "If the SCA has suffered losses, they can sort it out with those involved with the ship, but that cannot haul up seafarers in any manner."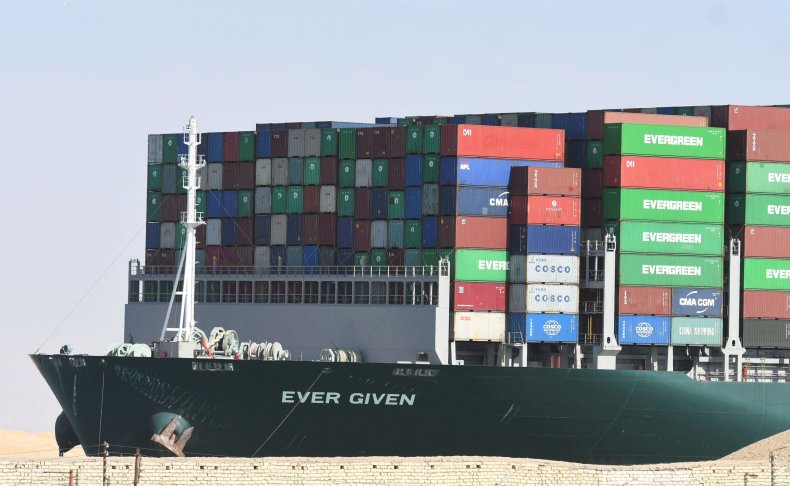 The Ever Given, a 1,300-foot ship weighing more than 200,000 tons, made headlines when it became stuck in the Suez Canal on March 23. The ship was stuck for nearly a week, creating a traffic jam that was estimated to hold up $9 billion per day in global trade.
On March 29, a group of 10 tugboats was able to dislodge the ship after several unsuccessful refloating attempts. Videos captured the Ever Given's crew and Suez Canal workers cheering when the ship was finally freed.
Strong winds and a dust storm were originally thought to be the cause of the blockage. But last week, Egyptian authorities later said the incident could be due to "human error."
According to BMS, no one from the crew was injured in the incident. Business Insider also recently reported that the crew was safe and was still getting paid as the investigation continued.