Evergrande Sale Delayed as Company Seeks to Avoid Default, Other Firms Continue to Spiral
The Evergrande Group found its plan to sell a majority stake in its property services unit to Hopson Development delayed after failing to gain approval from the Guangdong provincial government overseeing the company's restructuring, according to Reuters.
This keeps Evergrande, the world's most indebted property developer, facing dues of over $300 billion, away from the $2.6 billion it would have earned from the deal in wake of a Saturday deadline on the 30-day grace period following its missed bond payment in September.
Along with this shelved deal, China saw its real estate sector take further hits. Sinic Holdings declared default and Kaisa Group saw its credit rating downgraded. This follows announcements that China Properties Group defaulted on a loan and that Fantasia could not make recent payments, along with other companies facing credit rating drops.
Despite the recent sequence of events, the People's Bank of China, the country's central banking authority, told creditors to stay calm.
"Economic growth has been slowed down a little bit, but the trajectory of economic recovery remains unchanged," Yi Gang, the bank's governor, said on Saturday. "Overall, we can contain the Evergrande risk."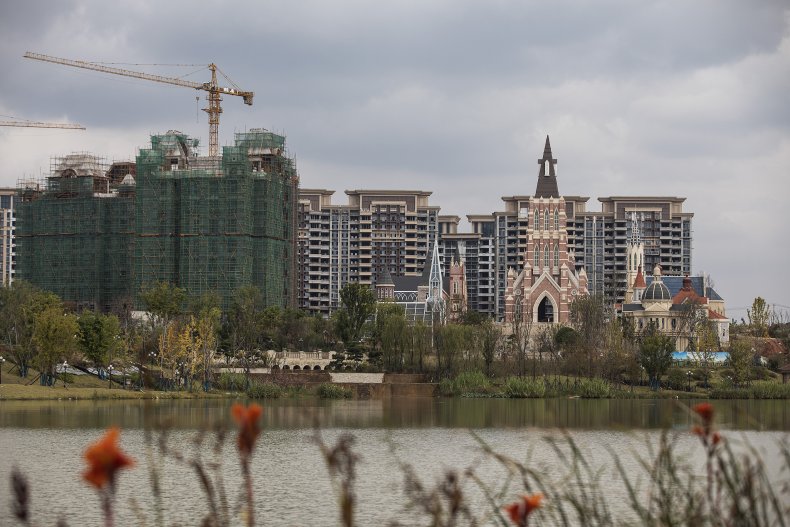 Scott Kennedy, trustee chair in Chinese business and economics at the Center for Strategic and International Studies (CSIS), told Newsweek earlier this week that the bank could be trusted to an extent.
For those concerned over a potential Evergrande default that could rock the real estate sector and set off a Chinese "Lehman moment," Kennedy said not to stress, explaining that the government possesses enough regulatory tools to stave off such a disaster.
However, Kennedy believes that based on Beijing's recent actions it intends to contain the Evergrande risk in a matter that injects a new level of risk into the real estate market.
China has operated widely under a blanket guarantee that the state would support corporate giants that failed to pay their outstanding debts.Kennedy said Beijing wanted to walk away from that guarantee and allow greater risk into the market. While this would allow Evergrande to fail, it would ensure that creditors and property owners' losses would be made good.
Here, he sees a challenge.
"If they're trying to provide reassurance that there can be a narrower range of assets that the state authorities guarantee, and that the market will take on a larger role for pricing risk and managing the complications from investments that go awry, I think that is that is a harder sell," Kennedy said.
Ensuring a successful selloff of Evergrande assets stands as means for the company to achieve this mission. Why the Guangdong provincial government did not approve the deal remains unclear. But, the situation could arrive at greater clarity as Evergrande's window to act tightens in the coming days.