Eversource Outage Map: 82,000 Connecticut Customers Lose Power, Schools Close
Thousands of people have been left without power in Connecticut after the state was hit by a Halloween storm last night.
Local news outlet WFSB has reported that strong winds and rain last night caused the power outages, adding that several schools faced closures and delays as a result.
One United Airlines flight to Denver was also delayed due to bad weather conditions, according to WFSB.
A table of power outages frequently updated by the Boston-headquartered energy firm Eversource Energy said 82,536 of its Connecticut customers were affected by outages at around 7 a.m. ET today following the overnight storm.
United Illuminating, another local power provider, has also reported more than 5,000 customers being left without power.
In a tweet last night, Eversource Connecticut said "strong wind gusts" were expected yesterday evening and tomorrow morning, adding that it was "ready to respond."
United Illuminating also tweeted that it was "preparing for high winds and heavy rain associated with a storm" at around midday yesterday.
A spokesperson for United Illuminating told Newsweek that 5,450 customers were without power at around 7 a.m. ET.
"During storms like this, most outages are caused by trees and limbs damaging or coming into contact with power lines," they said. "We have not issued an estimate of restoration times, but we do expect to make good progress today."
An Eversource Connecticut spokesperson said: "We've had high winds overnight (gusts reported around 60 miles per hour in some parts of Connecticut), along with heavy rains, causing trees to come down on our power lines.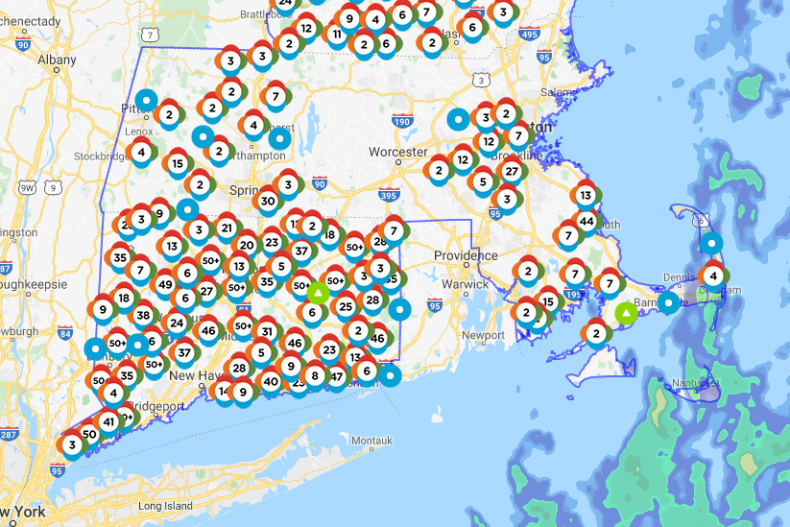 "Crews are at work and will stay on the job as long as it takes to get our customers' power back on."
A hazardous weather outlook and wind advisory notice posted by the National Weather Service ahead of the Halloween storm warned of high winds in north central Connecticut expected to last until 4 a.m. ET.
This morning the forecaster published another wind advisory warning of winds between 20 to 30 miles per hour (mph) and gusts up to 50 mph in Connecticut and Massachusetts until 4 p.m. ET Friday.
In a tweet last night, the National Weather Service also said: "Severe thunderstorms capable of damaging winds and torrential rainfall will continue to push through the Mid Atlantic, Northeast, and New England overnight.
"Downed trees, power outages, and flooding will be possible. Much colder temperatures and gusty winds likely Friday."
News 8 WTNH has reported that several roads are closed in Connecticut as a result of fallen trees and other debris.
The Metro-North rail service announced in a special service notice overnight that the line between Westport and New Haven Station was suspended in both directions "due to weather-related overhead wire damage" near the New Haven stop.