Eversource Power Outage Map as Storm Leaves Connecticut, Massachusetts, Maine, Rhode Island National Grid Without Power
Thousands of residents of Connecticut, Massachusetts, Maine, and Rhode Island are experiencing power outages as storms impact New England.
Eversource reports that more than 9,700 customers in Connecticut and more than 15,200 customers in eastern Massachusetts are experiencing power outages as of 8 a.m. Tuesday morning.
The Eversource outage map shows power outages are affecting customers statewide in Connecticut, with outages affecting 23 percent of customers in Eastford, 18 percent of customers in Hampton, and 14 percent of customers in Columbia and Union.
In a statement posted yesterday, Eversource Vice President of Electric Operations Mike Hayhurst said: "Our crews are working around-the-clock shifts, restoring power as quickly and safely as possible, while following strict COVID-19 pandemic protocols and contending with difficult weather conditions.
"We appreciate our customers' patience and understanding that some restorations may take longer than usual as we work under the additionally challenging circumstances related to the pandemic."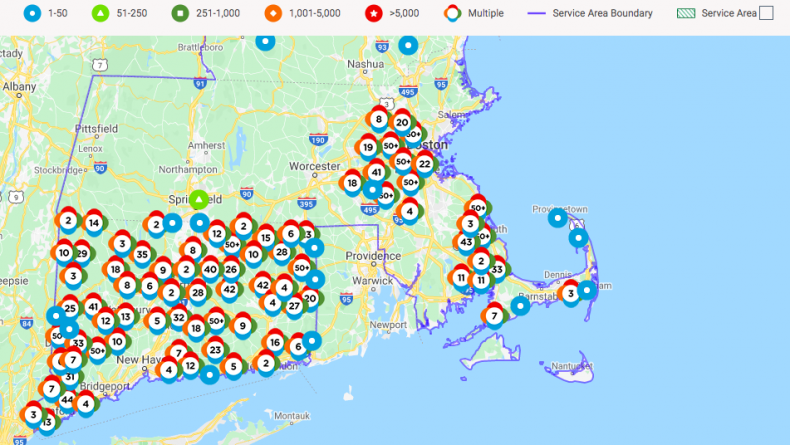 Central Maine Power reported that more than 12,700 customers in Maine had been affected by power outages as of 7.45 a.m.
Additionally, the National Grid reports that more than 6,000 customers in Rhode Island are currently experiencing outages, and more than 32,700 customers in Massachusetts were affected by power outages caused by the storm.
Yesterday, the National Grid tweeted: "Today, we anticipate a powerful wind event, with possible gusts of 75 mph to impact our communities in New England. We've mobilized 1,300 personnel for storm response, with a supplemental force of contractors and external crews supporting."
Warnings that a storm would affect New England and cause power outages were announced over the weekend. On Sunday, meteorologist Josh Cingranelli wrote on Facebook: "Winds will gust over 60 mph tomorrow afternoon which will result in widespread power outages.
"Yes, widespread meaning thousands and thousands. Now is the time to prepare, bring in your lawn furniture and tie what you can down. It's also a good time to make sure your phones are charges, stock up on batteries, and if you have a generator make sure it's working and you have gas for it. This appears to be a HIGH impact event statewide."
If you could be impacted by power outages due to bad weather, it is important to be prepared. Follow the government's advice on how to prepare for a power outage, such as putting together an emergency kit, putting together a household evacuation plan, and signing up for alerts and weather warnings.
An emergency kit should include one gallon of water per person per day for two weeks, non-perishable food and easy to prepare items, flashlights, and extra batteries, and First aid kits, and medications.