Every 'Bachelor' Finale Spoiler, From Engagement to Relationship Status Now
Matt James' Bachelor love story isn't expected to end like those past. Spoilers claim that he'll nearly break the heart of his last-standing lady before offering her the final rose.
All season long, spoilers have reported that James will pick Rachael Kirkconnell—yes, the woman who has been criticized for attending an "Old South-themed" party a few years ago. But details about a possible engagement between the two have been scarce so far.
Reality Steve claimed on Thursday there will be no engagement—just a continued relationship for James and Kirkconnell outside of the series. A closer look into James' final week, though, should tip fans off that there's a ton more drama about to unfold.
James' final two women will be Michelle Young and Kirkconnell, but Young reportedly won't last long into the final week. James will supposedly send her home the night that she meets his family, long before a rose ceremony.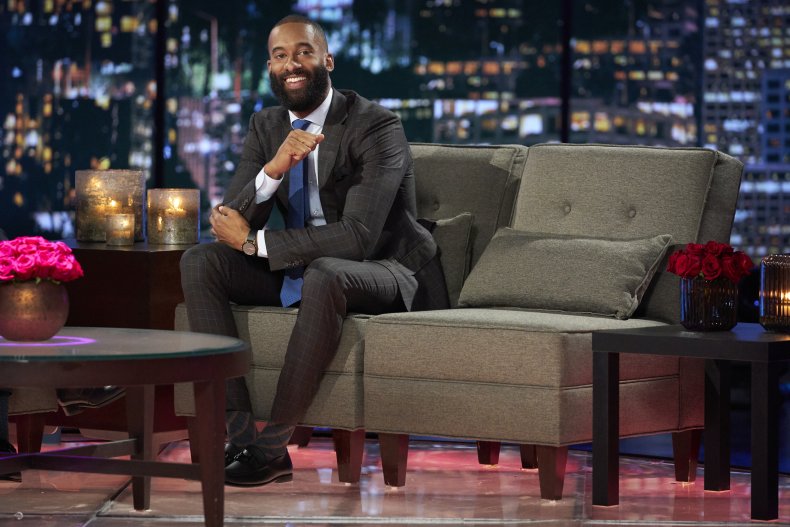 With Young gone, viewers will probably assume a smooth ending for Kirkconnell and James. But they'll be wrong if they bet on that. As per Reality Steve, James is slated to cancel his final date with Kirkconnell when he goes through a conflicted period, both because of his search for love and a conversation with his estranged father. This decision to nix the date with Kirkconnell will apparently cause her to spiral and assume that James doesn't want to spend time with her.
Instead of a final date, James will reportedly ask Kirkconnell to "meet him by the lake where they had their overnight date," in Reality Steve's words. It's a sneaky finale moment in which James will offer Kirkconnell the final rose without some of the normal glitz and glam of other, more extravagant Bachelor engagements.
"Matt tells her that he can't propose to her...BUT...that he loves her and he can't picture his life without her," Reality Steve wrote on Thursday. "She accepts the final rose and they leave as a couple. No engagement and no promise ring either. Just an agreement to continue dating essentially."
Sorry, Neil Lane, looks like no cameo this season.
Then, the after-show drama will reportedly kick in. Kirkconnell's controversial actions will be center stage on the "After the Final Rose" segment, where it will also be revealed that James and Kirkconnell officially broke up just after Valentine's Day—potentially influenced by the public backlash against Kirkconnell. Both parties are assumed to be single and likely recovering from the breakup.
So, it certainly doesn't sound like the happy ending that many fans are no doubt hoping for, but some segments of Bachelor Nation may be relieved that Kirkconnell won't end up with James in the long run. And to end things on a more promising note, Reality Steve also claimed the new Bachelorette will be revealed on the episode. If you want Bachelorette spoilers right now, though, click here.
The Bachelor finale will be a three-hour episode on March 15, and Emmanuel Acho will host, instead of Chris Harrison. The "After the Final Rose" segment was reportedly pre-taped on Friday.