Every Celebrity to Defend Ellen DeGeneres Amid Abuse Accusations
Ellen DeGeneres is continuing to face intense backlash for allegedly overseeing a toxic workplace on her show as claims of sexual misconduct by producers are also arising.
A number of celebrities, including Everybody Loves Raymond star Brad Garrett, have also spoken out against the 62-year-old presenter, who has since issued an apology to staff, as WarnerMedia conduct an investigation into the claims raised by former employees in a BuzzFeed report.
However, amid all of the accusations being leveled at DeGeneres and those she worked with, are some celebrity voices speaking up to defend the embattled television personality, led by her wife Portia de Rossi.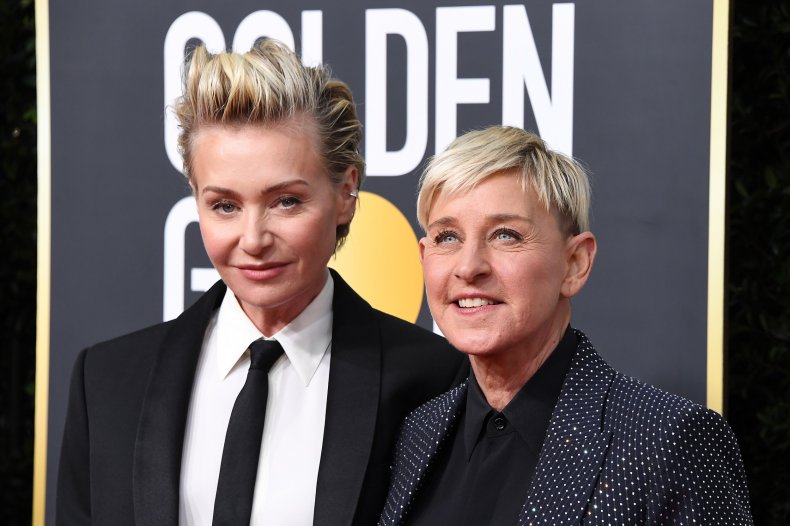 Portia de Rossi
DeGeneres' wife Portia de Rossi has spoken out in defense of the presenter as the media circus surrounding the toxic workplace allegations intensifies.
Taking to Instagram Monday night, the Arrested Development star, 47 shared a photo of a slogan reading: "I stand by Ellen," and "Be kind to one and other." The latter is the phrase DeGeneres uses to close her show.
De Rossi included a number of hashtags in her caption, which read: "To all our fans....we see you. Thank you for your support. #stopbotattacks #IStandWithEllenDeGeneres #IStandByEllen
‪#IstandByEllenDeGeneres ‬#ellendegeneres #ellen #theellenshow #ellenshow #bekindtooneanother."
The post has left followers scratching their heads as de Rossi did not acknowledge any allegations and called for an end to "bot attacks."
Katy Perry
Pop star Katy Perry spoke out in defensive of DeGeneres on Tuesday morning in a Twitter post.
The "Bon Appetit" singer, who is expecting her first child, took to the platform to tweet: "1/2 I know I can't speak for anyone else's experience besides my own but I want to acknowledge that I have only ever had positive takeaways from my time with Ellen & on the @theellenshow. I think we all have witnessed the light & continual fight for equality that she has brought to the world through her platform for decades. Sending you love & a hug, friend @TheEllenShow."
Jerry O'Connell
Sliders star Jerry O'Connell has also spoken out in defense of his friend DeGeneres.
Taking to Twitter, the actor posted a screenshot of de Rossi's "I stand by Ellen" Instagram post with the caption : "Love @TheEllenShow & @portiaderossi. Always have. Always will."
Jann Arden
Canadian singer-songwriter Jann Arden is another voice chiming in to support DeGeneres.
The "Insensitive" star tweeted: "#ellenDegeneres was very nice to me when I met her- and I'm nobody. It was around 1996 I think... I played the theme song on her sit-com. It was such an exciting gig to be honest. She's worked her ass off- built a lot of goodness into her work. That counts."
Ted Cruz
Republican senator Ted Cruz has also spoken out in support of DeGeneres, claiming the controversy is due to the "intolerant left" and condemned cancel culture.
Retweeting a Washing Post article, he wrote: "I don't know Ellen, but this WaPo chronology makes the whole "scandal" look like an exercise in Cancel Culture trying to destroy her bc she wasn't woke enough to throw Kevin Hart overboard or be hateful to George W Bush. Today's Left is deeply intolerant."
Scooter Braun
Music producer Scooter Braun has displayed support for the host calling her a "kind, thoughtful, courageous human being" on Instagram.
"People love to take shots. They love to see people fall. How quickly so many forget. How easy it is to stay quiet when it doesn't affect them," he wrote. "@TheEllenShow is a kind, thoughtful, courageous human being who stands for what is right and highlights on her show the best of us. She has helped change the views for equality all around the country and the world. She doesn't do what is popular she does what is right."
Geraldo Rivera
Fox News contributor Geraldo Rivera has also spoken out in support of DeGeneres.
The 77-year-old took to Twitter to write: "Watching the #CancelCulture mob turn on@TheEllenShow and work hard to undo everything Ellen DeGeneres has accomplished in her groundbreaking career should be instructive to all. She made history bringing acceptance to a marginalized segment of society. Where are her defenders?"
Nacho Figueras
Polo champion and famous close friend of Prince Harry, Ignacio 'Nacho' Figueras spoke out in support of Degeneres in a lengthy Instagram post in which he called the host a "wonderful human being."
"No one is perfect, and we cannot control everything," he wrote. "So I stand for you my friend and I challenge all the amazing people that know you and call you a friend to say who you are."
Figueras went on to say: "If I am going to be criticized for defending someone that I think deserves to be defended then so be it."